Sunset Hills Blog
Welcome to the blog of Sunset Hills Vineyard! From the trials of hand-tending vines in five different vineyards to releasing wines that our winemaker has carefully crafted, our goal is to share what's going on at Sunset Hills with you! We hope that you'll gain knowledge and find entertainment from this blog. Located in Purcellville, Sunset Hills is a proud producer of high-quality wine in Loudoun County wine country.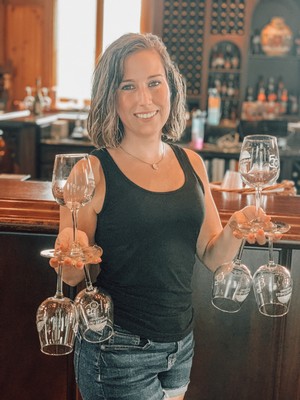 Favorite Sunset Hills Wine? Our 2020 Rose of Cab Sauvignon & our 2012 Tannat
How long have you worked at Sunset Hills? Eary July was my one year anniversary!
Do you have any other jobs? Kindergarten Teacher
Where are you from? NOVA
Have you lived in a different state or country? No
Hobbies outside of work? Painting, reading, jigsaw puzzles
Do you have any kids or pets? Abby the dog. She is 8 years old.
Are you a morning person or a night owl? Both
If you could have one superpower, what would it be? Pyroconetticts
What is your favorite season or holiday? Fall, aka spooky season
What did you want to be when you were younger? Marine Biologist
Do you have a favorite, show, book, movie, etc. right now? My favorite book is Where The Crawdads Sing
When/if you do go out to socialize, what things do you enjoy doing? Spend time with my pup and taking naps
What is your favorite food? Mexican Food
What was your favorite subject in school? I have a double major in Neurobiology so neurobiology!
Do you enjoy nature, or do you prefer to stay indoors? Both

Two Truths & A Lie
1. I collect hats from different states.
2. I've been kayaking in Honduras
3. Frogs are my favorite animal!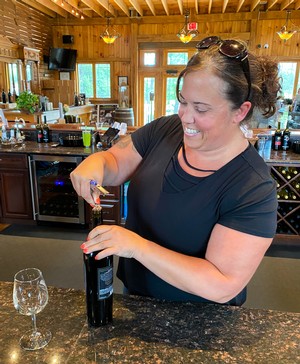 How long have you worked at Sunset Hills? Two Years
What is your favorite Sunset Hills Wine? The Cab Franc 15 Reserve but my favorite one that is available now is the Rose of Cab Sauv 2020
Outside of Sunset do you have any other jobs? Yes, I have had a full-time job with the government for 21 years now.
Where are you from? Brunswick, MD
Have you ever lived in another state? Yes, NC, SC, MA
Kids or pets? My daughter Heather works here as well, and she is 16 years old. I also have two dogs, Bailey & Bell. We got Bailey during COVID as a puppy.
If you could have one superpower, what would it be? Invisibility
What is your favorite season? Fall
What did you want to be when you were young? A Marine Biologist and I wanted to work at Sea World!
If you could quickly and easily learn any skill right now, what would it be? A new language
What do you enjoy doing outside of work? I enjoy hiking, playing with my dogs and traveling.
What is your favorite food? Mexican!
The Answer to Two Truths & A Lie!
Truth: I enjoy hot weather!
Truth: I do not eat pasta.
Lie: I love liver and onions!
Question: What do you get when you combine Virginia-made wine, handcrafted macarons, and a sommelier in a kilt?
Answer: A romantic weekend at Sunset Hills Vineyard!
This past Valentine's Day weekend we hosted Date with a Somm, an intimate gathering of couples and friends who enjoyed a tasting of 5 Sunset Hills wines paired with 4 custom-designed, locally made macarons, all presented by our own in-house sommelier, David Parker.

David Parker, Certified Sommelier
Leading the charge!


The Tasting Line-Up!
Rosé, Reserve Cabernet Franc, Petit Verdot, Mosaic, & Dusk
Our guests enjoying a lovely Valentine's Day treat!
When we were planning our Valentine's Day events I wanted to offer something different for our customers. A new twist on wine and food pairings. It's no secret that wine and chocolate go well together, so I wanted to explore treat options beyond truffles and bonbons. And so the brainstorming began. What could we offer our Date with a Somm attendees that is unique, delicious, and pairs well with wine? When staff member, Sherri, suggested macarons I was hooked on the idea! I took to the internet to find a local bakery that specializes in these tiny French delicacies. Through social media channels and networks, I discovered the force behind Weekender Pastries LLC.
The first time I met Shawnna Bennet, owner of Weekender Pastries LLC, she walked into the Tasting Room with an arm full of bags and packages. It was not what I expected. I expected a portfolio containing a list of flavors, prices, and maybe a few pretty pictures. But Shawnna is an artist and she wanted to start with a blank canvas.
From those bags and packages, she produced small samples of fruits, nuts, spices, chocolates, and extracts. Together, we explored, compared, and layered flavors until she had custom-designed a macaron for each wine. From there, she built a Valentine's Day box of treats that we will offer for sale in the Tasting Room all weekend long.
I tell this story because, for me, it reinforces the importance of community and connection, excellence in customer service, and finding passion in your work. These qualities – they infuse themselves in your product and shine through in the customer experience. At Sunset Hills Vineyard, our promise to ourselves and to you is to strive for this every day – the excellence, the connection, the infusion of our excitement and passions in the SHV experience.
At the end of last year, we took a collective sigh, dusted the chaos of 2020 from our shoulders, and vowed to reaffirm and strengthen our values in the new year. It's no secret that 2020 was challenging, because we were all in that boat together. We all experienced the sting of the pandemic – from the isolation of lockdown and quarantine to the devastation of the global economy. To be honest, most of our energy went into simply keeping our heads above water. In the fight to keep the lights on, we lost a lot along the way.
New year, new us! That has been our mantra since November. Now that we have had time to adapt, learn, and innovate it's time to roll up our sleeves and step up our game. Each department is working hard to make Sunset Hills Vineyard a more exceptional Virginia winery.
The beautiful and unique thing about visiting a Virginia winery is the experience. It's more than the wine itself, it's the atmosphere. A place where you can picnic with your family, reunite with friends, fall in love, and discover the wonders of wine. Our first order of business in 2021 is to improve that experience. Here's how we hope to do that…
New Tasting Menu: We still cannot offer traditional at-the-bar tastings so we will continue with our self-guided flights. However, we have moved to a Build Your Own Flight model which allows you to pick and choose which wines you try. Not a fan of red wine? No problem! Create your own flight of our delicious white wines.
Improved Communications: We will make sure you are in the know about all things SHV with our new wine club newsletter, regularly updated blog, frequent social media posts, current events calendar, and informative eblasts.
More Events and Fun Activities: Current government-mandated restrictions on group sizes continues to challenge us when it comes to creating and scheduling events and activities. But fear not! We donned our brainstorming caps in January and we have an exciting year planned for you. Stay tuned.
Website Updates: It is our goal to improve our website in the coming months so that it is easy to navigate, offers the most up-to-date information about SHV, and much more mobile friendly.
New Wine Club Manager: Audrey Siler, an SHV veteran and established Wine Club Ambassador, has graciously stepped into the role of Wine Club Manager. Our wine club members are family to us so we want to make sure they are getting the best care we can offer.
Corn Crib: We have converted our outdoor bar, the Corn Crib, into another heated, outdoor seating area for those who wish to visit but want to avoid indoor spaces. The Corn Crib is enclosed on all sides but one to protect you from the elements. It offers seating for larger groups, overhead heaters, and fire pits.
Audrey Siler
Wine Club Manager

Corn Crib Seating is Now Open!
It's cozy!
Build Your Own Flight!
4 wines of your choosing.

Aubry Fisher, Tasting Room Manager
Enjoying the new & improved corn crib.
June Club Wine Release Recipes
The Sunset Red is the perfect table wine. It is also a good by the fire, cozied up with a blanket, kind of wine. It's light in body, filled with dark fruit flavors, and a delicate tannic structure. I wanted to pair this wine with something light and fun and save the steak for the 2012 Mosaic I've been holding onto. The winemaker's suggested pairing was barbeque chicken. I went with her suggestion, but of course I put my own little twist to it and made barbeque chicken nachos! I used chicken thighs and grilled them low and slow. I personally like to use the grill because of the smokiness and that little hint of char; but you can also cook the chicken in the oven or if you're lucky to find a rotisserie chicken, that will work too! After the chicken was grilled, I shredded the meat with a fork and tossed it with a tangy, yet sweet barbeque sauce and set aside. I lined a baking sheet with parchment paper, spread out the tortilla chips then started layering… Shredded cheese, jalapenos, red onions, tomatoes, corn, BBQ chicken, then baked until cheese was melted. Once everything came together in the oven, I made some restaurant style queso to drizzle over top (because you can never have enough cheese). I topped everything off with a dollop of sour cream, cilantro, and some homemade salsa. I like my light bodied reds slightly chilled, so after I got my wine to the right temperature, I poured myself a glass and piled a plate full of nachos and devoured. Grab plenty of napkins, you're going to need them.
.
Barbeque Chicken Nachos
1 lb chicken thighs (or rotisserie chicken)
2 tbsp BBQ sauce of your choice
1 bag of tortilla chips
1 ½ cups shredded cheese
1 ear of corn – or small can
1 tomato (diced)
1 jalapeno (diced)
½ red onion (chopped)
Cilantro
Sour cream
Salsa
Queso
½ lb white American cheese
¼ cup milk (add more to thin out)
1 tbsp butter
1 (4oz) can green chilies
¼ tsp cumin
¼ tsp chili powder
1 clove garlic (minced)
½ yellow onion
1 jalapeno or serrano pepper
Cook chicken to your desire. Place chicken in a large bowl, use a fork to shred. Add your favorite barbeque sauce, toss and set aside. On a large baking sheet, line with parchment paper, spread out tortilla chips. Add shredded cheese, red onions, tomatoes, jalapenos, corn, bake at 400 until cheese has melted (about 5-10 mins). Drizzle queso over nachos, add toppings of your choice (salsa, sour cream, cilantro, limes, etc)
In a small sauce pan on medium high , add cheese, milk, butter, and green chilies. In a small sauté pan, cook onions, peppers, and garlic (about 2-3 mins until fragrant). Add onions and pepper mix to the sauce pan. Stir until melted and combine. – serve immediately
---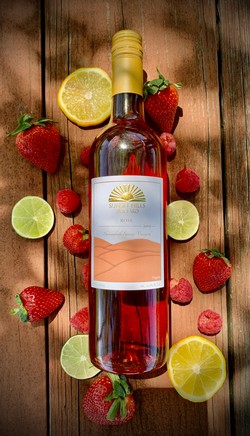 The 2019 Shenandoah Springs Rose is bursting with flavors of fresh strawberry and summer watermelon. 2019 was a great year for red grapes, specifically our Cabernet Franc and Merlot, which is what went into this vintage. I wanted to highlight the juicy fruit flavors that are oh-so present in this rose. There is a slight acidity to the wine that I had to play with, so for this pairing I chose a light salad. One of the salads we offer for Divine Wine group tours is the spinach and berry salad, which is the first thing that popped in my head when I tried this rose. I start with fresh spinach and mixed green, then add sliced strawberries, blueberries, red onions, candied walnuts and pecans, and gorgonzola. For the dressing, I have two options, balsamic vinaigrette or creamy poppy seed, there's no wrong choice for this light and flavorful salad!
Spinach and Berry salad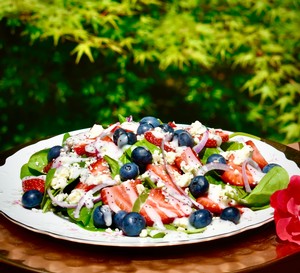 2 cups Spinach
1 cup spring mix
6 strawberries (sliced)
¼ cup blueberries
¼ red onion (diced)
2 tbsp gorgonzola
2 tbsp candied nuts
2 tbsp Poppy Seed or Balsalmic Vinegerette
In a large bowl, add spinach, spring mix, strawberries, blueberries, red onion, gorgonzola, and walnuts and pecans. Drizzle either balsamic vinaigrette or creamy poppy seed dressing, toss and serve!
.
-Rikki Cushwa
Executive Chef
Sunset Hills and 50 West Vineyards
---
You can order these wines online by joining our wine club! Click here to join the club and bring home 100% Virginia wine from the Best Winery in Loudoun. Our wines are available via two safe and easy ways; Barn Side pickup Thursdays through Mondays 11 AM to 5 PM or shipping wine directly to your door with UPS! Be sure to tag us on Facebook or Instagram if you try out these recipes and pairings or even just to show us how you are enjoying these wines! Cheers!
Earth Day: Climate Action - 50th Anniversary
---
Hello everyone…. Thank you for joining me as we commemorate the 50th anniversary of Earth Day. I actually remember the very first Earth Day back in 1970. I was in high school in Southern California. My friends and I spent all our free time exploring the tidal pools of the local beaches and hiking and biking through the canyons. The environment has always been important to me, and I know it is here at Sunset Hills as well.
The theme of this year's Earth Day is climate action. Here at Sunset Hills we all work hard to nurture and protect our environment by reducing our greenhouse gas emissions. From our amazing vineyard and production crew, to those of us in the tasting room, we aim to reduce ourcarbon footprint and do our part and more. Every bottle of winereflects the sustainable practices used to capture the magic of our local terroir in the most environmentally friendly way possible
At Sunset Hills we are dependent on Mother Nature. We don't irrigate our vines. When we have a dry year, the vines reach deep into the ground for water. For energy, both the vines and we look to the sky for the energy we need to keep going.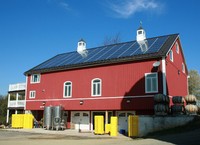 Did you know - SHV has 245 solar panels. We have generated more than 606,440 kilowatts of electricity. This means we have prevented 473 tons of carbon from getting into the atmosphere. That's 2-1/2 railroad cars! That's also the equivalent of planting more than 7,000 trees and letting them grow for 10 years. It's also the equivalent to the amount of carbon taken up by 560 acres of forest land in one year.
Did you know - As the vines grow, the leaves absorb CO2 fromt he air. Oxygen is released and the plants use the C they need while leaving some in the soil. Our no till methods keep the carbon in the ground.
Did you know – packaging is a major source of carbon emissions. That's why we do our best to recycle everything possible, from glass to cardboard.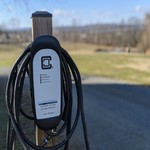 Also, did you know - that a major source of greenhouse gas emissions comes from transporting agricultural products. Buying local reduces these emissions. In fact, we are now breaking ground at Sunset Hills for a new vegetable garden to provide fresh produce to our vineyard crew and employees. Remember, buying local, whether at local farm markets or local wineries, is something you can do to help.
Here at Sunset Hills we celebrate Earth Day in every bottle of wine, in every glass of wine. As I sit here and drink a glass of SHV Cabernet Franc, one of my favorites, I know that I am tasting the amazing flavors of Loudoun County Virginia wine.
So open a bottle, and join us as we experience what the Earth has helped us produce. Let's stay safe, stay in touch, and remember, every day is Earth Day at Sunset Hills Vineyards.
Cheers!
- Audrey Siler
Sunset Hills & 50 West Vineyards
---
For more information about our sustainable practices click here to learn how Sunset Hills Vineyard and 50 West Vineyards are doing their part in keeping our planet green!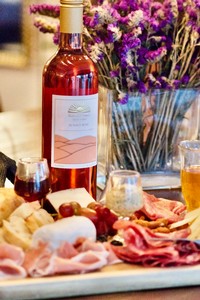 The 2019 Sunset Rose is probably my favorite vintage thus far. The 2019 harvest was so bountiful with high quality grapes, and it really shows in this rose. Since the wine is basically the star of the show with all my recipes, I didn't want to overshadow the flavors with a heavy meal. Besides, most of the time when we drink rose, it's before dinner with appetizers or a mid-day snack. I don't know about you, but my favorite snack is meat, cheese, and bread. I honestly think I could live off a charcuterie board! I prefer to do three meats, three cheeses, a French baguette, crackers, and of course accoutrements like honey, olives, mustard, and jam. It's great to have options, and endless combinations of flavors. For the meats, I like to choose a salty, spicy, and savory, like prosciutto, sopressata, and salami. For the cheese, I like to have a soft, a stinky, and a mild such as goat cheese, manchego, and sharp cheddar. Then I'll add a little sides of honey, Dijon mustard, fig jam or chutney, olives, mixed nuts, and fruit. I like to slice my baguette and toss with olive oil and bake until slightly golden brown, and add come herbed crackers as well for a little more flavor. There's no wrong way to assemble a charcuterie board, but I love to arrange certain combinations beside each other and then fill in the gaps with mixed nuts, dried and fresh fruits!
---
The 2015 Petit Verdot is probably my favorite varietal at Sunset Hills. This tiny grape is packed full of earthy flavors and rich dark fruit notes that are so well balanced with an easy but tannic finish. Of course, this wine would pair well with any red meat, but I decided to try something new and simple. For this pairing, I made a bison burger with thick cut bacon, provolone, bibb lettuce, caramelized onions, tomato, and a "special sauce" on a toasted brioche bun. Bison burger was surprisingly easy to find and its somewhat healthier than beef since it contains less fat and has more protein. Bison also has a richer flavor than lean beef in my opinion. I started off by placing the burger in a large bowl, then added ground mustard, salt, pepper, onion powder, garlic powder, smoked paprika, and Worcestershire. After the burger and spices were combined, I formed 4, ½ inch thick patties and let them sit out at room temperature for about 30 mins. In the meantime, I fried 8 slices of bacon, caramelized some onions. Then I made the "special sauce" using mayo, balsamic glaze, ketchup, Dijon mustard, Worcestershire, salt and pepper. I buttered and toasted the buns then piled everything high, opened a bottle of Petit Verdot and indulged.
Bison Burger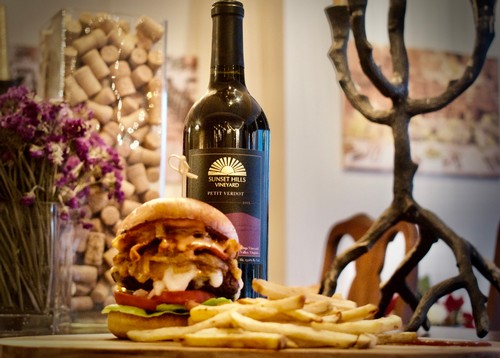 1 lb ground bison
1 tbsp Worcestershire sauce
2 cloves garlic (minced)
½ tsp ground mustard
½ tsp onion powder
¼ tsp smoked paprika
Salt and pepper
1 large yellow onion (sliced)
2 tbsp butter
8 slices thick cut bacon (cooked)
4 brioche buns
Provolone cheese
Lettuce
Tomato
Special sauce
¼ cup mayo
1 tbsp ketchup
1 tbsp Dijon mustard
1 tsp balsamic glaze (or balsamic vinegar with a dash of honey)
Directions:
In a large bowl, combine bison, Worcestershire, garlic, ground mustard, onion powder, smoked paprika, salt and pepper. Form 4 patties, and let sit at room temperature for 30 mins
In a large skillet over medium heat, melt butter. Add onions and a little salt, and cook on medium low heat for about 20 minutes, until caramelized and golden brown
Remove onions from pan, return heat to medium high and cook patties about 3-5 mins on each side. Add cheese, let it melt, then remove from pan and rest for 5 mins.
In a small bowl mix together mayo, mustard, ketchup, and glaze.
Toast and butter the buns, spread on the special sauce, layer with lettuce, tomato, bison burger, caramelized onions, and bacon.
- Rikki Cushwa
Executive Chef
Sunset Hills & 50 West Vineyards
---
You can order these wines online by clicking here. Bring home 100% Virginia wine from the Best Winery in Loudoun. Our wines are available via two safe and easy ways; Barn Side pickup Thursdays through Mondays 11 to 5 PM or shipping wine directly to your door with UPS! Be sure to tag us on Facebook or Instagram if you try out these recipes and pairings or even just to show us how you are enjoying these wines! Cheers!

As you all have most likely heard, the 2019 harvest and season are looking pretty amazing—a historic harvest that will be talked about like the 2010 vintage wines. This month, as we "wine'd" down from harvest, We want to use this blog to herald our team here at Sunset Hills Vineyard. As a vineyard guest, you hear from us individually, whether it is on a tour with Bridgette, at a club party with Sydney, or behind the bar with Audrey – but there are so many other wonderful, hard-working wine and farm enthusiasts here at the winery that perhaps go unnoticed.
The Vineyard Crew…
Sunset Hills and 50 West could not exist without them. There would literally be no vineyard, no wine, no tasting room. We play host to a full-time crew of five (5) people. Their work week is dedicated to our vineyards rain or shine, freezing temps or scorching sun. The vineyard crew of 5 do everything; from mowing the grass to flipping cases for ten hour bottling days, and everything they do for the winery, they do with great effort and pride. They may ask for a soda or request pizza instead of brats for lunch, but they do the hard work day in and day out so that our business can create a the incredible wines that we are then able to share with all of you.
Our vineyard crew is joined for 8 months out of the year by a team of eight that joins us from the Baja California Peninsula. This hard working team is keen on learning new ideas and perfecting our processes. Take Joel for example, who has worked with us in the cellar for harvest. Joel is the type of friend that everyone needs—he always has a smile on his face and a quiet yet witty joke ready for you. He asks for clarification when he feels like he needs to, and he takes initiative to do the next task with no hesitation. Joel has learned to speak slowly so that we can communicate both on cellar actions for the day or a casual conversation about our families over the sorting table. We have a goal that he teaches us one Spanish word every day – we learn, we grow and we create together.
The Tasting Room Staff…
The Tasting Room, for those who don't know… IS SO EXHAUSTING. Harvest is one of the most tiring yet exciting times of the year for me. We joke that "every day is Wednesday" because there is no sense of a weekend, no tracking of days of the week other than to ask "what day are we picking?" Although tiring, nothing compares to a busy Saturday behind the tasting room bar. The day begins with a morning meeting where our teams prep the staff by communicating the weekend events, big groups, or special occasions that are taking place at the winery. Everyone is listening, quiet, the calm before the storm. And then… THE DAY….
Finally, at closing, the floors are vacuumed to perfection, bathrooms are spotless, bar is wiped down—we can all relax with a beautiful glass of wine on the porch as the sun sets behind the tree-line. Yes we share stories from the day, but we have interesting conversations about all things other than wine.
The Weekday Staff...
Our weekday staff is the glue that holds it all together. We support each other, listen to plans, pitch ideas, lend a hand. We work to make our dreams come true, as a small business we know that we all have each other's backs; there is no line drawn between jobs. Just because my title is winemaker does not mean that I can't help stock the tasting room or cut the grass every now and then. Helping each other out is just skimming the surface. We are a true family here at Sunset Hills. Sunset Hills is not just a vineyard, a winery, a place to spend a Saturday, it is a place where talented, driven people work to make this lovely, inspiring, beautiful place run the way it does. From the vineyard to the tasting room to the management team, we all look out for each other in a way I hope continues in years to come.
At the time of writing this, the last of the Cabernet Sauvignon to pick is scheduled for Friday. I am listening to the hum of the press squeeze Shenandoah Springs Cabernet Franc. Barrels will be filled tomorrow and stacked in the cool cellar. Another vintage ends, but our staff keeps it alive as the bottles come into the tasting room to share with each other and our wonderful members, clients and customers. We all look forward to having a bit of free time now that our epic 2019 harvest is complete, but we are happy to be surrounded by the team and our family here at Sunset Hills and 50 West.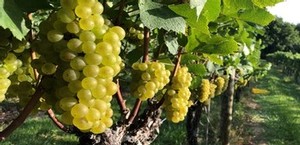 It's that time of the year again! HARVEST!! Our winemaker, Corry, is rounding out our best harvest yet. Since this winter, our vineyards have been through a lot and the complex decisions we have made will determine the final product… Sunset Hills and 50 West wines. Let's walk through the basic cycles of the vineyard!
Pruning – Pruning was completed about two weeks before the vines started to wake up from winter dormancy. Pruning is crucial for vine health, the process forms the permanent structure of the vine, sets the season potential crop load and sets up our canopy development.
Bud Burst – Bud Burst is when the vine FINALLY wakes up from dormancy and new green shoots start to grow. This happened in late April.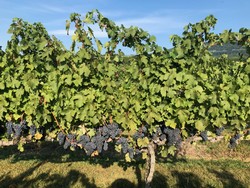 Shoot Thinning - As soon as the shoots are about 6 to 8 inches long, we started shoot thinning. This operation consists of removing the shoots in excess, by selecting the shoots that will form your final canopy and therefore, determine the crop load. Timing is essential because shoots that reach a certain size cannot be removed without damaging the permanent structure of the vine, therefore we only had about 2 weeks to finish this operation in all our 75 acres. Without even having the time to realize it, blooming had already caught us, and we had to start our leaf thinning operations.
Leaf Removal - Leaf removal in the fruit zone is a canopy management practice to modulate fruit microclimate and exposure to sunlight. These two variables are fundamental for both disease management and grape aroma and/or color development. Both timing and intensity of leaf removal can have a great impact on fruit quality, reason for which this operation was performed in the vineyards for more than month, varying not only the timing but also the intensity depending on our goal for each vineyard block.
Fruit Zone Leaf Removal - FZLR also has a time limit to be performed, because exposing the grapes too late in their physiological development can cause sun burn damage and drastically lower grape quality.
Fruit Set – This is when our beautiful berries have reached the size of a pea. They are still hard, green, and in a transition phase to build resistance to many of the diseases that can seriously compromise the whole season. At this stage, vines have a full canopy (another technical term to define a canopy with shoots 50-60 inches long).
Through leaf thinning, tucking in, tying, hedging and laterals removal in the fruit zone, we tried to optimize it. Briefly, the goal is to have enough mature leaves per shoot sufficient for grape ripening, a fruit zone that is more or less exposed but with sufficient air flow and sunlight diffusion/penetration, no occlusion zones with too many layer of leaves creating humidity pockets and lowering the photosynthetic efficiency of the canopy.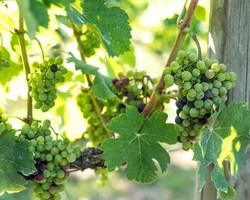 Veraison – AHHHHHHH and BREATHE! The Vineyard starts to slow down, no more visible vine growth. Veraison is when berry ripening starts. A chain of signals changes the metabolism of the berry. This change is due to the beginning of the maturation of the seeds. Soon after the seed coat starts to develop, hormone levels change in the berry causing berry softening and enlargement. Sugar starts to accumulate. Sugar accumulation immediately triggers the change of color in red varieties. Then, as ripening continues, acids will begin to drop, phenols composition will change and aromas accumulate and develop.
After veraison, things are moving fast. The grapes are showing in all their complexity the outcome of all the decisions we made through the process…the fingerprints of this season' conditions, the quality of the work performed in the field.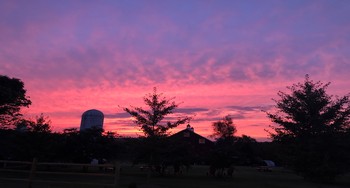 Check back for our next blog to see what winemaker, Corry Craighill, has to say about picking and processing the fruit, beginning the winemaking process for our wines, and more. It's been a great year, which means… our wine will be amazing… just like our sunsets!
- Silvia Liggieri, Vineyard Manager