Your Visit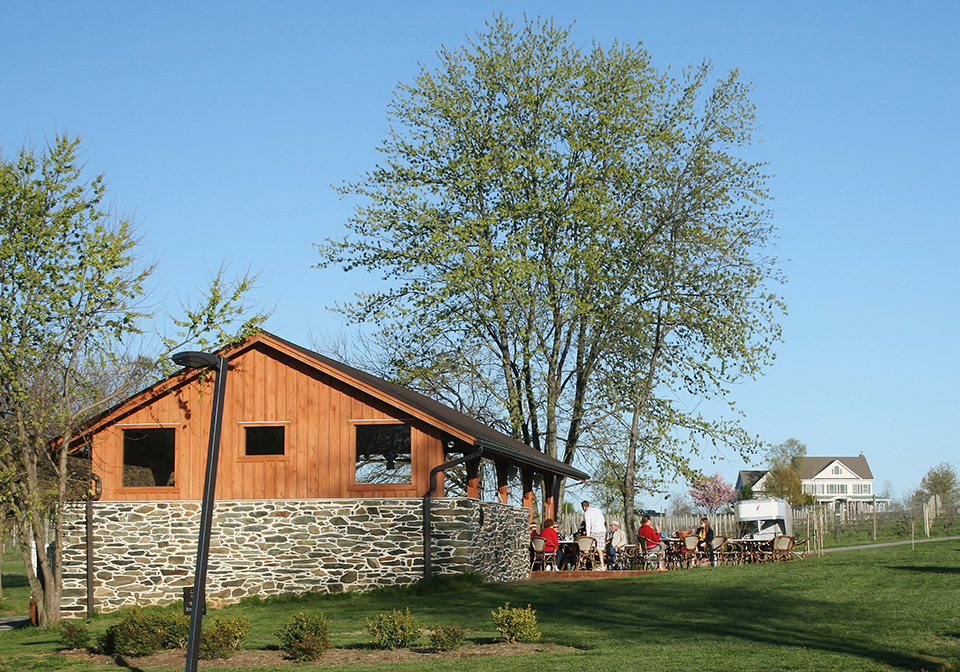 Providing an atmosphere like no other, Sunset Hills Vineyard offers spectacular mountain views, pastoral old-world style farm grounds, and a stunning Amish restored historic barn.
In order to make the most of your time at our winery, please review these frequently asked questions which will assist you in planning your visit.
Hours of Operation
Our Tasting Room is open daily:
Monday – Thursday: Noon – 5 pm
Friday: Noon – 6 pm
Saturday – Sunday: 11am – 6 pm
* Last call is 30 minutes prior to closing
In the event of inclement weather, our adjusted hours will be announced on our phone recording at 540-882-4560. Updates will also be posted on our website and Facebook page.
---
Our winery will be closed for business the following holidays:
Thanksgiving
Christmas Eve
Christmas Day
New Year's Day
---
Wine Tastings
Our Tasting Menu provides the opportunity to sample six of our current wine releases, which will be a selection of both whites and reds. Tastings are $10 for individuals. Groups of seven or fewer people can be accommodated without reservation during normal business hours.
Try our Sunset Signature Truffle Tasting for just $16 per person. We've expertly paired three hand-made truffles from Abby Rose Confections with seven of our award winning wines, including our delicious Port-style wine, Dusk. The truffle pairings will change monthly, so stop by on a regular basis to enjoy this special pairing experience!
Group Wine Tastings
Groups of eight or more people, either club members or general public, wishing to do wine tastings must call or email our Tasting Room to make a reservation in advance. Unfortunately we cannot accommodate groups larger than 30 guests. We require that groups make a single payment for all of the tasting fees immediately upon completion of the tasting. Signature Truffle Tastings must be booked two weeks prior to ensure that we have enough tasty hand-made truffles on hand!
Pricing:
8-20 Guests: Signature Wine Tasting - $15 / Signature Truffle Tasting - $20
21-30 Guests: Signature Wine Tasting - $20 / Signature Truffle Tasting - $25
Monday – Friday: Noon – 4 pm (subject to availability)
Saturday & Sunday: Reservations accommodated from 11:00 am to 2:00 pm (subject to availability)
To schedule your reservation and/or to receive further information, please call our Tasting Room at 540-882-4560 or email tastingroom@sunsethillsvineyard.com.
---
Children
Children who are under the supervision of an adult at all times are welcome to our winery.
Food
We offer a Light Fare menu, featuring food baskets you can mix and match to your taste, including: freshly baked bread, crackers, imported meats and cheeses and tapenades. We even offer gluten-free items. Prices vary based on selections chosen.
Picnics are welcome on our grounds Monday-Friday, but not on weekends.
Handicap Accessible
We have designated handicap parking, a handicap drop-off at the ramp leading to our front door and portable ramp for the step-up into our Tasting Room.
Hired Transportation
We encourage responsible drinking and having an appointed designated driver.
Limousines and other hired transportation carrying groups that have made prior reservations are welcome at Sunset Hills. Hired transport carrying unreserved groups and/or groups that are not exercising responsible drinking will be asked to carry on to their next destination.
Outside Alcohol
In accordance with VA Alcohol Beverage Control laws, alcoholic beverages other than those purchased at Sunset Hills are NOT allowed on the property. Individuals or groups that don't comply with this policy will be asked to leave.
Pets
Friendly pets are welcomed on the property (but not inside the barn) as long as they are leashed. Please remember to clean up after your pet.
Smoking
Smoking is allowed in designated areas near the parking lot and at the base of the stairs leading to our Tasting Room.