May 23, 2018 | Corry Craighill
A Much Anticipated Bottling!
Our June bottling has been much anticipated since I started here at Sunset Hills and 50 West Vineyards. This bottling marks the first vintage of our flagship wines that I have created from start to finish - from grape to bottle. These wines have been waiting since October 2016 for this day, waiting in fermenters, waiting in tank, waiting in barrel, waiting to be blended. The physically tolling work is done--punch downs, pump overs, digging out the tanks or bins, pressing--all of laborious tasks have been completed long ago. Now, after months and months of waiting, it is time for the quiet task of blending to begin.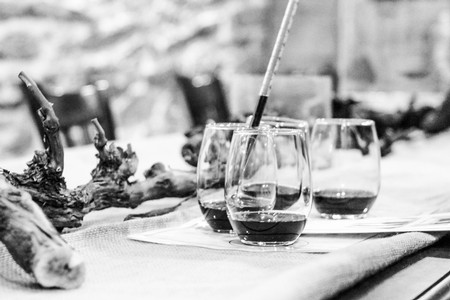 People ask how I got into winemaking. The short answer is that I wanted a job where I could work outside. Part of the long answer is that I love the combination of science and creativity. I spent several years working for a lab and winery in Charlottesville, so I learned not only HOW to run the numbers, but WHY they are important. To understand the science of wine, to me, is necessary in making a quality product. I am not a scientist, but I use the numbers to make the best decisions for the wine.
The other half is creativity. Wine is a creative outlet--tasting and exploring various types of wine from all over the world. This side of the business is what kept me in the business, what kept me exploring new countries, and what kept me asking questions. Creativity is a huge part of blending. Once the goal is set for a style of wine, my brain just takes off. With the help of detailed note taking throughout the year, I remember each batch of wine and try to plan for each blend ahead.
Mosaic is always first, you have to start somewhere. Mosaic is our Bordeaux-style wine, so I am looking for a balance of a finessed yet assertive structure, a rich and confident wine and one that is well balanced with acidity, tannins, and fruit. For the 2016 blend, I was able to lean more on our Shenandoah Valley site to give good structure and acidity, and the Sunset Hills site for volume. Creating this blend takes time. I created almost twenty blends, swirling and tasting blind, before I narrowed it down to four options. I took those four and sat on them for a few days--wondering if I would change my mind. My goal is to taste blindly and consistently pick the same blend every time. Luckily, blend 12 kept being my favorite. Not only tasting blind but tasting with other people is important to me. I choose individuals who I trust and can have a good conversation with--how can I improve the wine? What is the wine missing? How will the wine age? Having a community of people that you can taste with is so important! I can write a whole other post on how the wine community has impacted me, but for blending specifically, my colleagues provide feedback that helps me improve.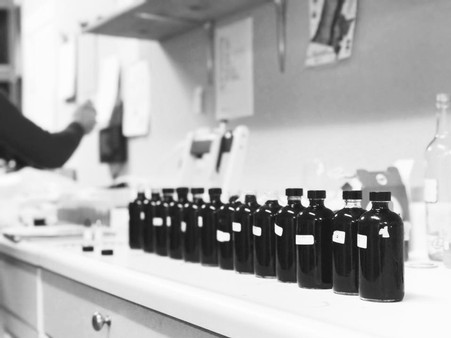 As for the Reserve Cabernet Franc, the style is lighter than the Mosaic, but more robust than the classic Cabernet Franc. A slightly heavier oak influence and bigger tannins provide the "reserve" label over the classic Cabernet Franc. Again, several blends are created in order to narrow it down to one. Tasting blind and tasting often.
Lastly, the 50 West Aldie Heights Cuvée. Although it is the third blend I make, it uses components that neither of the other wines use. With Tannat as its base, the Aldie Heights Cuvée is one of the more boisterous wines. Tannat is known for being high acid and high tannin, which makes it a great blending component for bigger wines. For the 2016 Aldie Heights Cuvée, it is the base making up 40% of the blend.
When the bottling begins in June, I feel confident knowing that the final product will be a wine that you'll love and will uphold the reputation of Sunset Hills' and 50 West's bold red wines.
Comments
Commenting has been turned off.