April 16, 2018 | Corry Craighill
All About Our Vineyards!
April is designated as Virginia Vineyard Month. For those that have visited either of our tasting rooms, you have probably glimpsed a few rows of Viognier or Cabernet Sauvignon as you meandered up the gravel driveway. Those rows are just a small portion of the close to seventy acres we have under vine. Yes, seventy acres spread across five farms in Loudoun County and the Shenandoah Valley! Let's take a further look at each property - pros and cons and a few fun facts in between.
Shenandoah Valley
We have two properties all the way out near Woodstock, Virginia that make up about half of our total production. With no traffic (don't hold your breath on I-81), it takes a little over an hour to get to this site. Towing a full load of fruit, it can take closer to an hour and a half! The traveling is worth it to these two sites because of the variation in climate, soil types, and elevation as compared to Loudoun County. These sites tend to give us less rainfall and more good airflow coming through the valley between the Blue Ridge and Allegheny mountains, essential to producing good fruit.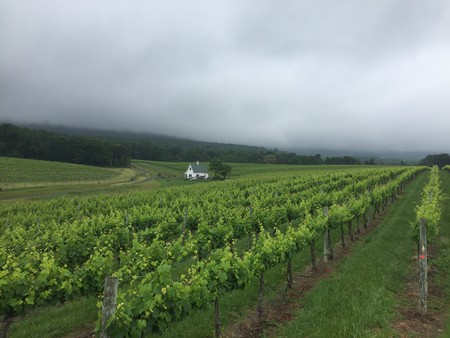 Shenandoah Springs is our more established site. Sitting between 1280 and 1330 feet elevation with a mixture of loam and limestone soils, this site offers balanced fruit including Cabernet Franc, Viognier, Tannat, Petit Verdot, Chardonnay, and Sangiovese. You know that Rose of Sangiovese you love in the spring time? That is 100% Shenandoah Springs fruit! The 2017 Viognier is right around 70% Shenandoah fruit and the 2016 Cabernet Franc is upwards of 90% Shenandoah Springs. This site is also home base for meetings, crew lunches, chicken round ups, and tractor maintenance. It is marked by the quaint white and green building right at the lowest and central point to the vineyard entrance.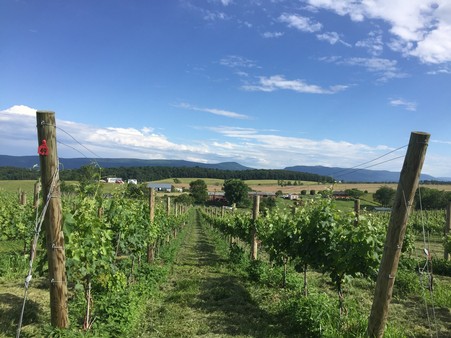 Sherman Ridge is the other Shenandoah site, located right down the road from Shenandoah Springs. Planted in 2014 and 2015, this site is right off the main road suitably and legally dubbed Back Road. Home to Merlot, Tannat, Petit Manseng, Cabernet Sauvignon, Vidal Blanc, and a mere five rows of Muscat Ottonel, this site is upcoming in quality. It sits slightly lower in elevation than Shenandoah Springs at 1,060 to 1,130 feet and shares similar soil types.
Loudoun County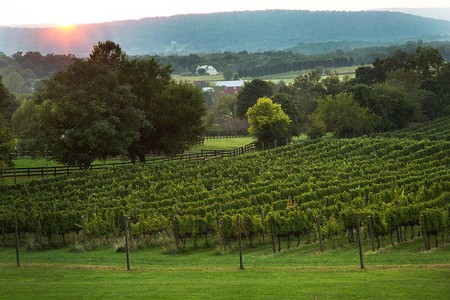 Sunset Hills Vineyard not only hosts the revamped barn and plenty of picnic tables to relax on a sunny day, but it also sits on about sixteen acres of vines. The property is split up into four different vineyards, appropriately dubbed Vineyard 1, Vineyard 2, Vineyard 3, and Vineyard 4 or V1, V2, V3, V4 for short. As you wind your way up the driveway, you are flanked by Vineyard 3 and 4. Vineyard 4 is exclusively Viognier, whereas Vineyard 3 has Cabernet Franc, Petit Verdot, Merlot, Petit Manseng, and Viognier. V3 fruit is often seen in the Mosaic blend, especially the sloped section that has great sun exposure and drainage. Vineyard 1 is the first vineyard planted and managed by Mike Canney himself, and it was just the beginning of the Sunset and 50 West story that continues today.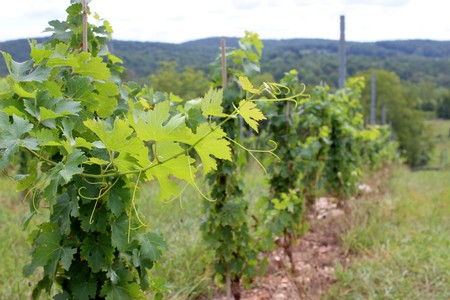 50 West Vineyards is our sister tasting room and vineyard site. What used to be a horse barn and private home is now a tasting room and club house dedicated to customers looking for wines that are slightly different than the "classic" Virginia wines. Sauvignon Blanc and Albariño are two varieties that are grown on the backside of the clubhouse and are also enjoyed in the tasting room.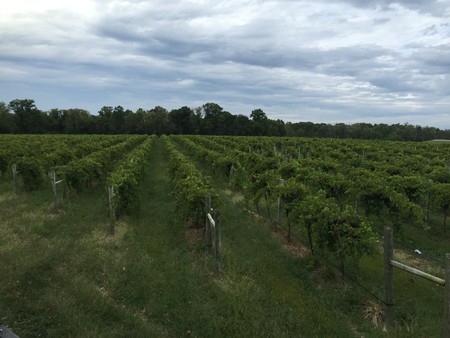 Catesby, our coveted hybrid vineyard, is just a quick ten-minute drive from 50 West. Chambourcin, Vidal Blanc, and Traminette are all located at this site. Although this site is not great for vinifera due to its lack of slope and ability to hold water, it seems to produce hybrids that are fairly consistent (if you can call Virginia winegrowing consistent) and help us produce wines that are fresh, acid-driven, approachable in the tasting room. Chambourcin is a great blending grape for us! We are glad to have it in our stock for variations in such wines like Sunset Rose, Ashby Gap, Dusk, and Dawn. What would we do without it?!
Seventy acres of planted vineyards scattered around Northern Virginia and the Shenandoah Valley definitely keeps our vineyard crew busy but we wouldn't have it any other way. All of the hard work and time dedicated to these vineyards result in great fruit that we then turn into the wines that you love in the tasting room!
Comments
Commenting has been turned off.