April 16, 2020 | Rikki Cushwa
April & May Club Wine Recipes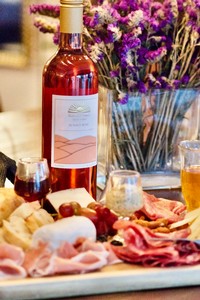 The 2019 Sunset Rose is probably my favorite vintage thus far. The 2019 harvest was so bountiful with high quality grapes, and it really shows in this rose. Since the wine is basically the star of the show with all my recipes, I didn't want to overshadow the flavors with a heavy meal. Besides, most of the time when we drink rose, it's before dinner with appetizers or a mid-day snack. I don't know about you, but my favorite snack is meat, cheese, and bread. I honestly think I could live off a charcuterie board! I prefer to do three meats, three cheeses, a French baguette, crackers, and of course accoutrements like honey, olives, mustard, and jam. It's great to have options, and endless combinations of flavors. For the meats, I like to choose a salty, spicy, and savory, like prosciutto, sopressata, and salami. For the cheese, I like to have a soft, a stinky, and a mild such as goat cheese, manchego, and sharp cheddar. Then I'll add a little sides of honey, Dijon mustard, fig jam or chutney, olives, mixed nuts, and fruit. I like to slice my baguette and toss with olive oil and bake until slightly golden brown, and add come herbed crackers as well for a little more flavor. There's no wrong way to assemble a charcuterie board, but I love to arrange certain combinations beside each other and then fill in the gaps with mixed nuts, dried and fresh fruits!
---
The 2015 Petit Verdot is probably my favorite varietal at Sunset Hills. This tiny grape is packed full of earthy flavors and rich dark fruit notes that are so well balanced with an easy but tannic finish. Of course, this wine would pair well with any red meat, but I decided to try something new and simple. For this pairing, I made a bison burger with thick cut bacon, provolone, bibb lettuce, caramelized onions, tomato, and a "special sauce" on a toasted brioche bun. Bison burger was surprisingly easy to find and its somewhat healthier than beef since it contains less fat and has more protein. Bison also has a richer flavor than lean beef in my opinion. I started off by placing the burger in a large bowl, then added ground mustard, salt, pepper, onion powder, garlic powder, smoked paprika, and Worcestershire. After the burger and spices were combined, I formed 4, ½ inch thick patties and let them sit out at room temperature for about 30 mins. In the meantime, I fried 8 slices of bacon, caramelized some onions. Then I made the "special sauce" using mayo, balsamic glaze, ketchup, Dijon mustard, Worcestershire, salt and pepper. I buttered and toasted the buns then piled everything high, opened a bottle of Petit Verdot and indulged.
Bison Burger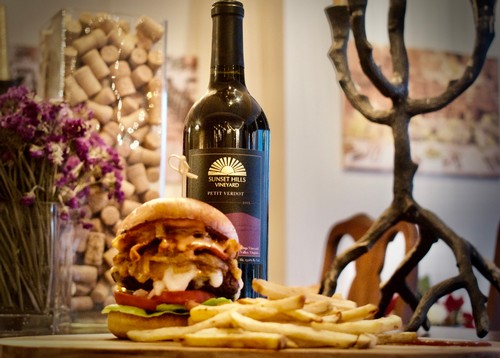 1 lb ground bison
1 tbsp Worcestershire sauce
2 cloves garlic (minced)
½ tsp ground mustard
½ tsp onion powder
¼ tsp smoked paprika
Salt and pepper
1 large yellow onion (sliced)
2 tbsp butter
8 slices thick cut bacon (cooked)
4 brioche buns
Provolone cheese
Lettuce
Tomato
Special sauce
¼ cup mayo
1 tbsp ketchup
1 tbsp Dijon mustard
1 tsp balsamic glaze (or balsamic vinegar with a dash of honey)
Directions:
In a large bowl, combine bison, Worcestershire, garlic, ground mustard, onion powder, smoked paprika, salt and pepper. Form 4 patties, and let sit at room temperature for 30 mins
In a large skillet over medium heat, melt butter. Add onions and a little salt, and cook on medium low heat for about 20 minutes, until caramelized and golden brown
Remove onions from pan, return heat to medium high and cook patties about 3-5 mins on each side. Add cheese, let it melt, then remove from pan and rest for 5 mins.
In a small bowl mix together mayo, mustard, ketchup, and glaze.
Toast and butter the buns, spread on the special sauce, layer with lettuce, tomato, bison burger, caramelized onions, and bacon.
- Rikki Cushwa
Executive Chef
Sunset Hills & 50 West Vineyards
---
You can order these wines online by clicking here. Bring home 100% Virginia wine from the Best Winery in Loudoun. Our wines are available via two safe and easy ways; Barn Side pickup Thursdays through Mondays 11 to 5 PM or shipping wine directly to your door with UPS! Be sure to tag us on Facebook or Instagram if you try out these recipes and pairings or even just to show us how you are enjoying these wines! Cheers!
Comments