May 8, 2020 | Rikki Cushwa
June Club Wine Release Recipes
June Club Wine Release Recipes
The Sunset Red is the perfect table wine. It is also a good by the fire, cozied up with a blanket, kind of wine. It's light in body, filled with dark fruit flavors, and a delicate tannic structure. I wanted to pair this wine with something light and fun and save the steak for the 2012 Mosaic I've been holding onto. The winemaker's suggested pairing was barbeque chicken. I went with her suggestion, but of course I put my own little twist to it and made barbeque chicken nachos! I used chicken thighs and grilled them low and slow. I personally like to use the grill because of the smokiness and that little hint of char; but you can also cook the chicken in the oven or if you're lucky to find a rotisserie chicken, that will work too! After the chicken was grilled, I shredded the meat with a fork and tossed it with a tangy, yet sweet barbeque sauce and set aside. I lined a baking sheet with parchment paper, spread out the tortilla chips then started layering… Shredded cheese, jalapenos, red onions, tomatoes, corn, BBQ chicken, then baked until cheese was melted. Once everything came together in the oven, I made some restaurant style queso to drizzle over top (because you can never have enough cheese). I topped everything off with a dollop of sour cream, cilantro, and some homemade salsa. I like my light bodied reds slightly chilled, so after I got my wine to the right temperature, I poured myself a glass and piled a plate full of nachos and devoured. Grab plenty of napkins, you're going to need them.
.
Barbeque Chicken Nachos
1 lb chicken thighs (or rotisserie chicken)
2 tbsp BBQ sauce of your choice
1 bag of tortilla chips
1 ½ cups shredded cheese
1 ear of corn – or small can
1 tomato (diced)
1 jalapeno (diced)
½ red onion (chopped)
Cilantro
Sour cream
Salsa
Queso
½ lb white American cheese
¼ cup milk (add more to thin out)
1 tbsp butter
1 (4oz) can green chilies
¼ tsp cumin
¼ tsp chili powder
1 clove garlic (minced)
½ yellow onion
1 jalapeno or serrano pepper
Cook chicken to your desire. Place chicken in a large bowl, use a fork to shred. Add your favorite barbeque sauce, toss and set aside. On a large baking sheet, line with parchment paper, spread out tortilla chips. Add shredded cheese, red onions, tomatoes, jalapenos, corn, bake at 400 until cheese has melted (about 5-10 mins). Drizzle queso over nachos, add toppings of your choice (salsa, sour cream, cilantro, limes, etc)
In a small sauce pan on medium high , add cheese, milk, butter, and green chilies. In a small sauté pan, cook onions, peppers, and garlic (about 2-3 mins until fragrant). Add onions and pepper mix to the sauce pan. Stir until melted and combine. – serve immediately
---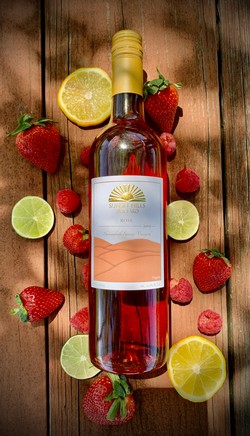 The 2019 Shenandoah Springs Rose is bursting with flavors of fresh strawberry and summer watermelon. 2019 was a great year for red grapes, specifically our Cabernet Franc and Merlot, which is what went into this vintage. I wanted to highlight the juicy fruit flavors that are oh-so present in this rose. There is a slight acidity to the wine that I had to play with, so for this pairing I chose a light salad. One of the salads we offer for Divine Wine group tours is the spinach and berry salad, which is the first thing that popped in my head when I tried this rose. I start with fresh spinach and mixed green, then add sliced strawberries, blueberries, red onions, candied walnuts and pecans, and gorgonzola. For the dressing, I have two options, balsamic vinaigrette or creamy poppy seed, there's no wrong choice for this light and flavorful salad!
Spinach and Berry salad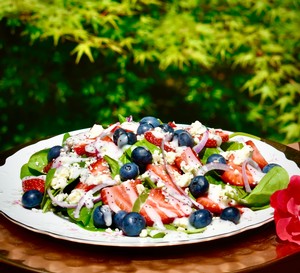 2 cups Spinach
1 cup spring mix
6 strawberries (sliced)
¼ cup blueberries
¼ red onion (diced)
2 tbsp gorgonzola
2 tbsp candied nuts
2 tbsp Poppy Seed or Balsalmic Vinegerette
In a large bowl, add spinach, spring mix, strawberries, blueberries, red onion, gorgonzola, and walnuts and pecans. Drizzle either balsamic vinaigrette or creamy poppy seed dressing, toss and serve!
.
-Rikki Cushwa
Executive Chef
Sunset Hills and 50 West Vineyards
---
You can order these wines online by joining our wine club! Click here to join the club and bring home 100% Virginia wine from the Best Winery in Loudoun. Our wines are available via two safe and easy ways; Barn Side pickup Thursdays through Mondays 11 AM to 5 PM or shipping wine directly to your door with UPS! Be sure to tag us on Facebook or Instagram if you try out these recipes and pairings or even just to show us how you are enjoying these wines! Cheers!
Comments
Mia
@ Sep 17, 2020 at 1:13 AM
Really nice article, thanks for sharing this post. Keep it up.
hiprofileescortindelhi
@ Feb 8, 2021 at 7:49 PM
I am looking for someone to share pleasant moments Delhi escort service http://hiprofileescortindelhi.com
sapnaoberoi
@ Feb 8, 2021 at 7:49 PM
You can see that because of my passion, my body, my beauty and
my treatment I am 100% addictive. http://sapnaoberoi.com/
jagritiswimming
@ Feb 10, 2021 at 1:14 AM
I am looking for a man to meet occasionally, especially discreet. I am married and I don't want problems.
Call Girls in Mahipalpur http://www.naughtycallgirl.com
Latest daily news Delhi
@ Feb 10, 2021 at 4:19 AM
Latest daily news Delhi
https://www.mywordink.com/
Breaking news & Today's Live News of Delhi www.mywordink.com
Lead Generation Service Delhi
@ Feb 12, 2021 at 7:06 AM
Lead Generation Company in Delhi.Looking for qualified leads for your business EWS Net Pvt. Ltd. India is the best place.
http://www.e-web-solutions.net/
Lead Generation Service Delhi
Mahipalpur Escort Service
@ Feb 18, 2021 at 3:37 PM
Hi Guys, Delhi and Escort Service Call Girls Hotel Service Available (Any Time) 9999877550 at your hotel room within 15 minutes We here at the house of Sexy Call Girls Service in Delhi Area make sure that you are served at most of the prime locations in Delhi and our hot girls can meet you Aerocity Connaught Place and some of the other
Aerocity & Mahipalpur. Near IGI Airport, Delhi, Russian Call Girls in Hotels in Mahipalpur 110037
missdelhiescort
@ May 1, 2021 at 10:53 PM
That is the explanation just we generally keep updating our photograph display page with seminude and full body photographs of the Private Escorts in Delhi all the ideal opportunity for our closest and dearest one. At whatever point we get another hot young lady participating in our organization without further ado first we put her jazzy picture in the exhibition page with her total detail.
Jaipur Call Girls
@ May 18, 2021 at 2:51 AM
I truly fortified investigating your article, before that I was unable to discover such a huge load of data. On the off chance that you other than the need to make some new second, then go and find essential youngsters.
http://www.jaipurescortsservices.co.in/
http://www.vipjaipurescorts.com/
http://www.escortsservicesinjaipur.com/
Call Girls in Jaipur
@ May 18, 2021 at 2:54 AM
I bring to the table basic thankfulness to you. I have bookmarked your site for future updates. We have the best Call Girls in Jaipur for massage service centers in the whole area. We provide all types of massage like a body-to-body massage. Female to male massage, oil massage, hot stone massage. Get massaged by TOP models in Jaipur.
http://www.kamyaagnihotri.com/
http://www.jodhpurescorts.org.in/
http://www.jaipurescort.net.in/
http://www.jaipurescortsnight.in/
http://www.escortsservicejaipur.com/
custom packaging for clothing deluxeboxes.com
@ May 24, 2021 at 9:06 AM
I hope it will be helpful for almost all peoples that are searching for this type of topic. I think this website is best for such a topic. good boxes and packaging.
candle boxes
@ May 24, 2021 at 11:46 AM
Our candle boxes are available in an unbeatable selection of sizes, shapes, and colors like black, white, brown, pink and red. We can also add your logo, name, or design on them to promote brand products and instant recognition. As a professional packaging company we offer these boxes with free die cutting services by means of no minimums or setup fees.