August 23, 2021 | Aubry Fisher
Meet Our Staff: Shelby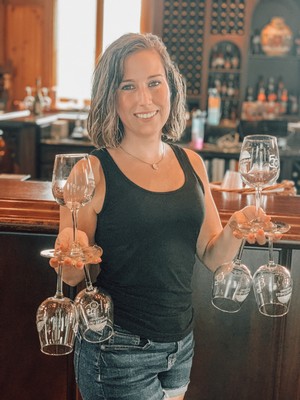 Favorite Sunset Hills Wine? Our 2020 Rose of Cab Sauvignon & our 2012 Tannat
How long have you worked at Sunset Hills? Eary July was my one year anniversary!
Do you have any other jobs? Kindergarten Teacher
Where are you from? NOVA
Have you lived in a different state or country? No
Hobbies outside of work? Painting, reading, jigsaw puzzles
Do you have any kids or pets? Abby the dog. She is 8 years old.
Are you a morning person or a night owl? Both
If you could have one superpower, what would it be? Pyroconetticts
What is your favorite season or holiday? Fall, aka spooky season
What did you want to be when you were younger? Marine Biologist
Do you have a favorite, show, book, movie, etc. right now? My favorite book is Where The Crawdads Sing
When/if you do go out to socialize, what things do you enjoy doing? Spend time with my pup and taking naps
What is your favorite food? Mexican Food
What was your favorite subject in school? I have a double major in Neurobiology so neurobiology!
Do you enjoy nature, or do you prefer to stay indoors? Both

Two Truths & A Lie
1. I collect hats from different states.
2. I've been kayaking in Honduras
3. Frogs are my favorite animal!
Comments
Commenting has been turned off.