January 29, 2018 | Corry Craighill
Rosés in Time for Valentine's Day
Valentine's Day is right around the corner! How will you wine and dine your Valentine during love's special holiday? Sunset Hills Vineyard has a wine recommendation that will pair beautifully with your Valentine's Day celebrations. A Virginia winery located in the heart of Loudoun County's wine country, Sunset Hills Vineyard produces a variety of award-winning 100% Virginia wines, including a Valentine's Day favorite – Rosé!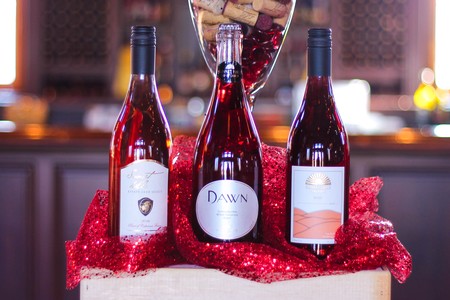 To know rosé is to love rosé, so what exactly is this pink wine all about? Corry Craighill, Sunset Hills Vineyard's Winemaker, breaks down the method behind rosé and how Sunset Hills' three rosés can enrich your Valentine's Day experience.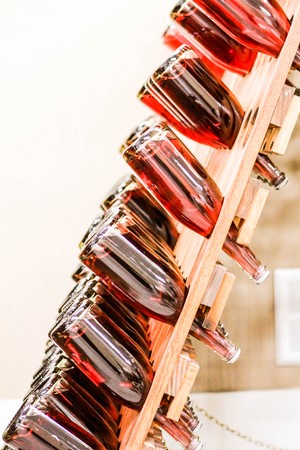 The modern rosé has come so far since it became popular in the early 70's in California. An accidental stuck fermentation resulted in a new product for a west coast winery, creating the white zinfandel rampage. This pink zinfandel is known for being overly sweet, an easy entry into the vast world of wine. The evolution from white zinfandel to our modern rosé has left us with wines that are fresh, often dry, and easy to pair with food. Everyone has to start somewhere in their journey of wine, so keep tasting pink wine because there are some great rosés out there!
Winemakers and winegrowers have come so far in the production of rosé. They have created a plethora of styles and colors from the variety of red grapes out there. Some varietals you enjoy as red wines can also be used in rosé. For example, at Sunset Hills Vineyard we use Cabernet Franc for our Estate Rosé of Cabernet Franc and also in our Bordeaux-style red, Mosaic. Several factors play into what style of rosé we go for—grape variety, pick date, length of skin contact, and more.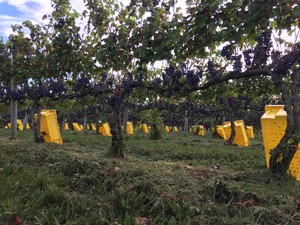 First impressions are crucial. More than any other wine, rosé color sets the stage before any other senses come into play. Are you drawn to the pale pink of Provence? Or the ruby hue of a Grenache rosé? Whether you are hypnotized by the color or would rather leave the judgement to your taste buds, one cannot deny noticing the variety of colors of rosés in the world. As for aroma and taste, rosé can really run the full spectrum. Because rosé can be made from any red variety of grape, the flavors and aromas can range from luscious sweet strawberries to citrusy grapefruit to tangy rhubarb.
At Sunset Hills, we make three different types of rosé —Chambourcin, Cabernet Franc, and a sparkling rosé. Why make three you ask? Besides the clear love for rosé, this gives us the flexibility of style both in the cellar and for your taste buds. If you prefer a lush cherry, full-bodied wine, go for our Sunset Rosé made from Chambourcin. If you want to drink like the French, pick the more pale, light Estate Rosé of Cabernet Franc.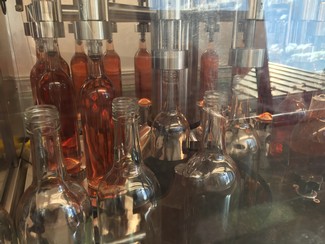 Let's start with our Sunset Rosé — a super fruity, lush, broad rosé made from the Chambourcin grape that pairs well with that picnic you have planned for Saturday afternoon at the winery. With all three rosés, we pick earlier than we would if we were making red wine to retain the natural acidity. This helps keep the wine tasting crisp and fresh! We destem the fruit, separating the grapes from the stems, then send it directly to the press. We like to limit our skin contact with Chambourcin because the color is so brilliant right out of the vineyard. Afterwards, it ferments in a stainless steel tank at cool temperatures in order to maintain the vibrant aromatics.
Next is our Estate Rosé of Cabernet Franc! Much like the Chambourcin, we pick the Cabernet Franc grapes early, but this time we encourage the juice to leach out the color from the skins by letting the crushed berries sit in their own juice for eight hours, a process called maceration. Allowing the juice and skins to macerate gives us a warm pink color and some fruity flavors like a subtle tart cranberry and juicy strawberries on the finish. After this maceration period, everything is pressed and the process continues like the Sunset Rosé—stainless steel fermentation at cool temperatures.
Are you seeing a trend here? Winemaking is simple really! Now for the sparkling. Our sparkling rosé, Dawn, is a Chambourcin-based wine. Made in the traditional méthode champenoise, it takes the wine several steps farther. Once we have the base rosé wine, we add another starter yeast culture to the wine in tank. The next step is to simultaneously mix the tank and bottle the wine. We want to ensure an even distribution of the yeast so that every bottle will ferment at the same pace. The second fermentation that takes place inside the bottles releases carbon dioxide, making the rosé slightly carbonated with small bubbles. The effervescence of Dawn makes for a light, refreshing take on rosé.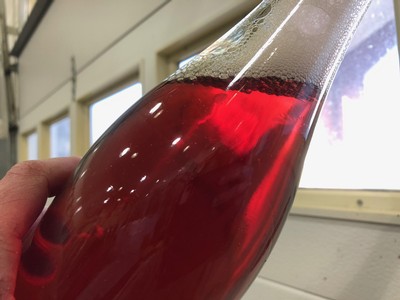 Now that you know a little more about Sunset Hills rosé, let's get to drinking. With Valentine's Day ahead of us, what a perfect wine that not only dresses the part but pairs well with many foods. Because of the broad spectrum of styles, you can grab a full-bodied, structured rosé to go with a juicy steak or a lean, crisp rosé to pair with those early evening appetizers.
Comments
Commenting has been turned off.