January 3, 2018 | Corry Craighill
What is Malolactic Fermentation?
In the last post, I explained what is going on in the cellar in these cold winter months. I want to delve deeper into a topic that I briefly touched on. Malolactic fermentation is a process that I get a lot of questions about--not only what is it, but what effect does it have on a wine's profile and misinterpretations of the effects of this process.

*MLF is short for malolactic fermentation

Let's start with a few facts:
MLF is a bacterial fermentation (*Remember: alcoholic fermentation is when yeast convert sugar into alcohol, ie how we get from grapes to wine).
MLF is the conversion of malic acid to lactic acid. You can remember this by M→L fermentation, MLF! Think green apple for malic acid and butter, cream, or just a general softness for lactic acid. This conversion changes the overall texture of the wine. We will cover this in detail later in the post.
MLF usually happens at the tail end or after alcoholic fermentation is complete
A winemaker can either inoculate with bacteria OR allow the fermentation to go through naturally. At Sunset Hills and 50 West, we do both--some barrels get inoculated and some are allowed to naturally complete the process. We do this to see how the wine interacts with the different strains of bacteria--two types of commercial and au naturale.
MLF will change the pH. For example, if your pre-MLF pH is 4.6, your post-MLF pH could be 4.7 or 4.75. This goes along with the texture change because the wine is now less acidic.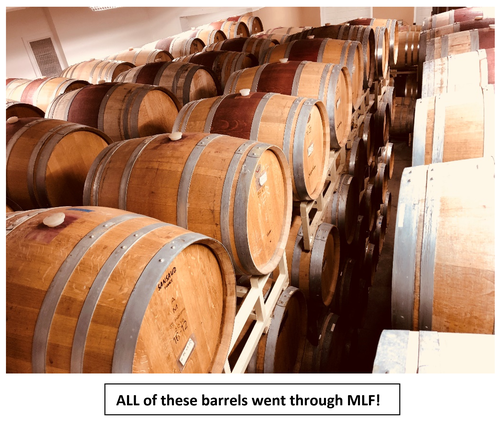 Let's keep going with a few "usually" statements:
MLF is usually used in red wine production. Remember in the facts part above, lactic acid is associated with a general softness of texture, we want our red wine to be smooth for our consumers. One way to work towards a smooth wine is to put it through MLF.
MLF can be used in white wine production. This is a stylistic choice of the winemaker. For young, acid-driven wines MLF may not be the best option. Never say never, but I will mostly likely never put the 50 West Chardonnay or the Sunset Hills Sunset White through MLF because I want them to remain edgy with an attitude and bright in their acidity. However, I always put at least some of the Chardonnay for both properties through MLF to give texture and different blending components. MLF can add complexity when used on the right wine!
MLF DOES NOT produce an oaky wine, it can produce a buttery wine but is not guaranteed to deliver buttery notes. This is the most common misconception I hear in the tasting room. I repeat, MLF does not mean your wine will be flabby, buttery, or creamy. Instead, MLF can add complexity, depth, and roundness to a wine. Also, oakiness comes from oak barrels. Why is MLF important?
Malolactic fermentation is important because not only does it change the texture of the wine, it also gives the wine stability. Once the wine is complete with both alcoholic and malolactic fermentation, we want the environment to be a desert--no more sugar, no more malic acid, nothing for any volatile to develop wine faults.

How do we track MLF?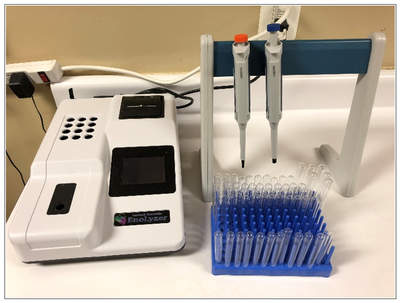 We try to track MLF on a weekly basis. There are two methods we use here at Sunset Hills/50 West. First is chromotography. After taking samples of barrels we want to test, we use a tiny capillary tube to drop the sample on the bottom of the paper. We then roll the paper up and place it in a solvent that over the course of several hours, will travel up the paper. Then we pull the paper out, let it dry, and can read the results. If all of the yellow dots have travelled to the top of the paper, we know that the level of malic acid is less than 0.2g/L. However, our goal is actually 0.02g/L! This leads us to our second method: enzymatic testing. Using our new spectrophotometer, we can get qualitative numbers.

In short, chromotography allows us to see the process of MLF is (or is not) taking place over time. The enzymatic testing gives us actual numbers to see exactly how many g/L of malic we have left. Once we get to 0.02g/L, then we can call the process complete and add sulfur to the barrels.


Reference:
Peynaud, Emile. Knowing and Making Wine. Wiley, 1984.
The Basics in Grape and Wine Chemistry. Nathan J. Sikes Bl.Arch.
http://sikesvineyard.blogspot.com/2009/08/basics-in-grape-and-wine-chemistry.html


Comments
Commenting has been turned off.