Sunset Hills Blog
Welcome to the blog of Sunset Hills Vineyard! From the trials of hand-tending vines in five different vineyards to releasing wines that our winemaker has carefully crafted, our goal is to share what's going on at Sunset Hills with you! We hope that you'll gain knowledge and find entertainment from this blog. Located in Purcellville, Sunset Hills is a proud producer of high-quality wine in Loudoun County wine country.

Bottling day – it's exciting, stressful, and fast-paced. As the first wines of the 2017 vintage are completed, our team toasts each other with a glass of bubbly in celebration of coming full circle on the first vintage together. We looked back at harvest and laughed at how many lugs of fruit it took to make the 800 cases of Sunset White we just bottled (It was about 800 lugs). We thought of all the time spent tracking fermentations, moving wine from tank to barrel, and of course cleaning equipment - all that time spent just to get to the finish line of bottling day. Even the weeks leading up to bottling day are a frenzy of blending, stabilizing, and filtering. Finally, bottling day arrives. We bottled 1,807 total cases, that's 21,684 bottles!
It's a long day and it starts early. A typical day of bottling looks like this:
6:00am: The truck arrives while the sun just barely begins to glow. Coffee in hand, hazy from the morning darkness, I pep up as the generator spurs the bottling truck to life.
6:01am: Full on bottling mode has taken hold of me.
6:02--6:45am: The bottling guys do a test run with a case of bottles, corks, capsules, and labels to calibrate their machines.
6:45am: The rest of the cellar crew arrives and more coffee is a necessity. The first tank is connected to the bottling truck and bottling begins!
7:00am--4:30pm: Unload, fill, reload, stack. Repeat 1,807 more times.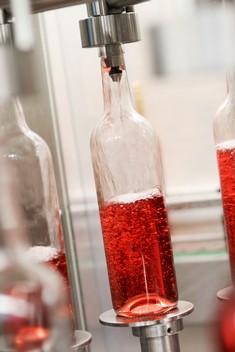 4:30--5:00pm: Clean up time.
5:01pm: Cheers!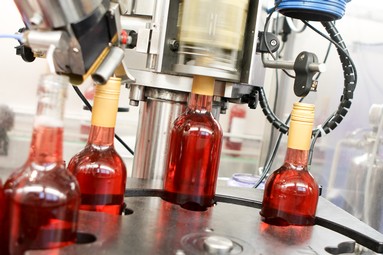 The people: We have five positions on the bottling line.
First is the forklift operator. They're the person that makes sure everyone has what they need, when they need it, where they need it. He supplies the empty cases that are loaded on the truck. He takes the palettes of full cases and stacks them away in the barrel room.
Second is the glass unloader. This person stands on the truck, takes the cases of empty bottles, flips them onto the bottling line's conveyor, lifts the box off of the upright bottles, and watches as the bottles get taken away further into the abyss of the bottling line.
Third is the box filler. This person also stands on the truck. He is the final check of the full bottles. Labels are straight? Check. Bottles are corked and capsuled? Check. There is actually wine in the bottle? Check. The completed bottles are then placed back into the cases and sent down another conveyor.
The fourth and fifth person stand at the end of this conveyor to receive the full cases. They trade places labeling and stacking the cases.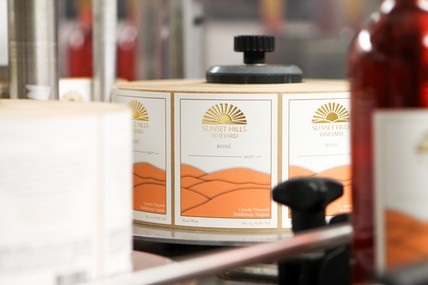 The in between: So where does the actual bottling take place? Once the glass unloader sends the empty bottles onto the truck, that is where all the action happens. The bottles get flipped upside down and filled with nitrogen to protect against oxidation. The bottles are then circled around in merry-go-round like fashion and filled to the correct level. Next, they get the screw caps spun on. The last step is labeling--the front and back label are adjusted by the slightest millimeters and put on the bottle. Finally, the long conveyor takes the bottles around the back of the machine where they leave the truck and are placed safely back into their case.
Although stressful, bottling day is a relief. We are happy to see our product completed, our hard work paid off. Now we can enjoy the finished product and look forward to the next bottling in May!

Corry Craighill, winemaker at Sunset Hills and 50 West Vineyards, celebrated her 1st anniversary last month! She started as the Assistant Winemaker under Nate Walsh, the former winemaker, and learned how he made wine during his time with the vineyards. Once Nate decided to pursue his passions with wine, Corry stepped into the role of winemaker for the vineyards and has been working diligently to make the wines you love while also bringing in exciting new blends!
Corry sat down to share more about her background in the wine industry and what she foresees being trendy in 2018. Read on for some previews of what's to come for Sunset Hills Vineyard!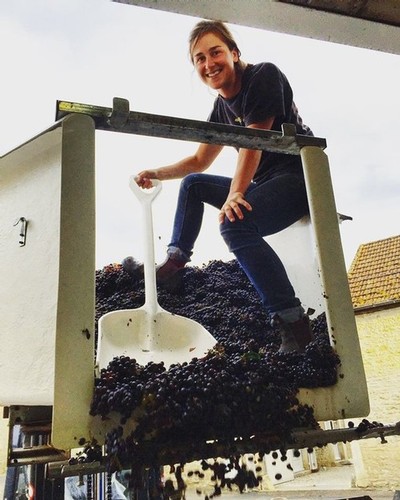 When Traveling Leads to Finding Your Passion
While studying at the University of Virginia, Corry worked in the tasting room at Jefferson Vineyards. Interested in this industry, she decided to pursue winemaking instead of going to grad school.
After deciding that the wine industry was her passion, Corry worked for several wineries in the Monticello area. Blenheim and King Family were where she gained most of her experience. As assistant winemaker at both wineries, she discovered her passion for winemaking, gained invaluable experience to start her career and made connections that would have her traveling all over the world to learn more. From Australia, to South Africa, to New Zealand, to France, Corry was fortunate enough to learn new skills and techniques from prestigious winemaking regions of the world.

Learning More Outside of the Classroom
Traveling and working opened Corry's eyes to how winemaking tasks can be done 100 different ways and produce a unique result each time. Each time she met a new winemaker, she could evaluate what was important to them. How do other winemakers build their barrel program? How do they determine maceration and press cut decisions? How did they let the vineyard be expressed in the finished product? She's taken this knowledge and has applied it to winemaking in Virginia.

Here's a Quick Q&Rosé on Corry's Favorites:
• Favorite Overall Wine Region You've Visited? Central Otago, New Zealand
• Favorite Wine Style Region? Swartland, South Africa
• Favorite Place for Food and Wine Pairings? France
• Favorite Wine to Try in All Regions? Pinot Noir
• Favorite Sunset Hills and 50 West Vineyards' Wines? Sunset Hills Reserve Cabernet Franc and 50 West Chardonnay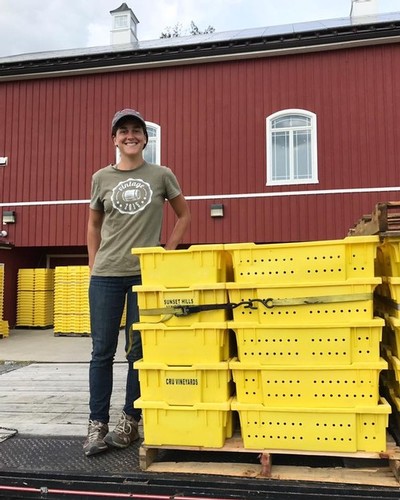 What's the Difference Between the Wines at Sunset Hills and 50 West?
One of the most asked questions at both vineyards – what makes the wine different at each location? It's a fair question! Between five vineyards and one production facility, just how does Corry keep the wines unique between the two properties?
Sunset Hills Vineyard offers high quality classic Virginia wines including Viognier, Cabernet Franc, Chardonnay, Merlot, and Petit Verdot. While these are all well received and award-winning wines, Corry has spotted areas of opportunity to continually improve these varietals in future vintages while maintaining their integrity.
As for 50 West Vineyards, Corry is working diligently to make staples out of a few varietals that are less known in Virginia. Her main area of focus? Sauvignon Blanc and Albariño. With 2016 being the second vintage of these two white wines, guests and people in the industry are starting to take notice. The 2016 Albariño just received a silver medal at the Loudoun Wine Awards. An additional area of focus in 50 West wine making has been the red blends. Each vintage of the Aldie Heights Cuvée medaled at the Virginia Governor's Cup and a new red blend, Ashby Gap Red, is set to release later this month.
2018: Looking to the Year Ahead
As 2017 Harvest gets under way at the five vineyards Corry and her team manage, she's already making plans for every cluster that comes off the vine. Of course, the majority will go into making favorites like Cab Franc, Viognier, Rosé, and others, there are plenty of grapes that Corry has enough to experiment with. She looks forward to trying her hand at a Pétillant Naturel, or Pét-Nat, for short. This natural, light, and slightly sparkling wine is bottled shortly before the first fermentation finishes and undergoes a second fermentation off of the natural sugars and yeast while in the bottle. If this is successful, 2018 may bring a small batch of Pét-Nat wine exclusive for the wine club members.
Corry Craighill continues to learn and grow as a winemaker. Virginia is fortunate to have someone who is dedicated to continually producing wines that can be respected by wine enthusiasts from all over. She continues to grow her skills of winemaking through emerging herself in the vast wine industry.

Welcome to the blog of Sunset Hills Vineyard!
From the trials of hand-tending vines in five different vineyards to releasing wines that our winemaker has carefully crafted, our goal is to share what's going on at Sunset Hills with you! We hope that you'll gain knowledge and find entertainment from this blog.
Each month we'll post an entry authored by various personalities from around the vineyard. Keep an eye out for our first entry in early July. In the meantime, follow us on Facebook at www.facebook.com/SunsetHillsVineyard