Sunset Hills Blog
Welcome to the blog of Sunset Hills Vineyard! From the trials of hand-tending vines in five different vineyards to releasing wines that our winemaker has carefully crafted, our goal is to share what's going on at Sunset Hills with you! We hope that you'll gain knowledge and find entertainment from this blog. Located in Purcellville, Sunset Hills is a proud producer of high-quality wine in Loudoun County wine country.

It's been a really hot summer but that didn't stop fifteen enthusiastic participants from joining myself and Quintin, our Vineyard Manager, for our second installment of the Follow the Grape series. Lathered in sunscreen and energetic from the morning's coffee, our fantastic attendees were rearing to learn the details of exposing the fruit zone. Quintin and I were very happy to teach them and have the extra help in the vineyard!
A quick introduction and off we went into the vines. Quintin shared the importance of allowing the fruit to bask in the sunlight throughout the growing season--decrease disease pressure via increased air flow and ease of drying out. Teams of four ripped and plucked their way down each row, stepping back at each vine to make sure the job had been done right.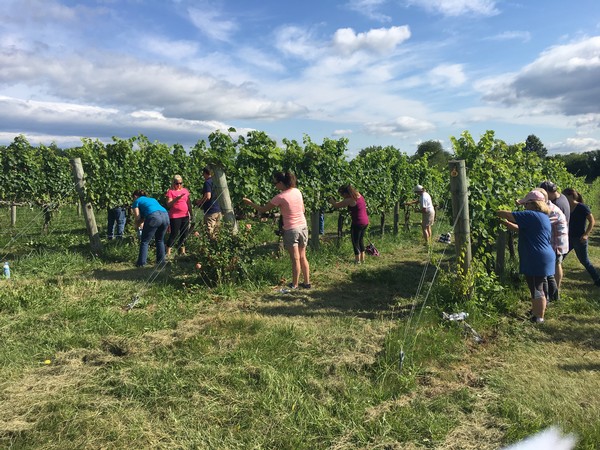 This time of year, canopy management is the number one focus in the vineyard. Tucking vines into place, leaf pulling to clear the fruit zone, and hedging the tops to keep vines in check are all important to maintain a healthy and easy-to-manage vineyard. The goal is to have a balanced canopy - one that allows for air flow to reduce moisture retention and also to have enough healthy leaves to ripen the fruit through harvest.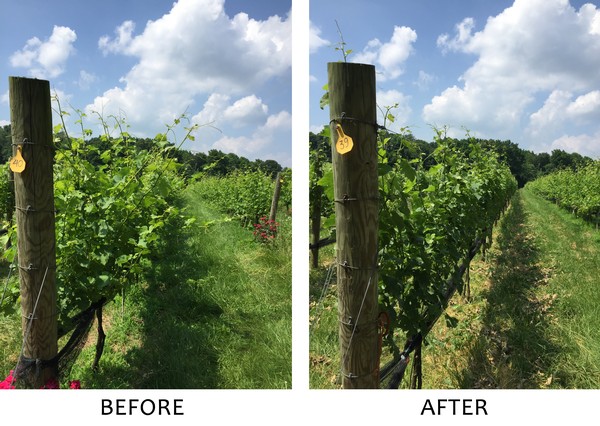 At the row's completion, it was time for a little international education. The group met me in our stone library for a quick presentation on canopies from around the world. Accompanied by a flight of wine (Maison Shaps, 2015 Bourgogne Rose; Mullineux, 2012 Syrah; Sunset Hills, 2016 Viognier; Sunset Hills, 2016 V1 Chardonnay), the crew was happy to listen to me share what I had learned about bush vines in South Africa and towering tractors in Burgundy. Curious what a towering tractor is? Check out this video.