Sunset Hills Blog
Welcome to the blog of Sunset Hills Vineyard! From the trials of hand-tending vines in five different vineyards to releasing wines that our winemaker has carefully crafted, our goal is to share what's going on at Sunset Hills with you! We hope that you'll gain knowledge and find entertainment from this blog. Located in Purcellville, Sunset Hills is a proud producer of high-quality wine in Loudoun County wine country.
Sunset Hills and 50 West Vineyards present: Feel Good About Drinking Our Wine...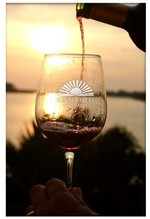 We are an authentic 100% Virginia farm winery, meaning we harvest 100% of our own wine right here from our natural Loudoun County vineyards (from our vines to your glass, literally) while taking care of our planet in a responsible way.
Growing grapes in Virginia to make exceptional wine is no easy task, especially when you care about the environment like we do. Many of you know that we "Turn Sunshine into Wine" using our large solar facility on our historic barns, but did you know that we are also Certified Wildlife Habitats?
A healthy sustainable environment like the ones at Sunset Hills & 50 West Wineries are good for native species like fox, deer, rabbits, and our winged friends who make their homes in our vineyards. It also is a good habitat for YOU as we are a HEALTHY GREEN ESCAPE in Loudoun where you are able to drink in the fresh air and to relax… away from the congested highways and busy office buildings.
Monarch Waystations & Bluebird Trails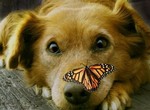 "1271!" replied thirteen-year-old Carter Steadman when asked how many monarch butterflies

he had hand raised since he was 8. Carter handpicked some of these monarchs as tiny caterpillars at Sunset Hills and 50 West Wineries right here in Loudoun where they were transferred to small netted cages; fed milkweed daily until they spun their chrysalis to later emerge as monarch butterflies. Owners of the Loudoun wineries, Diane and Mike Canney have raised 20 themselves!
Carter and a team of Loudoun Wildlife Conservancy (LWC) volunteers have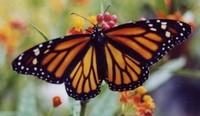 worked with Sunset Hills and 50 West for many years; protecting and expanding our native bird and butterfly populations. The LWC has helped us establish and monitor our Monarch Waystation Gardens and Bluebird Trails.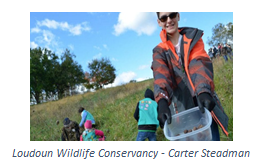 As a result, we have added hundreds of these native birds and butterflies to the population. The Waystation at Sunset Hills is located in front of the pond looking from the winery barn decks. At 50 West it is just left of the tasting room near the parking lot. Speaking of winged friends, let's talk about our Sunset Hills & 50 West Wineries full time residents; Bluebirds!

Bluebirds have a challenging life compared to most birds. They don't make nests in trees but instead require a cavity like a hole in a fence post or tree. They eat bugs. We love this trait. We rely on the busy bluebird to eat bugs, this way, we don't have to spray chemicals in the vineyards to repel pests. They love sitting on the top of the vineyard posts looking for bugs and spend hours flying up and down from their posts. We have learned that crickets must be a Loudoun bluebird favorite - look at our posts - they have lots of leftover cricket legs that must not be very appetizing to the birds.😊 In fact, our trails play host to modern bluebird houses that fill in for their loss of habitat.
---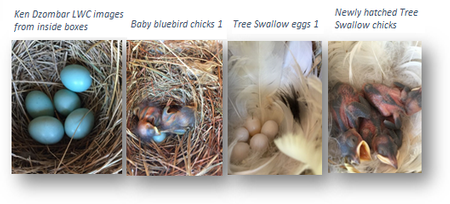 We are grateful to you as customers for supporting our wines that we donate a portion of sales to the Loudoun Wildlife Conservancy (LWC). Their many programs make Loudoun a better place for all creatures including us to live.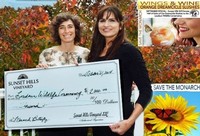 Thank you to these conservationists & volunteers for the hundreds of hours they have dedicated to the greater good for the environment in their former and current roles with Loudoun Wildlife Conservancy including: Nicole Hamilton, Karla Etten and Ken Dzombar, Sarah and Carter and Team Steadman, Joanna Dzombar, Sally, Shannon, David and so many others.
---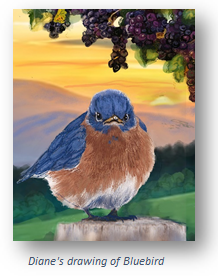 We have planted Monarch waystations (or garden plots) at 50 West and Sunset Hills wineries as well as at our home with milkweed and fall nectar plants.
You can plant milkweeds and fall nectar plants too! Every garden plot, especially when added to the gardens of our neighbors and their neighbors and their neighbors, can make a difference. At 50 West and Sunset Hills Wineries, we strive to take the lead in serving as a model for other wineries and communities to continue to care for Loudoun County in the very best way!
Hope lies in the future generations! Sunset Hills, 50 West, and Loudoun Wildlife Conservancy's shared goal is to make sure that healthy habitats exist so that the future generations have the best chance possible to bring back the magic of nature.
-Diane Canney
---
Enjoy!
For more information on how to plant your own gardens or bluebird houses and the activities of the LWC. https://loudounwildlife.org/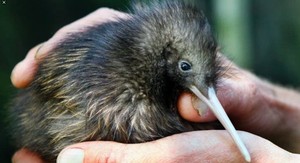 As we continue our journey we visit a conservation program for New Zealand's national bird - the kiwi to support their efforts. A very interesting fact about these hen sized,rare, and flightless birds is their egg size.

The kiwi we were told has the largest egg per body ratio of any bird. The males sit on the egg for two months. The young hatch and are on their own and are very solitary creatures.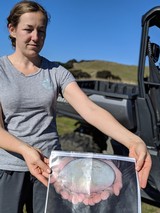 Humans have introduced various weasels, possums and cats that have dramatically reduced their numbers. Meet Marhaban who hatched March 13 and weighed 317.6 grams. Today he weighed 505grams and was "wiggly". We found him hidden under very tall grasses with help of the local biologist and her tracking device. Kiwis are territorial and can cover 5 acres a day walking.
Marhaban and others fortunate to be in this private preserve with a better chance for survival. They are monitored and weighed every two weeks and eventually will be released into the wild. We hope for the best through more conservation efforts for these gentle birds with fur like feathers.
Back to wine on the North Island and other types of kiwis
Today Stonyridge is considered one of the best red wine producers ..according to their acclaim and website. Colorful, owner, Steve White skippered yachts across the world decades ago then worked in wineries in France, California and Italy before starting Stoneridge on Waiheke Island off the coast near Auckland. This Yoga focused and trendy winery is a favorite of celebrities and people attracted to their fun zenlike environment and wines.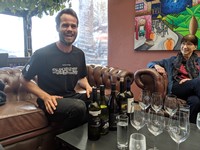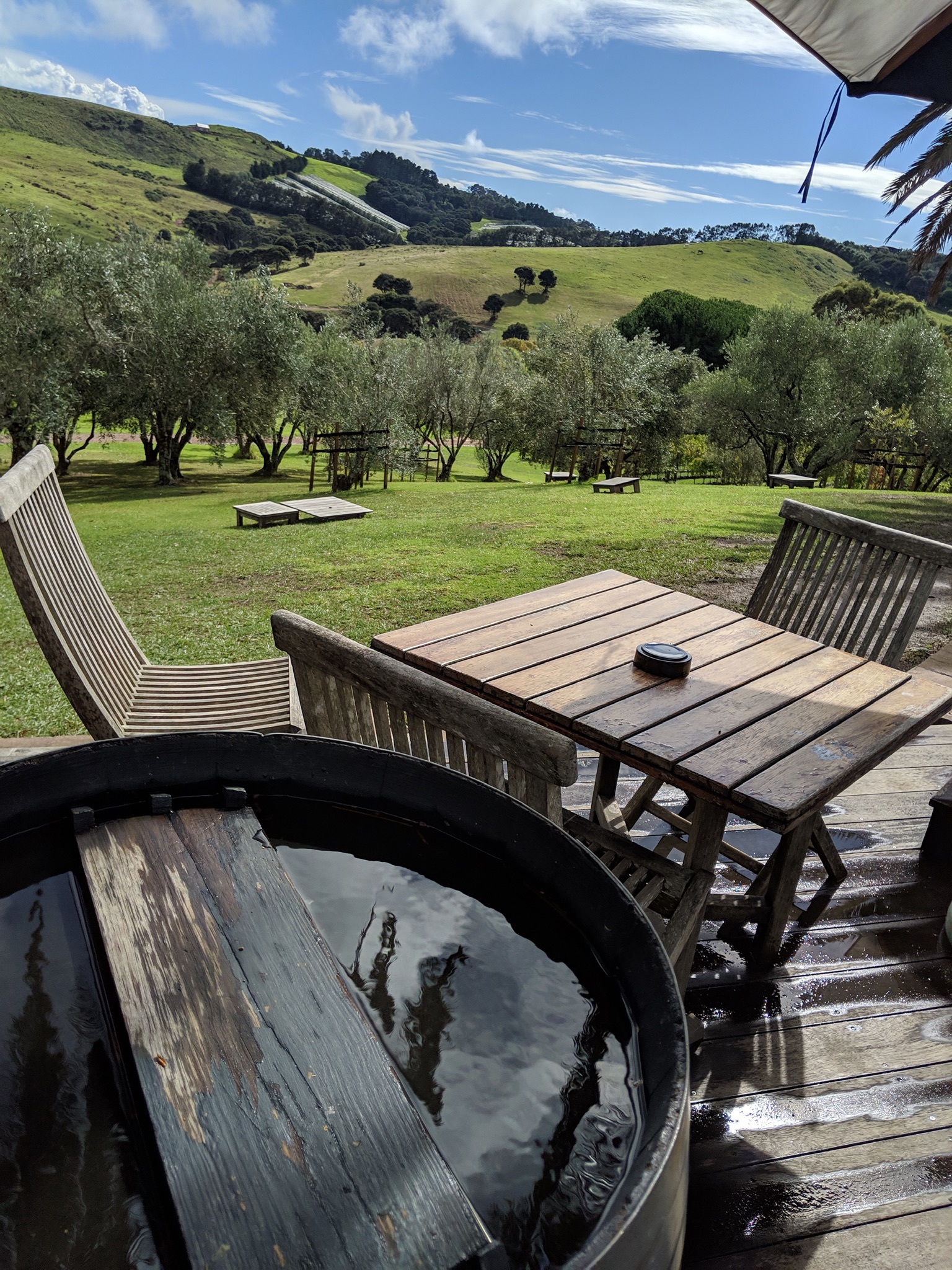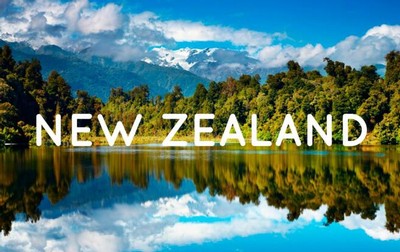 When Mike and Diane are not home working with their great team they try to visit other wine regions to learn and be inspired. This blog is about their current trip to New Zealand an amazing place to enjoy wine and meet kiwis. Kiwi applies to the residents and the flightless bird now protected.
We begin our journey in the Hawke's Bay region on the North Island. New Zealand has two islands that are very different in feel, the North Island resembling a feel of California coast and English farmland and the southern more like Austria with glaciers.

The wine regions are respectively Hawke's Bay in the north and Marlborough region on South Island. The Hawke's Bay region contrasts greatly with Marlborough in the South Island. This region is older than Marlborough planted by missionaries in the mid 19th century. It is known for the unique Gimlet Gravel terroir. There are two types of soil here alluvial loams and river gravels. Surprisingly, the Gimlet Gravels went unplanted until the 1980s. Now it is one of the most important patches of ground in New Zealand. A unique example of how the French concept of terroir matters in New Zealand.
We enjoyed their Sauvignon Blanc, Syrahs and Pinot Noir. I plan to share some of the interesting facts and features and towns and creatures along the way. Maybe if its not too boring some of Diane's drawings that capture the spirit of this place and its people.
New Zealand was settled by Polynesians 700 years ago who developed a distinct Maori culture centered on kinship & lands.
Fur traders followed and a in 1462 a Dutch navigator. Charting and exploration by Captain cook and settlement by the British empire that would predictably shift power from the Maori to the Europeans who created great farms to provide goods and services to the UK. Poor immigrants came to find a gentler environment and "heaps of opportunity" as the kiwis would say.
Diane decided to capture a rags to riches home in one of her drawings here. Built in 1870s this station manor was designed by an architect from England who specialized in castle design for a former penniless farmer turned into gentry by the exports of wool and meat. Think of a station as a self contained farm that could be thousands of acres. They would have had an onsite school, tens of thousands of sheep and or cattle tended by farm workers and home staff. The interior is full of beautifully carved wood. Queen Elizabeth's mother is pictured in a photo here. This one is of a former station called Green Hill.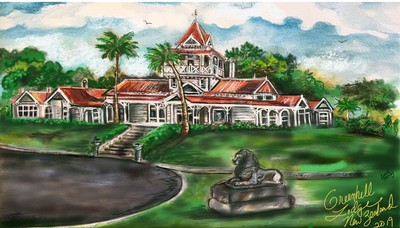 Wool, lamb and oil were commodities needed by the UK. Often penniless immigrants came to this country, cleared the native bush and planted rye and grasses and pastures for their stock. The owner was responsible for the staff and animals and probably the rules and regulations.
Stay tuned for more photos and fun facts.....tomorrow a baby kiwi

The mind of a cellar hand is constantly in motion. Although there are some tasks that require absolute concentration, there are also a great deal of tasks that simply require good work ethic and elbow grease. Whether it be throwing lugs, scrubbing those pesky tartrates off the inside of tanks, or simply maintaining and cleaning our cellar equipment, one is left with hours of deep and profitable thought. In fact, when my knee-high waterproof boots go on, my mind begins to race against its self. I ask myself the deepest questions in life. "What do I want to do with my life? How do I want to impact the world around me? What is it that provides happiness and fulfillment in peoples' lives? Where do I want to be in 20 years? Why did George Lucas sell out to Disney? If I could have one meal for the rest of my life, what would it be?" and so on. However, it's these important tasks that aid in our production of such quality wine.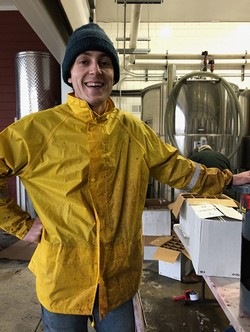 As we approach harvest there is a great deal of prep work to be done. For a cellar hand, the name of the game is "Clean and Organize". Once harvest hits there simply won't ever be enough hours in the day. That is why it is so important for us to prepare as much as we can now in the hopes that it will make the whole process easier and more efficient down the road. This starts with clearing out everything from the cellar that is not essential to the process of harvest. Once we have more space to maneuver the forklift, we organize and take stock of our empty barrels that will soon hold a new vintage of wine. This helps us to plan out what we believe to be the best barrels to use for the many different varieties of grapes that we grow.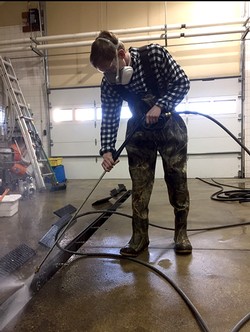 Now, the real fun can begin. What most people don't know is that a majority of cellar work is cleaning. The tanks, the equipment, the floors, and so on. Before we bring a single grape into the cellar we want to ensure that everthing is spotless and sanitized. Through a combination of power washing, squeegeeing, and a great deal of scrubbing we meet the rigged standards that we place upon ourselves. However, this process is not complete until one specific task is carried out. The cleaning of the drains. This ceremonial mission is considered a right of passage in the world of wine making. It's what sorts out the strong from the weak, and the brave from the frightened. In the end, there is always a great deal of work and time that goes into every aspect of wine making. But it's all worth it to see the process of a grape traveling from a Virginia vine to a bottle. A final product that you can hold in your hand, share with others, and straight up appreciate the fruits of your labor.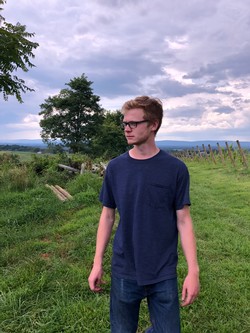 About the Author - Jackson Cunningham joined the Sunset Hills team in August 2017. He is a great addition due to his work ethic, willingness to go with the flow, and sense of humor.

Our June bottling has been much anticipated since I started here at Sunset Hills and 50 West Vineyards. This bottling marks the first vintage of our flagship wines that I have created from start to finish - from grape to bottle. These wines have been waiting since October 2016 for this day, waiting in fermenters, waiting in tank, waiting in barrel, waiting to be blended. The physically tolling work is done--punch downs, pump overs, digging out the tanks or bins, pressing--all of laborious tasks have been completed long ago. Now, after months and months of waiting, it is time for the quiet task of blending to begin.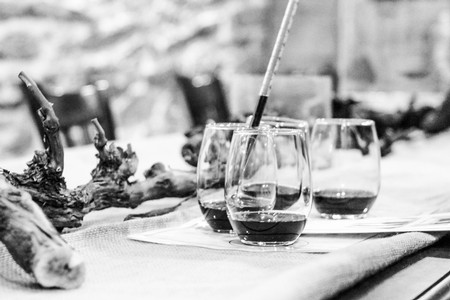 People ask how I got into winemaking. The short answer is that I wanted a job where I could work outside. Part of the long answer is that I love the combination of science and creativity. I spent several years working for a lab and winery in Charlottesville, so I learned not only HOW to run the numbers, but WHY they are important. To understand the science of wine, to me, is necessary in making a quality product. I am not a scientist, but I use the numbers to make the best decisions for the wine.
The other half is creativity. Wine is a creative outlet--tasting and exploring various types of wine from all over the world. This side of the business is what kept me in the business, what kept me exploring new countries, and what kept me asking questions. Creativity is a huge part of blending. Once the goal is set for a style of wine, my brain just takes off. With the help of detailed note taking throughout the year, I remember each batch of wine and try to plan for each blend ahead.
Mosaic is always first, you have to start somewhere. Mosaic is our Bordeaux-style wine, so I am looking for a balance of a finessed yet assertive structure, a rich and confident wine and one that is well balanced with acidity, tannins, and fruit. For the 2016 blend, I was able to lean more on our Shenandoah Valley site to give good structure and acidity, and the Sunset Hills site for volume. Creating this blend takes time. I created almost twenty blends, swirling and tasting blind, before I narrowed it down to four options. I took those four and sat on them for a few days--wondering if I would change my mind. My goal is to taste blindly and consistently pick the same blend every time. Luckily, blend 12 kept being my favorite. Not only tasting blind but tasting with other people is important to me. I choose individuals who I trust and can have a good conversation with--how can I improve the wine? What is the wine missing? How will the wine age? Having a community of people that you can taste with is so important! I can write a whole other post on how the wine community has impacted me, but for blending specifically, my colleagues provide feedback that helps me improve.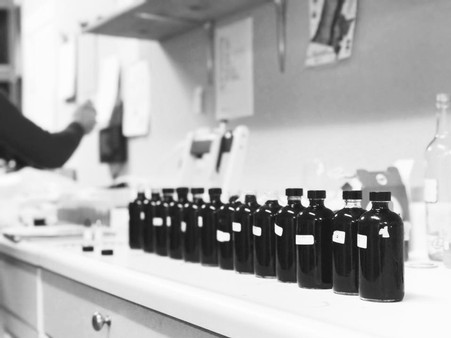 As for the Reserve Cabernet Franc, the style is lighter than the Mosaic, but more robust than the classic Cabernet Franc. A slightly heavier oak influence and bigger tannins provide the "reserve" label over the classic Cabernet Franc. Again, several blends are created in order to narrow it down to one. Tasting blind and tasting often.
Lastly, the 50 West Aldie Heights Cuvée. Although it is the third blend I make, it uses components that neither of the other wines use. With Tannat as its base, the Aldie Heights Cuvée is one of the more boisterous wines. Tannat is known for being high acid and high tannin, which makes it a great blending component for bigger wines. For the 2016 Aldie Heights Cuvée, it is the base making up 40% of the blend.
When the bottling begins in June, I feel confident knowing that the final product will be a wine that you'll love and will uphold the reputation of Sunset Hills' and 50 West's bold red wines.

April is designated as Virginia Vineyard Month. For those that have visited either of our tasting rooms, you have probably glimpsed a few rows of Viognier or Cabernet Sauvignon as you meandered up the gravel driveway. Those rows are just a small portion of the close to seventy acres we have under vine. Yes, seventy acres spread across five farms in Loudoun County and the Shenandoah Valley! Let's take a further look at each property - pros and cons and a few fun facts in between.
Shenandoah Valley
We have two properties all the way out near Woodstock, Virginia that make up about half of our total production. With no traffic (don't hold your breath on I-81), it takes a little over an hour to get to this site. Towing a full load of fruit, it can take closer to an hour and a half! The traveling is worth it to these two sites because of the variation in climate, soil types, and elevation as compared to Loudoun County. These sites tend to give us less rainfall and more good airflow coming through the valley between the Blue Ridge and Allegheny mountains, essential to producing good fruit.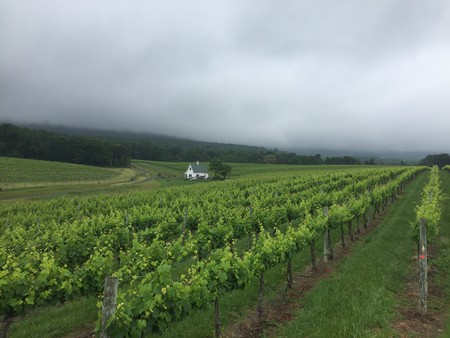 Shenandoah Springs is our more established site. Sitting between 1280 and 1330 feet elevation with a mixture of loam and limestone soils, this site offers balanced fruit including Cabernet Franc, Viognier, Tannat, Petit Verdot, Chardonnay, and Sangiovese. You know that Rose of Sangiovese you love in the spring time? That is 100% Shenandoah Springs fruit! The 2017 Viognier is right around 70% Shenandoah fruit and the 2016 Cabernet Franc is upwards of 90% Shenandoah Springs. This site is also home base for meetings, crew lunches, chicken round ups, and tractor maintenance. It is marked by the quaint white and green building right at the lowest and central point to the vineyard entrance.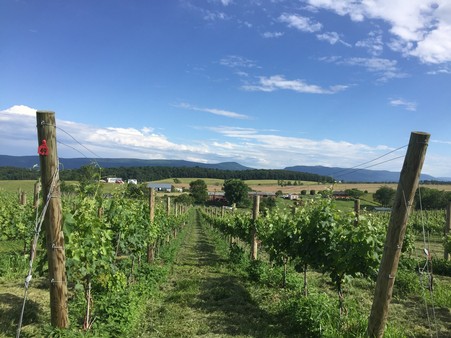 Sherman Ridge is the other Shenandoah site, located right down the road from Shenandoah Springs. Planted in 2014 and 2015, this site is right off the main road suitably and legally dubbed Back Road. Home to Merlot, Tannat, Petit Manseng, Cabernet Sauvignon, Vidal Blanc, and a mere five rows of Muscat Ottonel, this site is upcoming in quality. It sits slightly lower in elevation than Shenandoah Springs at 1,060 to 1,130 feet and shares similar soil types.
Loudoun County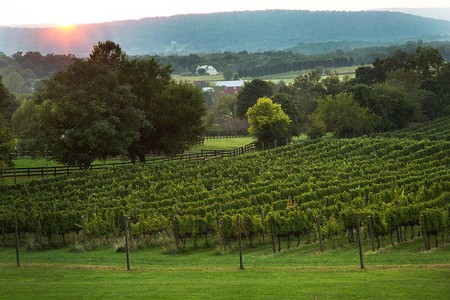 Sunset Hills Vineyard not only hosts the revamped barn and plenty of picnic tables to relax on a sunny day, but it also sits on about sixteen acres of vines. The property is split up into four different vineyards, appropriately dubbed Vineyard 1, Vineyard 2, Vineyard 3, and Vineyard 4 or V1, V2, V3, V4 for short. As you wind your way up the driveway, you are flanked by Vineyard 3 and 4. Vineyard 4 is exclusively Viognier, whereas Vineyard 3 has Cabernet Franc, Petit Verdot, Merlot, Petit Manseng, and Viognier. V3 fruit is often seen in the Mosaic blend, especially the sloped section that has great sun exposure and drainage. Vineyard 1 is the first vineyard planted and managed by Mike Canney himself, and it was just the beginning of the Sunset and 50 West story that continues today.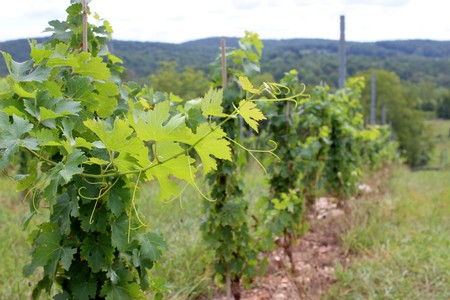 50 West Vineyards is our sister tasting room and vineyard site. What used to be a horse barn and private home is now a tasting room and club house dedicated to customers looking for wines that are slightly different than the "classic" Virginia wines. Sauvignon Blanc and Albariño are two varieties that are grown on the backside of the clubhouse and are also enjoyed in the tasting room.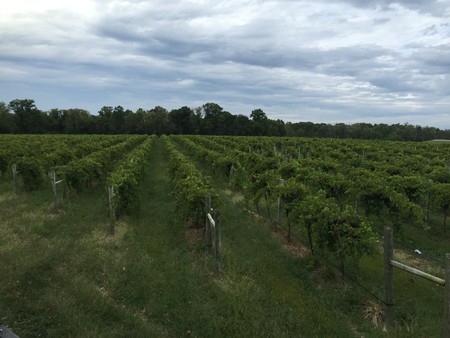 Catesby, our coveted hybrid vineyard, is just a quick ten-minute drive from 50 West. Chambourcin, Vidal Blanc, and Traminette are all located at this site. Although this site is not great for vinifera due to its lack of slope and ability to hold water, it seems to produce hybrids that are fairly consistent (if you can call Virginia winegrowing consistent) and help us produce wines that are fresh, acid-driven, approachable in the tasting room. Chambourcin is a great blending grape for us! We are glad to have it in our stock for variations in such wines like Sunset Rose, Ashby Gap, Dusk, and Dawn. What would we do without it?!
Seventy acres of planted vineyards scattered around Northern Virginia and the Shenandoah Valley definitely keeps our vineyard crew busy but we wouldn't have it any other way. All of the hard work and time dedicated to these vineyards result in great fruit that we then turn into the wines that you love in the tasting room!

Bottling day – it's exciting, stressful, and fast-paced. As the first wines of the 2017 vintage are completed, our team toasts each other with a glass of bubbly in celebration of coming full circle on the first vintage together. We looked back at harvest and laughed at how many lugs of fruit it took to make the 800 cases of Sunset White we just bottled (It was about 800 lugs). We thought of all the time spent tracking fermentations, moving wine from tank to barrel, and of course cleaning equipment - all that time spent just to get to the finish line of bottling day. Even the weeks leading up to bottling day are a frenzy of blending, stabilizing, and filtering. Finally, bottling day arrives. We bottled 1,807 total cases, that's 21,684 bottles!
It's a long day and it starts early. A typical day of bottling looks like this:
6:00am: The truck arrives while the sun just barely begins to glow. Coffee in hand, hazy from the morning darkness, I pep up as the generator spurs the bottling truck to life.
6:01am: Full on bottling mode has taken hold of me.
6:02--6:45am: The bottling guys do a test run with a case of bottles, corks, capsules, and labels to calibrate their machines.
6:45am: The rest of the cellar crew arrives and more coffee is a necessity. The first tank is connected to the bottling truck and bottling begins!
7:00am--4:30pm: Unload, fill, reload, stack. Repeat 1,807 more times.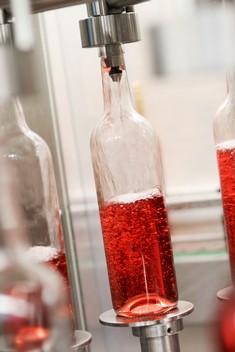 4:30--5:00pm: Clean up time.
5:01pm: Cheers!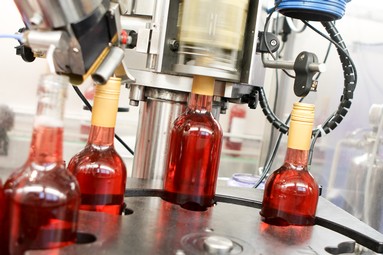 The people: We have five positions on the bottling line.
First is the forklift operator. They're the person that makes sure everyone has what they need, when they need it, where they need it. He supplies the empty cases that are loaded on the truck. He takes the palettes of full cases and stacks them away in the barrel room.
Second is the glass unloader. This person stands on the truck, takes the cases of empty bottles, flips them onto the bottling line's conveyor, lifts the box off of the upright bottles, and watches as the bottles get taken away further into the abyss of the bottling line.
Third is the box filler. This person also stands on the truck. He is the final check of the full bottles. Labels are straight? Check. Bottles are corked and capsuled? Check. There is actually wine in the bottle? Check. The completed bottles are then placed back into the cases and sent down another conveyor.
The fourth and fifth person stand at the end of this conveyor to receive the full cases. They trade places labeling and stacking the cases.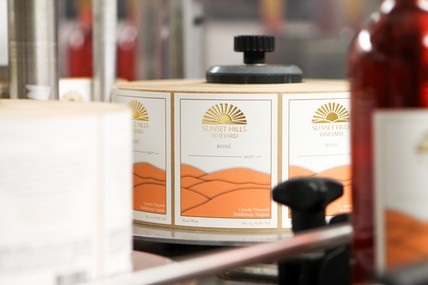 The in between: So where does the actual bottling take place? Once the glass unloader sends the empty bottles onto the truck, that is where all the action happens. The bottles get flipped upside down and filled with nitrogen to protect against oxidation. The bottles are then circled around in merry-go-round like fashion and filled to the correct level. Next, they get the screw caps spun on. The last step is labeling--the front and back label are adjusted by the slightest millimeters and put on the bottle. Finally, the long conveyor takes the bottles around the back of the machine where they leave the truck and are placed safely back into their case.
Although stressful, bottling day is a relief. We are happy to see our product completed, our hard work paid off. Now we can enjoy the finished product and look forward to the next bottling in May!

Valentine's Day is right around the corner! How will you wine and dine your Valentine during love's special holiday? Sunset Hills Vineyard has a wine recommendation that will pair beautifully with your Valentine's Day celebrations. A Virginia winery located in the heart of Loudoun County's wine country, Sunset Hills Vineyard produces a variety of award-winning 100% Virginia wines, including a Valentine's Day favorite – Rosé!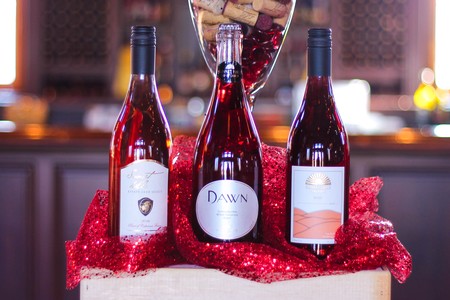 To know rosé is to love rosé, so what exactly is this pink wine all about? Corry Craighill, Sunset Hills Vineyard's Winemaker, breaks down the method behind rosé and how Sunset Hills' three rosés can enrich your Valentine's Day experience.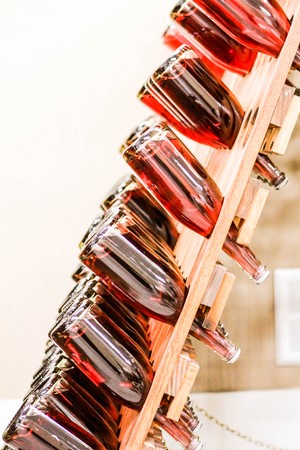 The modern rosé has come so far since it became popular in the early 70's in California. An accidental stuck fermentation resulted in a new product for a west coast winery, creating the white zinfandel rampage. This pink zinfandel is known for being overly sweet, an easy entry into the vast world of wine. The evolution from white zinfandel to our modern rosé has left us with wines that are fresh, often dry, and easy to pair with food. Everyone has to start somewhere in their journey of wine, so keep tasting pink wine because there are some great rosés out there!
Winemakers and winegrowers have come so far in the production of rosé. They have created a plethora of styles and colors from the variety of red grapes out there. Some varietals you enjoy as red wines can also be used in rosé. For example, at Sunset Hills Vineyard we use Cabernet Franc for our Estate Rosé of Cabernet Franc and also in our Bordeaux-style red, Mosaic. Several factors play into what style of rosé we go for—grape variety, pick date, length of skin contact, and more.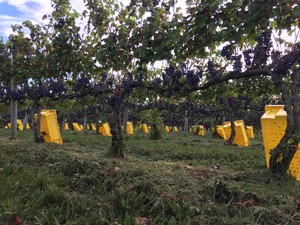 First impressions are crucial. More than any other wine, rosé color sets the stage before any other senses come into play. Are you drawn to the pale pink of Provence? Or the ruby hue of a Grenache rosé? Whether you are hypnotized by the color or would rather leave the judgement to your taste buds, one cannot deny noticing the variety of colors of rosés in the world. As for aroma and taste, rosé can really run the full spectrum. Because rosé can be made from any red variety of grape, the flavors and aromas can range from luscious sweet strawberries to citrusy grapefruit to tangy rhubarb.
At Sunset Hills, we make three different types of rosé —Chambourcin, Cabernet Franc, and a sparkling rosé. Why make three you ask? Besides the clear love for rosé, this gives us the flexibility of style both in the cellar and for your taste buds. If you prefer a lush cherry, full-bodied wine, go for our Sunset Rosé made from Chambourcin. If you want to drink like the French, pick the more pale, light Estate Rosé of Cabernet Franc.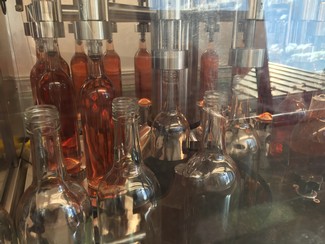 Let's start with our Sunset Rosé — a super fruity, lush, broad rosé made from the Chambourcin grape that pairs well with that picnic you have planned for Saturday afternoon at the winery. With all three rosés, we pick earlier than we would if we were making red wine to retain the natural acidity. This helps keep the wine tasting crisp and fresh! We destem the fruit, separating the grapes from the stems, then send it directly to the press. We like to limit our skin contact with Chambourcin because the color is so brilliant right out of the vineyard. Afterwards, it ferments in a stainless steel tank at cool temperatures in order to maintain the vibrant aromatics.
Next is our Estate Rosé of Cabernet Franc! Much like the Chambourcin, we pick the Cabernet Franc grapes early, but this time we encourage the juice to leach out the color from the skins by letting the crushed berries sit in their own juice for eight hours, a process called maceration. Allowing the juice and skins to macerate gives us a warm pink color and some fruity flavors like a subtle tart cranberry and juicy strawberries on the finish. After this maceration period, everything is pressed and the process continues like the Sunset Rosé—stainless steel fermentation at cool temperatures.
Are you seeing a trend here? Winemaking is simple really! Now for the sparkling. Our sparkling rosé, Dawn, is a Chambourcin-based wine. Made in the traditional méthode champenoise, it takes the wine several steps farther. Once we have the base rosé wine, we add another starter yeast culture to the wine in tank. The next step is to simultaneously mix the tank and bottle the wine. We want to ensure an even distribution of the yeast so that every bottle will ferment at the same pace. The second fermentation that takes place inside the bottles releases carbon dioxide, making the rosé slightly carbonated with small bubbles. The effervescence of Dawn makes for a light, refreshing take on rosé.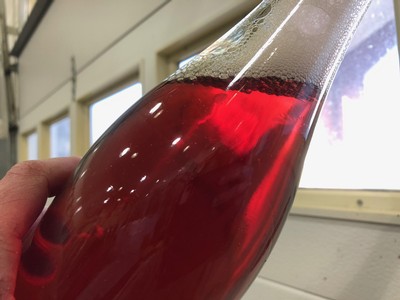 Now that you know a little more about Sunset Hills rosé, let's get to drinking. With Valentine's Day ahead of us, what a perfect wine that not only dresses the part but pairs well with many foods. Because of the broad spectrum of styles, you can grab a full-bodied, structured rosé to go with a juicy steak or a lean, crisp rosé to pair with those early evening appetizers.

In the last post, I explained what is going on in the cellar in these cold winter months. I want to delve deeper into a topic that I briefly touched on. Malolactic fermentation is a process that I get a lot of questions about--not only what is it, but what effect does it have on a wine's profile and misinterpretations of the effects of this process.

*MLF is short for malolactic fermentation

Let's start with a few facts:
MLF is a bacterial fermentation (*Remember: alcoholic fermentation is when yeast convert sugar into alcohol, ie how we get from grapes to wine).
MLF is the conversion of malic acid to lactic acid. You can remember this by M→L fermentation, MLF! Think green apple for malic acid and butter, cream, or just a general softness for lactic acid. This conversion changes the overall texture of the wine. We will cover this in detail later in the post.
MLF usually happens at the tail end or after alcoholic fermentation is complete
A winemaker can either inoculate with bacteria OR allow the fermentation to go through naturally. At Sunset Hills and 50 West, we do both--some barrels get inoculated and some are allowed to naturally complete the process. We do this to see how the wine interacts with the different strains of bacteria--two types of commercial and au naturale.
MLF will change the pH. For example, if your pre-MLF pH is 4.6, your post-MLF pH could be 4.7 or 4.75. This goes along with the texture change because the wine is now less acidic.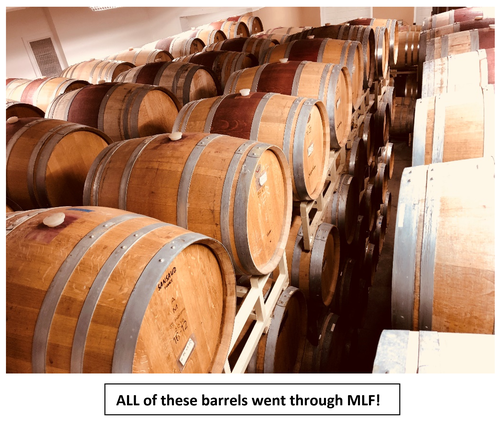 Let's keep going with a few "usually" statements:
MLF is usually used in red wine production. Remember in the facts part above, lactic acid is associated with a general softness of texture, we want our red wine to be smooth for our consumers. One way to work towards a smooth wine is to put it through MLF.
MLF can be used in white wine production. This is a stylistic choice of the winemaker. For young, acid-driven wines MLF may not be the best option. Never say never, but I will mostly likely never put the 50 West Chardonnay or the Sunset Hills Sunset White through MLF because I want them to remain edgy with an attitude and bright in their acidity. However, I always put at least some of the Chardonnay for both properties through MLF to give texture and different blending components. MLF can add complexity when used on the right wine!
MLF DOES NOT produce an oaky wine, it can produce a buttery wine but is not guaranteed to deliver buttery notes. This is the most common misconception I hear in the tasting room. I repeat, MLF does not mean your wine will be flabby, buttery, or creamy. Instead, MLF can add complexity, depth, and roundness to a wine. Also, oakiness comes from oak barrels. Why is MLF important?
Malolactic fermentation is important because not only does it change the texture of the wine, it also gives the wine stability. Once the wine is complete with both alcoholic and malolactic fermentation, we want the environment to be a desert--no more sugar, no more malic acid, nothing for any volatile to develop wine faults.

How do we track MLF?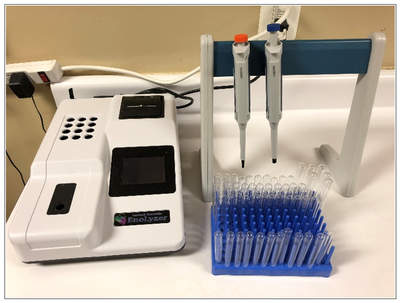 We try to track MLF on a weekly basis. There are two methods we use here at Sunset Hills/50 West. First is chromotography. After taking samples of barrels we want to test, we use a tiny capillary tube to drop the sample on the bottom of the paper. We then roll the paper up and place it in a solvent that over the course of several hours, will travel up the paper. Then we pull the paper out, let it dry, and can read the results. If all of the yellow dots have travelled to the top of the paper, we know that the level of malic acid is less than 0.2g/L. However, our goal is actually 0.02g/L! This leads us to our second method: enzymatic testing. Using our new spectrophotometer, we can get qualitative numbers.

In short, chromotography allows us to see the process of MLF is (or is not) taking place over time. The enzymatic testing gives us actual numbers to see exactly how many g/L of malic we have left. Once we get to 0.02g/L, then we can call the process complete and add sulfur to the barrels.


Reference:
Peynaud, Emile. Knowing and Making Wine. Wiley, 1984.
The Basics in Grape and Wine Chemistry. Nathan J. Sikes Bl.Arch.
http://sikesvineyard.blogspot.com/2009/08/basics-in-grape-and-wine-chemistry.html



The cellar to-do list is still quite long: top all 350 barrels, watch malolactic fermentation trudge on, clean the residual grape matter still plastered to the sorting table, all the while preparing for the first bottling of the year. Yes, the hours have relaxed, but the work goes on.
First thing's first--the new wine. For whites, we are focused on finishing out the last bit of residual sugar in order to catch the wine before malolactic fermentation takes off. In reds, we encourage malolactic fermentation to go through on every single barrel. Side note: Malolactic fermentation is a secondary fermentation that converts malic acid (tart) to lactic acid (creamy). Once the wines are at the appropriate stage, we will add a small amount of sulphur to each barrel. We do this in order to protect the wine from oxidation or any other bacterial growth. Afterwards, every barrel will get topped, tightly bunged, and put to bed.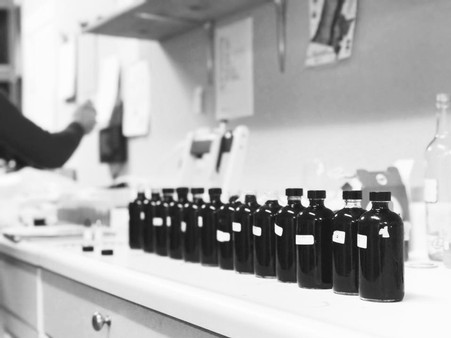 Then we look backwards. The pieces for 2016 Mosaic, Reserve Cabernet Franc, and Aldie Heights Cuvee are still patiently waiting to be tasted, tested, and blended. For me, blending is one of the more "fun winemaker" tasks that my job entails. It is the romantic part--the part that my friends, family, and neighbors think I do on a regular basis. Challenges do arise though! Analyzing the differences between barrels and vigorously taking notes for every sniff, swirl, and spit. Finding the balance of structure, body, acidity, length, fruit integrity, and age-ability for each wine when you have seemingly endless options to choose from--THAT can be challenging.
While 2017 may be coming to a close, the products of this year's harvest will be stored in the cellar patiently waiting their next step in 2018!