Sunset Hills Blog
Welcome to the blog of Sunset Hills Vineyard! From the trials of hand-tending vines in five different vineyards to releasing wines that our winemaker has carefully crafted, our goal is to share what's going on at Sunset Hills with you! We hope that you'll gain knowledge and find entertainment from this blog. Located in Purcellville, Sunset Hills is a proud producer of high-quality wine in Loudoun County wine country.

In the last post, I explained what is going on in the cellar in these cold winter months. I want to delve deeper into a topic that I briefly touched on. Malolactic fermentation is a process that I get a lot of questions about--not only what is it, but what effect does it have on a wine's profile and misinterpretations of the effects of this process.

*MLF is short for malolactic fermentation

Let's start with a few facts:
MLF is a bacterial fermentation (*Remember: alcoholic fermentation is when yeast convert sugar into alcohol, ie how we get from grapes to wine).
MLF is the conversion of malic acid to lactic acid. You can remember this by M→L fermentation, MLF! Think green apple for malic acid and butter, cream, or just a general softness for lactic acid. This conversion changes the overall texture of the wine. We will cover this in detail later in the post.
MLF usually happens at the tail end or after alcoholic fermentation is complete
A winemaker can either inoculate with bacteria OR allow the fermentation to go through naturally. At Sunset Hills and 50 West, we do both--some barrels get inoculated and some are allowed to naturally complete the process. We do this to see how the wine interacts with the different strains of bacteria--two types of commercial and au naturale.
MLF will change the pH. For example, if your pre-MLF pH is 4.6, your post-MLF pH could be 4.7 or 4.75. This goes along with the texture change because the wine is now less acidic.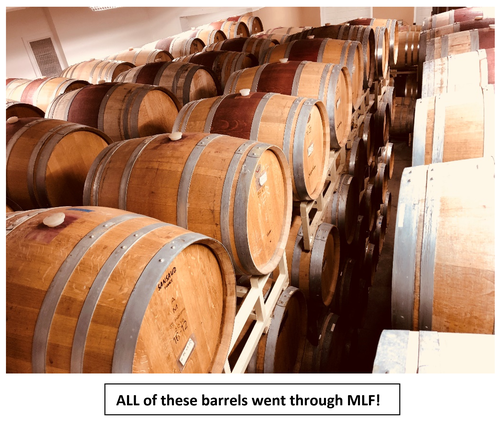 Let's keep going with a few "usually" statements:
MLF is usually used in red wine production. Remember in the facts part above, lactic acid is associated with a general softness of texture, we want our red wine to be smooth for our consumers. One way to work towards a smooth wine is to put it through MLF.
MLF can be used in white wine production. This is a stylistic choice of the winemaker. For young, acid-driven wines MLF may not be the best option. Never say never, but I will mostly likely never put the 50 West Chardonnay or the Sunset Hills Sunset White through MLF because I want them to remain edgy with an attitude and bright in their acidity. However, I always put at least some of the Chardonnay for both properties through MLF to give texture and different blending components. MLF can add complexity when used on the right wine!
MLF DOES NOT produce an oaky wine, it can produce a buttery wine but is not guaranteed to deliver buttery notes. This is the most common misconception I hear in the tasting room. I repeat, MLF does not mean your wine will be flabby, buttery, or creamy. Instead, MLF can add complexity, depth, and roundness to a wine. Also, oakiness comes from oak barrels. Why is MLF important?
Malolactic fermentation is important because not only does it change the texture of the wine, it also gives the wine stability. Once the wine is complete with both alcoholic and malolactic fermentation, we want the environment to be a desert--no more sugar, no more malic acid, nothing for any volatile to develop wine faults.

How do we track MLF?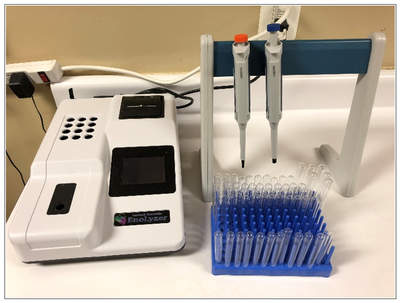 We try to track MLF on a weekly basis. There are two methods we use here at Sunset Hills/50 West. First is chromotography. After taking samples of barrels we want to test, we use a tiny capillary tube to drop the sample on the bottom of the paper. We then roll the paper up and place it in a solvent that over the course of several hours, will travel up the paper. Then we pull the paper out, let it dry, and can read the results. If all of the yellow dots have travelled to the top of the paper, we know that the level of malic acid is less than 0.2g/L. However, our goal is actually 0.02g/L! This leads us to our second method: enzymatic testing. Using our new spectrophotometer, we can get qualitative numbers.

In short, chromotography allows us to see the process of MLF is (or is not) taking place over time. The enzymatic testing gives us actual numbers to see exactly how many g/L of malic we have left. Once we get to 0.02g/L, then we can call the process complete and add sulfur to the barrels.


Reference:
Peynaud, Emile. Knowing and Making Wine. Wiley, 1984.
The Basics in Grape and Wine Chemistry. Nathan J. Sikes Bl.Arch.
http://sikesvineyard.blogspot.com/2009/08/basics-in-grape-and-wine-chemistry.html



The cellar to-do list is still quite long: top all 350 barrels, watch malolactic fermentation trudge on, clean the residual grape matter still plastered to the sorting table, all the while preparing for the first bottling of the year. Yes, the hours have relaxed, but the work goes on.
First thing's first--the new wine. For whites, we are focused on finishing out the last bit of residual sugar in order to catch the wine before malolactic fermentation takes off. In reds, we encourage malolactic fermentation to go through on every single barrel. Side note: Malolactic fermentation is a secondary fermentation that converts malic acid (tart) to lactic acid (creamy). Once the wines are at the appropriate stage, we will add a small amount of sulphur to each barrel. We do this in order to protect the wine from oxidation or any other bacterial growth. Afterwards, every barrel will get topped, tightly bunged, and put to bed.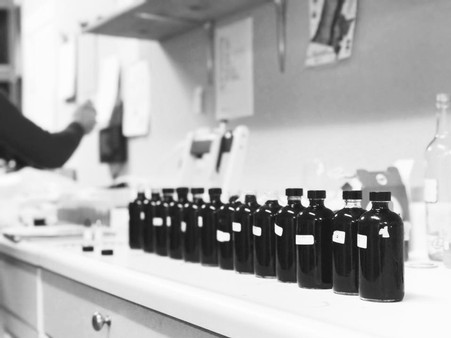 Then we look backwards. The pieces for 2016 Mosaic, Reserve Cabernet Franc, and Aldie Heights Cuvee are still patiently waiting to be tasted, tested, and blended. For me, blending is one of the more "fun winemaker" tasks that my job entails. It is the romantic part--the part that my friends, family, and neighbors think I do on a regular basis. Challenges do arise though! Analyzing the differences between barrels and vigorously taking notes for every sniff, swirl, and spit. Finding the balance of structure, body, acidity, length, fruit integrity, and age-ability for each wine when you have seemingly endless options to choose from--THAT can be challenging.
While 2017 may be coming to a close, the products of this year's harvest will be stored in the cellar patiently waiting their next step in 2018!

In recent events, our 2013 Mosaic and 2016 Viognier competed in the Loudoun Wine Awards. This year marks the competition's third event, one attended by winemakers, growers, restaurant owners, writers and avid wine drinkers alike. The competition seeks to highlight wines that are distinct in quality and are terroir-driven. The awards are broken down into several categories, with one overall winner at the end known as the Grand Chairman's Award. It also presents individuals in the Loudoun region that are making a special impact on our industry. This awards ceremony proves that Loudoun is marked by high quality and improving winemaking and vineyard growth, passionate industry teams, and a vast following of dedicated supporters.
Upon receiving awards for Best in Class for both the 2016 Viognier and the 2013 Mosaic, as well as the Grand Chairman's Award for the 2016 Viognier, I would like to give a little more insight into these wines.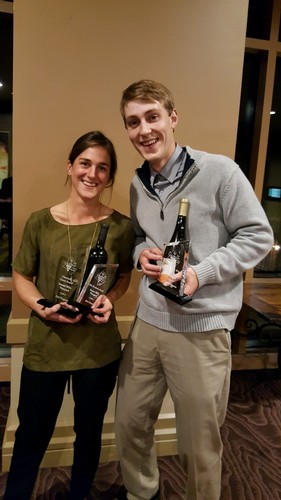 The 2013 Mosaic is a wine that hopes to demonstrate the best of the vintage, a blend of select barrels from our most successful vineyard sites. The 2013 in particular is 100% Sunset Hills Estate fruit. For those that are familiar with our vineyard sites, the fruit came predominantly from Vineyard #1 and #3. A lighter crop yield than previous years, these vineyards were able to focus on a smaller amount of fruit which led to better concentration, more even ripening, and balanced end product. In the cellar, the wine was treated to about 15% new oak--a combination of French, American, and Hungarian.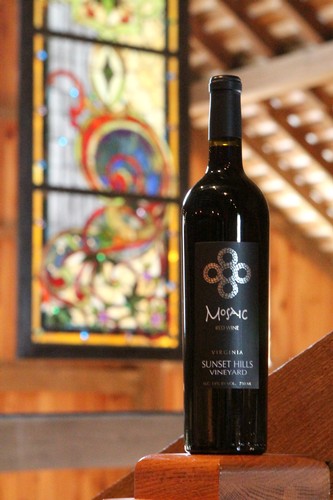 The 2016 Viognier, the overall winner of the Loudoun Wine Awards known as the Grand Chairman's Award, was described as "a powerful presentation without lacking elegance, a nice play between acid and fruit, and a lovely pure expression of this wine." This wine I can speak about more personally, as it marks my first vintage here at Sunset Hills and in Loudoun County. This fascination of Viognier was passed on to me by the previous winemaker, Nate Walsh, winner of the Winemaker of the Year. He took the ripening of the fruit very seriously--urging me to wait on the caramel taste in the fruit and to (almost) ignore the chemistry we saw in the lab (see previous blog post for picking decisions). That patience paid off, as the wine developed into a well-balanced yet powerfully expressive Viognier. Aged 100% in neutral oak for about six months, the wine continues to improve with time in bottle.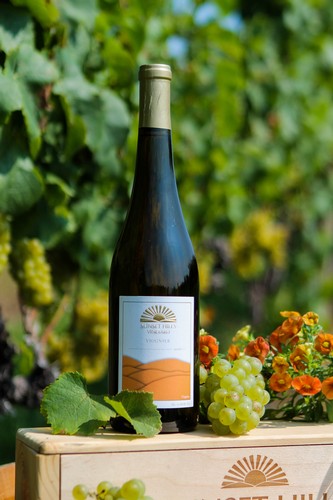 Overall, it was a great insight into the local industry here. So much buzz surrounding all of the wines showcased that evening. So much talent, passion, verve, and respect. I am so thankful that I have found my way to this community of people, and I hope to continue to take part in this growing industry.

With this type of weather, we have the luxury to decide when to pick. Some vintages, we are checking multiple weather stations daily to see which weatherman can offer us the most optimistic forecast only to find that the 80% chance of rain causes a hurried picking spree. Luckily, after the rains that started out September were over, the forecasts have been quite pleasant. Our vines are basking in this 80--90 degree weather. Sure, we could ask for cooler nights to retain that acidity, but I will take sunshine over rain any autumn day.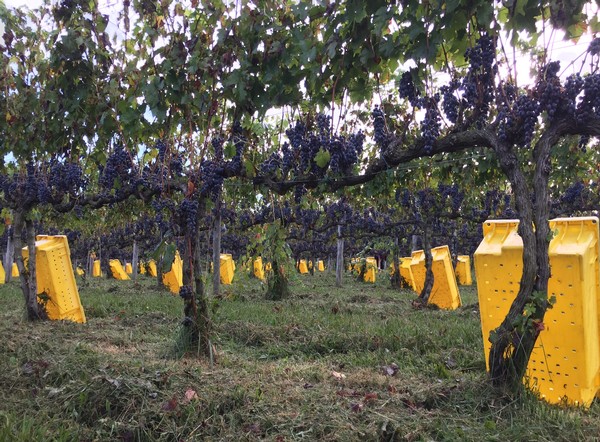 Other than weather, we are walking our vineyards on a regular basis to look and taste for ripeness. As verasion hits, the fruit gets softer, more plump and sweet. As the sugar levels rise, the pH also continues to inch upwards causing the fruit to become less acidic with ripening. Balance--it is all about balance. We are looking and tasting for the balance between sugar levels and acidity, between taste, texture, and numbers.
What do I mean by numbers? When we walk the vineyards, we often take a random berry sampling of the vineyard. Every few steps, pause, grab a berry, and throw it in a bag. Up and down a few rows, and you have quite the sample! Back to the lab, we crush the fruit in the bag to get the juice in order to test the Brix (the sugar content) and pH.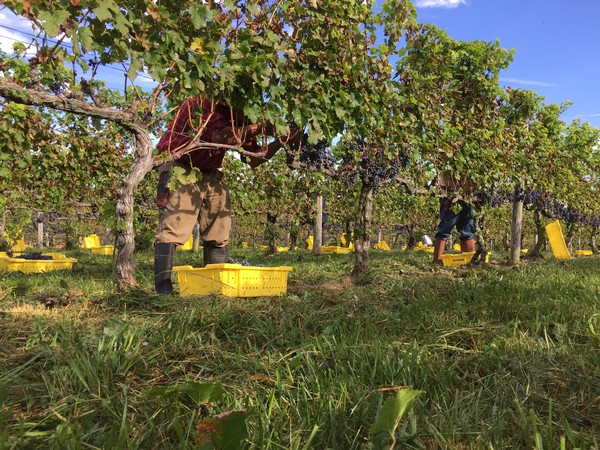 As a young winemaker new to the area and to our vineyards, I hope to learn more about the nuances that each site can bring. Sometimes the picking decisions also depend on location. For example, last year we picked one of our Cabernet Franc sites in three sections--top of the hill, the slope, and the bottom of the hill. The slope, with better sun exposure than the bottom and the best drainage, gave us the most complex wine. It has a clean texture, a depth and complexity that the other sections fall just short of.
These types of picking decisions can really affect the wine. With good weather in sight, we are continuing to balance taste, chemistry, and site selection. Keep an eye on our Facebook page for harvesting updates!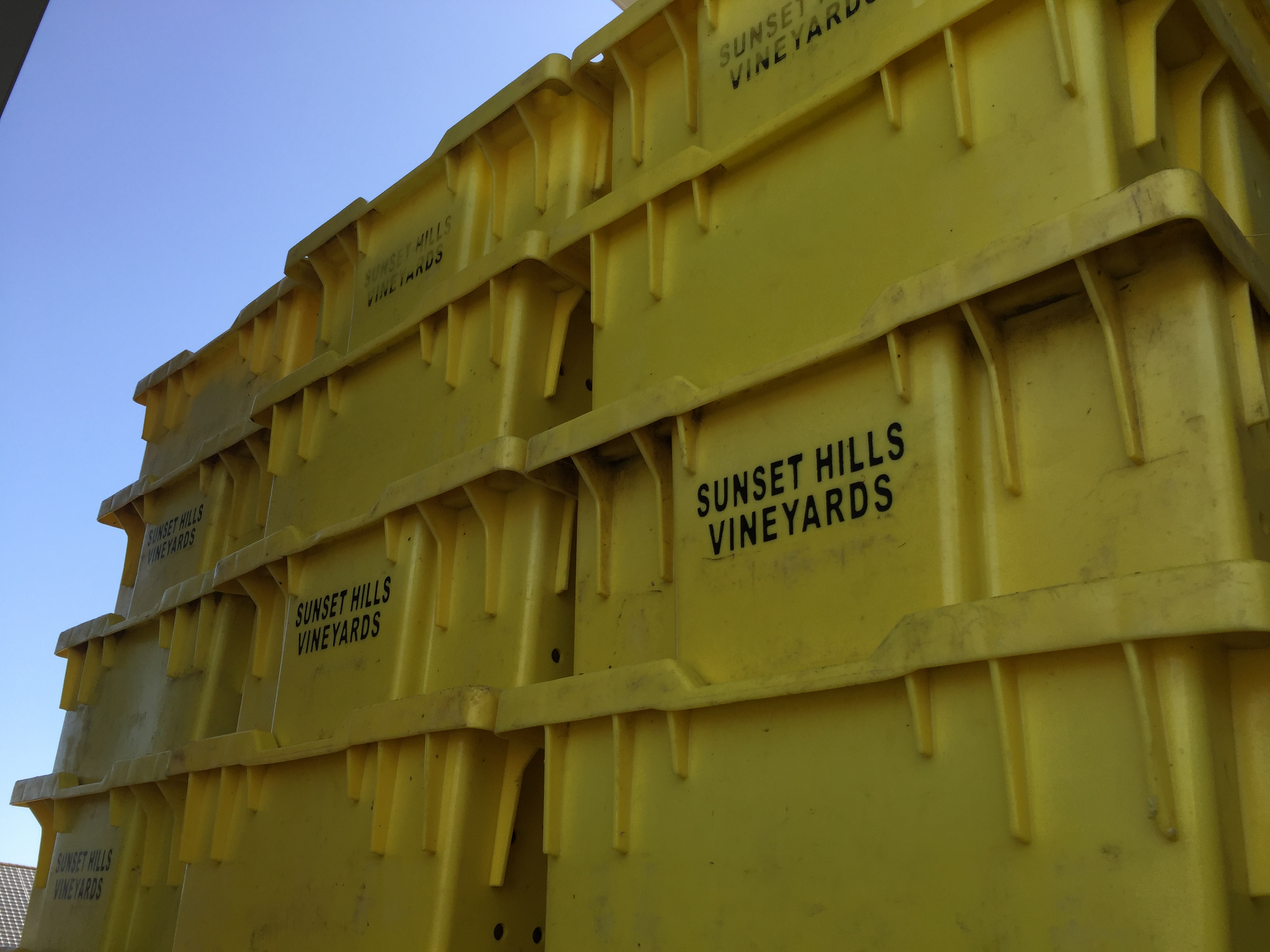 Corry Craighill, winemaker at Sunset Hills and 50 West Vineyards, celebrated her 1st anniversary last month! She started as the Assistant Winemaker under Nate Walsh, the former winemaker, and learned how he made wine during his time with the vineyards. Once Nate decided to pursue his passions with wine, Corry stepped into the role of winemaker for the vineyards and has been working diligently to make the wines you love while also bringing in exciting new blends!
Corry sat down to share more about her background in the wine industry and what she foresees being trendy in 2018. Read on for some previews of what's to come for Sunset Hills Vineyard!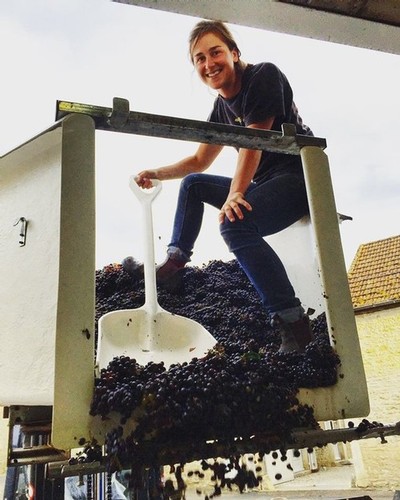 When Traveling Leads to Finding Your Passion
While studying at the University of Virginia, Corry worked in the tasting room at Jefferson Vineyards. Interested in this industry, she decided to pursue winemaking instead of going to grad school.
After deciding that the wine industry was her passion, Corry worked for several wineries in the Monticello area. Blenheim and King Family were where she gained most of her experience. As assistant winemaker at both wineries, she discovered her passion for winemaking, gained invaluable experience to start her career and made connections that would have her traveling all over the world to learn more. From Australia, to South Africa, to New Zealand, to France, Corry was fortunate enough to learn new skills and techniques from prestigious winemaking regions of the world.

Learning More Outside of the Classroom
Traveling and working opened Corry's eyes to how winemaking tasks can be done 100 different ways and produce a unique result each time. Each time she met a new winemaker, she could evaluate what was important to them. How do other winemakers build their barrel program? How do they determine maceration and press cut decisions? How did they let the vineyard be expressed in the finished product? She's taken this knowledge and has applied it to winemaking in Virginia.

Here's a Quick Q&Rosé on Corry's Favorites:
• Favorite Overall Wine Region You've Visited? Central Otago, New Zealand
• Favorite Wine Style Region? Swartland, South Africa
• Favorite Place for Food and Wine Pairings? France
• Favorite Wine to Try in All Regions? Pinot Noir
• Favorite Sunset Hills and 50 West Vineyards' Wines? Sunset Hills Reserve Cabernet Franc and 50 West Chardonnay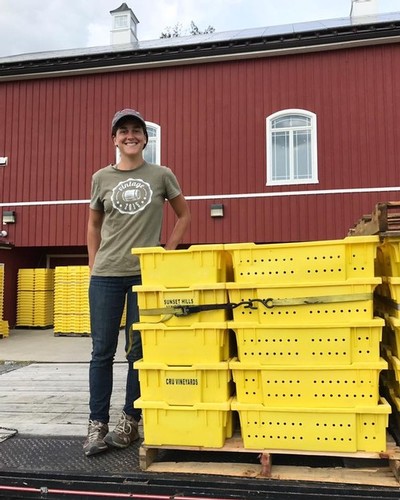 What's the Difference Between the Wines at Sunset Hills and 50 West?
One of the most asked questions at both vineyards – what makes the wine different at each location? It's a fair question! Between five vineyards and one production facility, just how does Corry keep the wines unique between the two properties?
Sunset Hills Vineyard offers high quality classic Virginia wines including Viognier, Cabernet Franc, Chardonnay, Merlot, and Petit Verdot. While these are all well received and award-winning wines, Corry has spotted areas of opportunity to continually improve these varietals in future vintages while maintaining their integrity.
As for 50 West Vineyards, Corry is working diligently to make staples out of a few varietals that are less known in Virginia. Her main area of focus? Sauvignon Blanc and Albariño. With 2016 being the second vintage of these two white wines, guests and people in the industry are starting to take notice. The 2016 Albariño just received a silver medal at the Loudoun Wine Awards. An additional area of focus in 50 West wine making has been the red blends. Each vintage of the Aldie Heights Cuvée medaled at the Virginia Governor's Cup and a new red blend, Ashby Gap Red, is set to release later this month.
2018: Looking to the Year Ahead
As 2017 Harvest gets under way at the five vineyards Corry and her team manage, she's already making plans for every cluster that comes off the vine. Of course, the majority will go into making favorites like Cab Franc, Viognier, Rosé, and others, there are plenty of grapes that Corry has enough to experiment with. She looks forward to trying her hand at a Pétillant Naturel, or Pét-Nat, for short. This natural, light, and slightly sparkling wine is bottled shortly before the first fermentation finishes and undergoes a second fermentation off of the natural sugars and yeast while in the bottle. If this is successful, 2018 may bring a small batch of Pét-Nat wine exclusive for the wine club members.
Corry Craighill continues to learn and grow as a winemaker. Virginia is fortunate to have someone who is dedicated to continually producing wines that can be respected by wine enthusiasts from all over. She continues to grow her skills of winemaking through emerging herself in the vast wine industry.

It's been a really hot summer but that didn't stop fifteen enthusiastic participants from joining myself and Quintin, our Vineyard Manager, for our second installment of the Follow the Grape series. Lathered in sunscreen and energetic from the morning's coffee, our fantastic attendees were rearing to learn the details of exposing the fruit zone. Quintin and I were very happy to teach them and have the extra help in the vineyard!
A quick introduction and off we went into the vines. Quintin shared the importance of allowing the fruit to bask in the sunlight throughout the growing season--decrease disease pressure via increased air flow and ease of drying out. Teams of four ripped and plucked their way down each row, stepping back at each vine to make sure the job had been done right.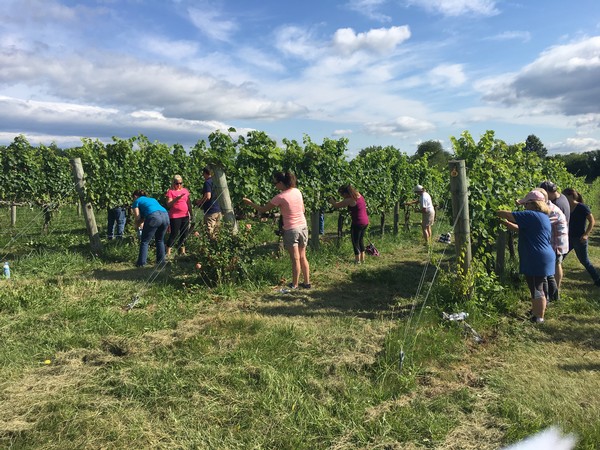 This time of year, canopy management is the number one focus in the vineyard. Tucking vines into place, leaf pulling to clear the fruit zone, and hedging the tops to keep vines in check are all important to maintain a healthy and easy-to-manage vineyard. The goal is to have a balanced canopy - one that allows for air flow to reduce moisture retention and also to have enough healthy leaves to ripen the fruit through harvest.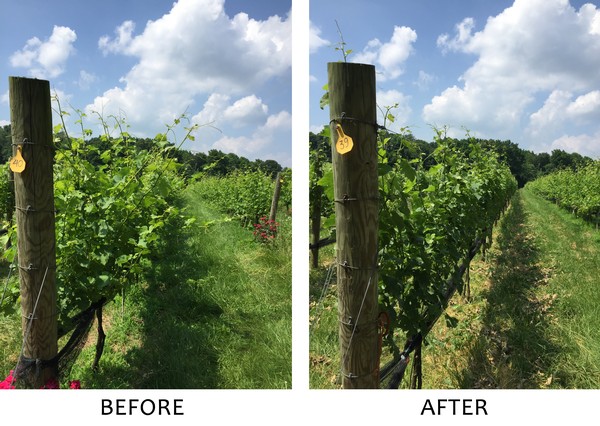 At the row's completion, it was time for a little international education. The group met me in our stone library for a quick presentation on canopies from around the world. Accompanied by a flight of wine (Maison Shaps, 2015 Bourgogne Rose; Mullineux, 2012 Syrah; Sunset Hills, 2016 Viognier; Sunset Hills, 2016 V1 Chardonnay), the crew was happy to listen to me share what I had learned about bush vines in South Africa and towering tractors in Burgundy. Curious what a towering tractor is? Check out this video.

Welcome to the blog of Sunset Hills Vineyard!
From the trials of hand-tending vines in five different vineyards to releasing wines that our winemaker has carefully crafted, our goal is to share what's going on at Sunset Hills with you! We hope that you'll gain knowledge and find entertainment from this blog.
Each month we'll post an entry authored by various personalities from around the vineyard. Keep an eye out for our first entry in early July. In the meantime, follow us on Facebook at www.facebook.com/SunsetHillsVineyard