Sunset Hills Blog
Welcome to the blog of Sunset Hills Vineyard! From the trials of hand-tending vines in five different vineyards to releasing wines that our winemaker has carefully crafted, our goal is to share what's going on at Sunset Hills with you! We hope that you'll gain knowledge and find entertainment from this blog. Located in Purcellville, Sunset Hills is a proud producer of high-quality wine in Loudoun County wine country.

As you all have most likely heard, the 2019 harvest and season are looking pretty amazing—a historic harvest that will be talked about like the 2010 vintage wines. This month, as we "wine'd" down from harvest, We want to use this blog to herald our team here at Sunset Hills Vineyard. As a vineyard guest, you hear from us individually, whether it is on a tour with Bridgette, at a club party with Sydney, or behind the bar with Audrey – but there are so many other wonderful, hard-working wine and farm enthusiasts here at the winery that perhaps go unnoticed.
The Vineyard Crew…
Sunset Hills and 50 West could not exist without them. There would literally be no vineyard, no wine, no tasting room. We play host to a full-time crew of five (5) people. Their work week is dedicated to our vineyards rain or shine, freezing temps or scorching sun. The vineyard crew of 5 do everything; from mowing the grass to flipping cases for ten hour bottling days, and everything they do for the winery, they do with great effort and pride. They may ask for a soda or request pizza instead of brats for lunch, but they do the hard work day in and day out so that our business can create a the incredible wines that we are then able to share with all of you.
Our vineyard crew is joined for 8 months out of the year by a team of eight that joins us from the Baja California Peninsula. This hard working team is keen on learning new ideas and perfecting our processes. Take Joel for example, who has worked with us in the cellar for harvest. Joel is the type of friend that everyone needs—he always has a smile on his face and a quiet yet witty joke ready for you. He asks for clarification when he feels like he needs to, and he takes initiative to do the next task with no hesitation. Joel has learned to speak slowly so that we can communicate both on cellar actions for the day or a casual conversation about our families over the sorting table. We have a goal that he teaches us one Spanish word every day – we learn, we grow and we create together.
The Tasting Room Staff…
The Tasting Room, for those who don't know… IS SO EXHAUSTING. Harvest is one of the most tiring yet exciting times of the year for me. We joke that "every day is Wednesday" because there is no sense of a weekend, no tracking of days of the week other than to ask "what day are we picking?" Although tiring, nothing compares to a busy Saturday behind the tasting room bar. The day begins with a morning meeting where our teams prep the staff by communicating the weekend events, big groups, or special occasions that are taking place at the winery. Everyone is listening, quiet, the calm before the storm. And then… THE DAY….
Finally, at closing, the floors are vacuumed to perfection, bathrooms are spotless, bar is wiped down—we can all relax with a beautiful glass of wine on the porch as the sun sets behind the tree-line. Yes we share stories from the day, but we have interesting conversations about all things other than wine.
The Weekday Staff...
Our weekday staff is the glue that holds it all together. We support each other, listen to plans, pitch ideas, lend a hand. We work to make our dreams come true, as a small business we know that we all have each other's backs; there is no line drawn between jobs. Just because my title is winemaker does not mean that I can't help stock the tasting room or cut the grass every now and then. Helping each other out is just skimming the surface. We are a true family here at Sunset Hills. Sunset Hills is not just a vineyard, a winery, a place to spend a Saturday, it is a place where talented, driven people work to make this lovely, inspiring, beautiful place run the way it does. From the vineyard to the tasting room to the management team, we all look out for each other in a way I hope continues in years to come.
At the time of writing this, the last of the Cabernet Sauvignon to pick is scheduled for Friday. I am listening to the hum of the press squeeze Shenandoah Springs Cabernet Franc. Barrels will be filled tomorrow and stacked in the cool cellar. Another vintage ends, but our staff keeps it alive as the bottles come into the tasting room to share with each other and our wonderful members, clients and customers. We all look forward to having a bit of free time now that our epic 2019 harvest is complete, but we are happy to be surrounded by the team and our family here at Sunset Hills and 50 West.

Our June bottling has been much anticipated since I started here at Sunset Hills and 50 West Vineyards. This bottling marks the first vintage of our flagship wines that I have created from start to finish - from grape to bottle. These wines have been waiting since October 2016 for this day, waiting in fermenters, waiting in tank, waiting in barrel, waiting to be blended. The physically tolling work is done--punch downs, pump overs, digging out the tanks or bins, pressing--all of laborious tasks have been completed long ago. Now, after months and months of waiting, it is time for the quiet task of blending to begin.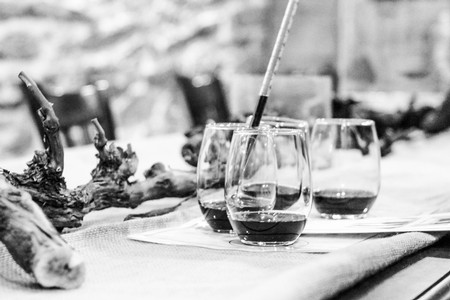 People ask how I got into winemaking. The short answer is that I wanted a job where I could work outside. Part of the long answer is that I love the combination of science and creativity. I spent several years working for a lab and winery in Charlottesville, so I learned not only HOW to run the numbers, but WHY they are important. To understand the science of wine, to me, is necessary in making a quality product. I am not a scientist, but I use the numbers to make the best decisions for the wine.
The other half is creativity. Wine is a creative outlet--tasting and exploring various types of wine from all over the world. This side of the business is what kept me in the business, what kept me exploring new countries, and what kept me asking questions. Creativity is a huge part of blending. Once the goal is set for a style of wine, my brain just takes off. With the help of detailed note taking throughout the year, I remember each batch of wine and try to plan for each blend ahead.
Mosaic is always first, you have to start somewhere. Mosaic is our Bordeaux-style wine, so I am looking for a balance of a finessed yet assertive structure, a rich and confident wine and one that is well balanced with acidity, tannins, and fruit. For the 2016 blend, I was able to lean more on our Shenandoah Valley site to give good structure and acidity, and the Sunset Hills site for volume. Creating this blend takes time. I created almost twenty blends, swirling and tasting blind, before I narrowed it down to four options. I took those four and sat on them for a few days--wondering if I would change my mind. My goal is to taste blindly and consistently pick the same blend every time. Luckily, blend 12 kept being my favorite. Not only tasting blind but tasting with other people is important to me. I choose individuals who I trust and can have a good conversation with--how can I improve the wine? What is the wine missing? How will the wine age? Having a community of people that you can taste with is so important! I can write a whole other post on how the wine community has impacted me, but for blending specifically, my colleagues provide feedback that helps me improve.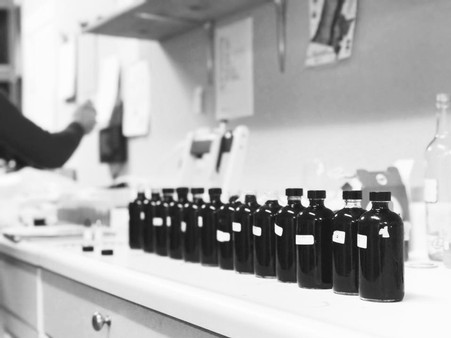 As for the Reserve Cabernet Franc, the style is lighter than the Mosaic, but more robust than the classic Cabernet Franc. A slightly heavier oak influence and bigger tannins provide the "reserve" label over the classic Cabernet Franc. Again, several blends are created in order to narrow it down to one. Tasting blind and tasting often.
Lastly, the 50 West Aldie Heights Cuvée. Although it is the third blend I make, it uses components that neither of the other wines use. With Tannat as its base, the Aldie Heights Cuvée is one of the more boisterous wines. Tannat is known for being high acid and high tannin, which makes it a great blending component for bigger wines. For the 2016 Aldie Heights Cuvée, it is the base making up 40% of the blend.
When the bottling begins in June, I feel confident knowing that the final product will be a wine that you'll love and will uphold the reputation of Sunset Hills' and 50 West's bold red wines.

April is designated as Virginia Vineyard Month. For those that have visited either of our tasting rooms, you have probably glimpsed a few rows of Viognier or Cabernet Sauvignon as you meandered up the gravel driveway. Those rows are just a small portion of the close to seventy acres we have under vine. Yes, seventy acres spread across five farms in Loudoun County and the Shenandoah Valley! Let's take a further look at each property - pros and cons and a few fun facts in between.
Shenandoah Valley
We have two properties all the way out near Woodstock, Virginia that make up about half of our total production. With no traffic (don't hold your breath on I-81), it takes a little over an hour to get to this site. Towing a full load of fruit, it can take closer to an hour and a half! The traveling is worth it to these two sites because of the variation in climate, soil types, and elevation as compared to Loudoun County. These sites tend to give us less rainfall and more good airflow coming through the valley between the Blue Ridge and Allegheny mountains, essential to producing good fruit.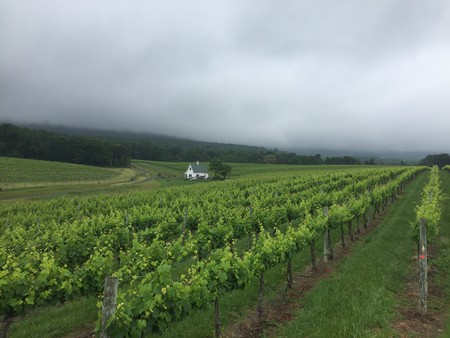 Shenandoah Springs is our more established site. Sitting between 1280 and 1330 feet elevation with a mixture of loam and limestone soils, this site offers balanced fruit including Cabernet Franc, Viognier, Tannat, Petit Verdot, Chardonnay, and Sangiovese. You know that Rose of Sangiovese you love in the spring time? That is 100% Shenandoah Springs fruit! The 2017 Viognier is right around 70% Shenandoah fruit and the 2016 Cabernet Franc is upwards of 90% Shenandoah Springs. This site is also home base for meetings, crew lunches, chicken round ups, and tractor maintenance. It is marked by the quaint white and green building right at the lowest and central point to the vineyard entrance.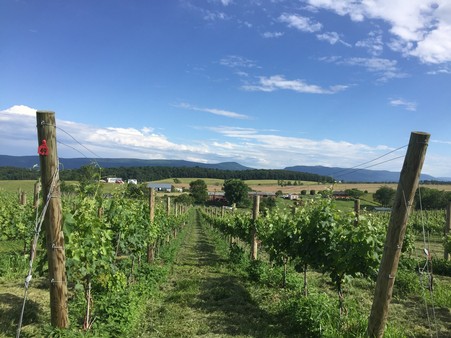 Sherman Ridge is the other Shenandoah site, located right down the road from Shenandoah Springs. Planted in 2014 and 2015, this site is right off the main road suitably and legally dubbed Back Road. Home to Merlot, Tannat, Petit Manseng, Cabernet Sauvignon, Vidal Blanc, and a mere five rows of Muscat Ottonel, this site is upcoming in quality. It sits slightly lower in elevation than Shenandoah Springs at 1,060 to 1,130 feet and shares similar soil types.
Loudoun County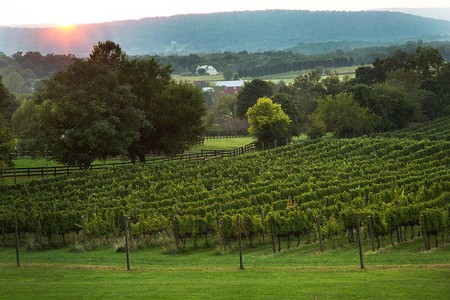 Sunset Hills Vineyard not only hosts the revamped barn and plenty of picnic tables to relax on a sunny day, but it also sits on about sixteen acres of vines. The property is split up into four different vineyards, appropriately dubbed Vineyard 1, Vineyard 2, Vineyard 3, and Vineyard 4 or V1, V2, V3, V4 for short. As you wind your way up the driveway, you are flanked by Vineyard 3 and 4. Vineyard 4 is exclusively Viognier, whereas Vineyard 3 has Cabernet Franc, Petit Verdot, Merlot, Petit Manseng, and Viognier. V3 fruit is often seen in the Mosaic blend, especially the sloped section that has great sun exposure and drainage. Vineyard 1 is the first vineyard planted and managed by Mike Canney himself, and it was just the beginning of the Sunset and 50 West story that continues today.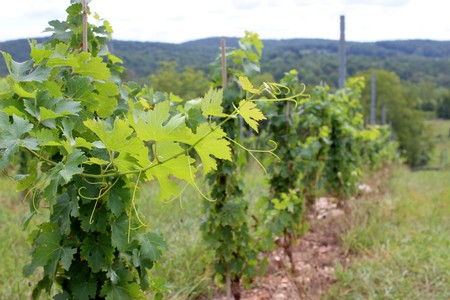 50 West Vineyards is our sister tasting room and vineyard site. What used to be a horse barn and private home is now a tasting room and club house dedicated to customers looking for wines that are slightly different than the "classic" Virginia wines. Sauvignon Blanc and Albariño are two varieties that are grown on the backside of the clubhouse and are also enjoyed in the tasting room.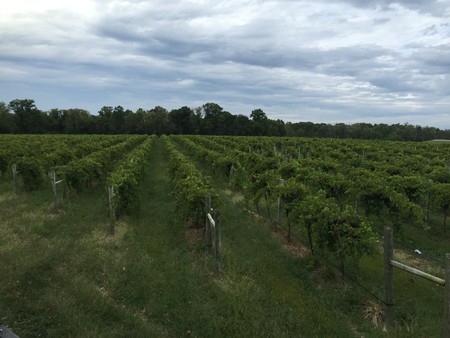 Catesby, our coveted hybrid vineyard, is just a quick ten-minute drive from 50 West. Chambourcin, Vidal Blanc, and Traminette are all located at this site. Although this site is not great for vinifera due to its lack of slope and ability to hold water, it seems to produce hybrids that are fairly consistent (if you can call Virginia winegrowing consistent) and help us produce wines that are fresh, acid-driven, approachable in the tasting room. Chambourcin is a great blending grape for us! We are glad to have it in our stock for variations in such wines like Sunset Rose, Ashby Gap, Dusk, and Dawn. What would we do without it?!
Seventy acres of planted vineyards scattered around Northern Virginia and the Shenandoah Valley definitely keeps our vineyard crew busy but we wouldn't have it any other way. All of the hard work and time dedicated to these vineyards result in great fruit that we then turn into the wines that you love in the tasting room!

Bottling day – it's exciting, stressful, and fast-paced. As the first wines of the 2017 vintage are completed, our team toasts each other with a glass of bubbly in celebration of coming full circle on the first vintage together. We looked back at harvest and laughed at how many lugs of fruit it took to make the 800 cases of Sunset White we just bottled (It was about 800 lugs). We thought of all the time spent tracking fermentations, moving wine from tank to barrel, and of course cleaning equipment - all that time spent just to get to the finish line of bottling day. Even the weeks leading up to bottling day are a frenzy of blending, stabilizing, and filtering. Finally, bottling day arrives. We bottled 1,807 total cases, that's 21,684 bottles!
It's a long day and it starts early. A typical day of bottling looks like this:
6:00am: The truck arrives while the sun just barely begins to glow. Coffee in hand, hazy from the morning darkness, I pep up as the generator spurs the bottling truck to life.
6:01am: Full on bottling mode has taken hold of me.
6:02--6:45am: The bottling guys do a test run with a case of bottles, corks, capsules, and labels to calibrate their machines.
6:45am: The rest of the cellar crew arrives and more coffee is a necessity. The first tank is connected to the bottling truck and bottling begins!
7:00am--4:30pm: Unload, fill, reload, stack. Repeat 1,807 more times.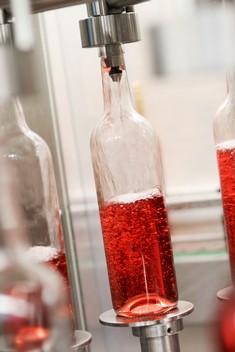 4:30--5:00pm: Clean up time.
5:01pm: Cheers!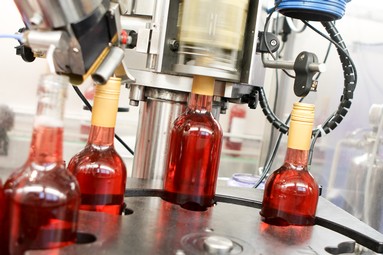 The people: We have five positions on the bottling line.
First is the forklift operator. They're the person that makes sure everyone has what they need, when they need it, where they need it. He supplies the empty cases that are loaded on the truck. He takes the palettes of full cases and stacks them away in the barrel room.
Second is the glass unloader. This person stands on the truck, takes the cases of empty bottles, flips them onto the bottling line's conveyor, lifts the box off of the upright bottles, and watches as the bottles get taken away further into the abyss of the bottling line.
Third is the box filler. This person also stands on the truck. He is the final check of the full bottles. Labels are straight? Check. Bottles are corked and capsuled? Check. There is actually wine in the bottle? Check. The completed bottles are then placed back into the cases and sent down another conveyor.
The fourth and fifth person stand at the end of this conveyor to receive the full cases. They trade places labeling and stacking the cases.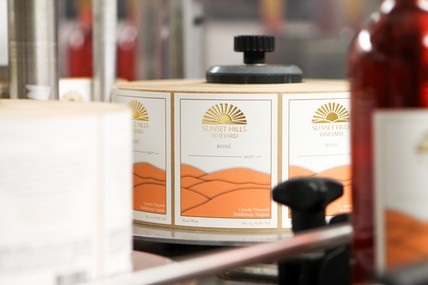 The in between: So where does the actual bottling take place? Once the glass unloader sends the empty bottles onto the truck, that is where all the action happens. The bottles get flipped upside down and filled with nitrogen to protect against oxidation. The bottles are then circled around in merry-go-round like fashion and filled to the correct level. Next, they get the screw caps spun on. The last step is labeling--the front and back label are adjusted by the slightest millimeters and put on the bottle. Finally, the long conveyor takes the bottles around the back of the machine where they leave the truck and are placed safely back into their case.
Although stressful, bottling day is a relief. We are happy to see our product completed, our hard work paid off. Now we can enjoy the finished product and look forward to the next bottling in May!

Valentine's Day is right around the corner! How will you wine and dine your Valentine during love's special holiday? Sunset Hills Vineyard has a wine recommendation that will pair beautifully with your Valentine's Day celebrations. A Virginia winery located in the heart of Loudoun County's wine country, Sunset Hills Vineyard produces a variety of award-winning 100% Virginia wines, including a Valentine's Day favorite – Rosé!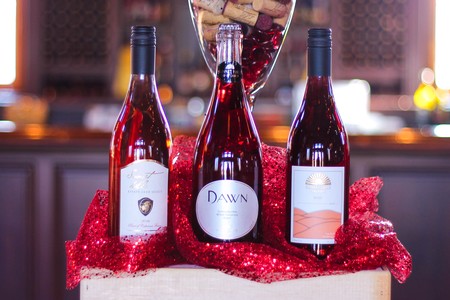 To know rosé is to love rosé, so what exactly is this pink wine all about? Corry Craighill, Sunset Hills Vineyard's Winemaker, breaks down the method behind rosé and how Sunset Hills' three rosés can enrich your Valentine's Day experience.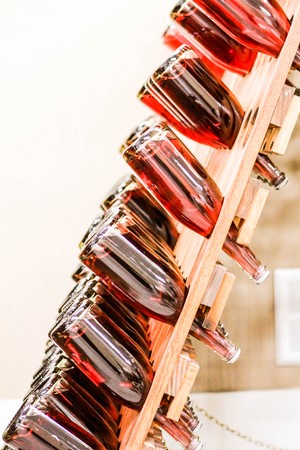 The modern rosé has come so far since it became popular in the early 70's in California. An accidental stuck fermentation resulted in a new product for a west coast winery, creating the white zinfandel rampage. This pink zinfandel is known for being overly sweet, an easy entry into the vast world of wine. The evolution from white zinfandel to our modern rosé has left us with wines that are fresh, often dry, and easy to pair with food. Everyone has to start somewhere in their journey of wine, so keep tasting pink wine because there are some great rosés out there!
Winemakers and winegrowers have come so far in the production of rosé. They have created a plethora of styles and colors from the variety of red grapes out there. Some varietals you enjoy as red wines can also be used in rosé. For example, at Sunset Hills Vineyard we use Cabernet Franc for our Estate Rosé of Cabernet Franc and also in our Bordeaux-style red, Mosaic. Several factors play into what style of rosé we go for—grape variety, pick date, length of skin contact, and more.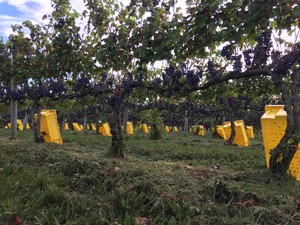 First impressions are crucial. More than any other wine, rosé color sets the stage before any other senses come into play. Are you drawn to the pale pink of Provence? Or the ruby hue of a Grenache rosé? Whether you are hypnotized by the color or would rather leave the judgement to your taste buds, one cannot deny noticing the variety of colors of rosés in the world. As for aroma and taste, rosé can really run the full spectrum. Because rosé can be made from any red variety of grape, the flavors and aromas can range from luscious sweet strawberries to citrusy grapefruit to tangy rhubarb.
At Sunset Hills, we make three different types of rosé —Chambourcin, Cabernet Franc, and a sparkling rosé. Why make three you ask? Besides the clear love for rosé, this gives us the flexibility of style both in the cellar and for your taste buds. If you prefer a lush cherry, full-bodied wine, go for our Sunset Rosé made from Chambourcin. If you want to drink like the French, pick the more pale, light Estate Rosé of Cabernet Franc.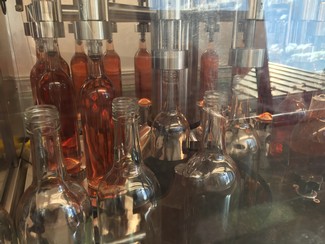 Let's start with our Sunset Rosé — a super fruity, lush, broad rosé made from the Chambourcin grape that pairs well with that picnic you have planned for Saturday afternoon at the winery. With all three rosés, we pick earlier than we would if we were making red wine to retain the natural acidity. This helps keep the wine tasting crisp and fresh! We destem the fruit, separating the grapes from the stems, then send it directly to the press. We like to limit our skin contact with Chambourcin because the color is so brilliant right out of the vineyard. Afterwards, it ferments in a stainless steel tank at cool temperatures in order to maintain the vibrant aromatics.
Next is our Estate Rosé of Cabernet Franc! Much like the Chambourcin, we pick the Cabernet Franc grapes early, but this time we encourage the juice to leach out the color from the skins by letting the crushed berries sit in their own juice for eight hours, a process called maceration. Allowing the juice and skins to macerate gives us a warm pink color and some fruity flavors like a subtle tart cranberry and juicy strawberries on the finish. After this maceration period, everything is pressed and the process continues like the Sunset Rosé—stainless steel fermentation at cool temperatures.
Are you seeing a trend here? Winemaking is simple really! Now for the sparkling. Our sparkling rosé, Dawn, is a Chambourcin-based wine. Made in the traditional méthode champenoise, it takes the wine several steps farther. Once we have the base rosé wine, we add another starter yeast culture to the wine in tank. The next step is to simultaneously mix the tank and bottle the wine. We want to ensure an even distribution of the yeast so that every bottle will ferment at the same pace. The second fermentation that takes place inside the bottles releases carbon dioxide, making the rosé slightly carbonated with small bubbles. The effervescence of Dawn makes for a light, refreshing take on rosé.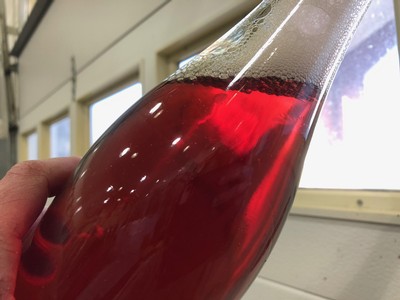 Now that you know a little more about Sunset Hills rosé, let's get to drinking. With Valentine's Day ahead of us, what a perfect wine that not only dresses the part but pairs well with many foods. Because of the broad spectrum of styles, you can grab a full-bodied, structured rosé to go with a juicy steak or a lean, crisp rosé to pair with those early evening appetizers.

In the last post, I explained what is going on in the cellar in these cold winter months. I want to delve deeper into a topic that I briefly touched on. Malolactic fermentation is a process that I get a lot of questions about--not only what is it, but what effect does it have on a wine's profile and misinterpretations of the effects of this process.

*MLF is short for malolactic fermentation

Let's start with a few facts:
MLF is a bacterial fermentation (*Remember: alcoholic fermentation is when yeast convert sugar into alcohol, ie how we get from grapes to wine).
MLF is the conversion of malic acid to lactic acid. You can remember this by M→L fermentation, MLF! Think green apple for malic acid and butter, cream, or just a general softness for lactic acid. This conversion changes the overall texture of the wine. We will cover this in detail later in the post.
MLF usually happens at the tail end or after alcoholic fermentation is complete
A winemaker can either inoculate with bacteria OR allow the fermentation to go through naturally. At Sunset Hills and 50 West, we do both--some barrels get inoculated and some are allowed to naturally complete the process. We do this to see how the wine interacts with the different strains of bacteria--two types of commercial and au naturale.
MLF will change the pH. For example, if your pre-MLF pH is 4.6, your post-MLF pH could be 4.7 or 4.75. This goes along with the texture change because the wine is now less acidic.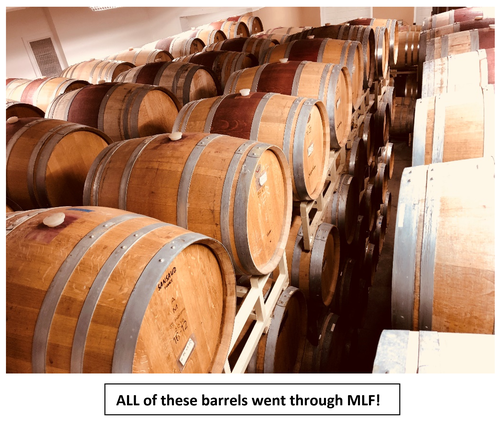 Let's keep going with a few "usually" statements:
MLF is usually used in red wine production. Remember in the facts part above, lactic acid is associated with a general softness of texture, we want our red wine to be smooth for our consumers. One way to work towards a smooth wine is to put it through MLF.
MLF can be used in white wine production. This is a stylistic choice of the winemaker. For young, acid-driven wines MLF may not be the best option. Never say never, but I will mostly likely never put the 50 West Chardonnay or the Sunset Hills Sunset White through MLF because I want them to remain edgy with an attitude and bright in their acidity. However, I always put at least some of the Chardonnay for both properties through MLF to give texture and different blending components. MLF can add complexity when used on the right wine!
MLF DOES NOT produce an oaky wine, it can produce a buttery wine but is not guaranteed to deliver buttery notes. This is the most common misconception I hear in the tasting room. I repeat, MLF does not mean your wine will be flabby, buttery, or creamy. Instead, MLF can add complexity, depth, and roundness to a wine. Also, oakiness comes from oak barrels. Why is MLF important?
Malolactic fermentation is important because not only does it change the texture of the wine, it also gives the wine stability. Once the wine is complete with both alcoholic and malolactic fermentation, we want the environment to be a desert--no more sugar, no more malic acid, nothing for any volatile to develop wine faults.

How do we track MLF?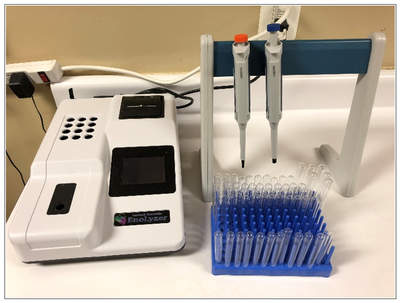 We try to track MLF on a weekly basis. There are two methods we use here at Sunset Hills/50 West. First is chromotography. After taking samples of barrels we want to test, we use a tiny capillary tube to drop the sample on the bottom of the paper. We then roll the paper up and place it in a solvent that over the course of several hours, will travel up the paper. Then we pull the paper out, let it dry, and can read the results. If all of the yellow dots have travelled to the top of the paper, we know that the level of malic acid is less than 0.2g/L. However, our goal is actually 0.02g/L! This leads us to our second method: enzymatic testing. Using our new spectrophotometer, we can get qualitative numbers.

In short, chromotography allows us to see the process of MLF is (or is not) taking place over time. The enzymatic testing gives us actual numbers to see exactly how many g/L of malic we have left. Once we get to 0.02g/L, then we can call the process complete and add sulfur to the barrels.


Reference:
Peynaud, Emile. Knowing and Making Wine. Wiley, 1984.
The Basics in Grape and Wine Chemistry. Nathan J. Sikes Bl.Arch.
http://sikesvineyard.blogspot.com/2009/08/basics-in-grape-and-wine-chemistry.html



The cellar to-do list is still quite long: top all 350 barrels, watch malolactic fermentation trudge on, clean the residual grape matter still plastered to the sorting table, all the while preparing for the first bottling of the year. Yes, the hours have relaxed, but the work goes on.
First thing's first--the new wine. For whites, we are focused on finishing out the last bit of residual sugar in order to catch the wine before malolactic fermentation takes off. In reds, we encourage malolactic fermentation to go through on every single barrel. Side note: Malolactic fermentation is a secondary fermentation that converts malic acid (tart) to lactic acid (creamy). Once the wines are at the appropriate stage, we will add a small amount of sulphur to each barrel. We do this in order to protect the wine from oxidation or any other bacterial growth. Afterwards, every barrel will get topped, tightly bunged, and put to bed.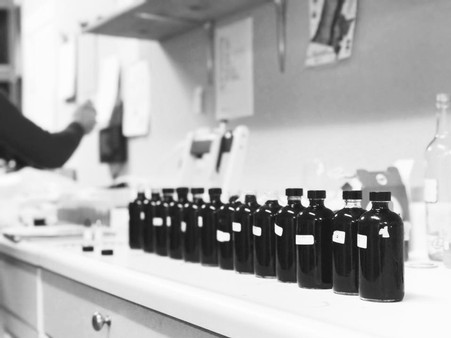 Then we look backwards. The pieces for 2016 Mosaic, Reserve Cabernet Franc, and Aldie Heights Cuvee are still patiently waiting to be tasted, tested, and blended. For me, blending is one of the more "fun winemaker" tasks that my job entails. It is the romantic part--the part that my friends, family, and neighbors think I do on a regular basis. Challenges do arise though! Analyzing the differences between barrels and vigorously taking notes for every sniff, swirl, and spit. Finding the balance of structure, body, acidity, length, fruit integrity, and age-ability for each wine when you have seemingly endless options to choose from--THAT can be challenging.
While 2017 may be coming to a close, the products of this year's harvest will be stored in the cellar patiently waiting their next step in 2018!

In recent events, our 2013 Mosaic and 2016 Viognier competed in the Loudoun Wine Awards. This year marks the competition's third event, one attended by winemakers, growers, restaurant owners, writers and avid wine drinkers alike. The competition seeks to highlight wines that are distinct in quality and are terroir-driven. The awards are broken down into several categories, with one overall winner at the end known as the Grand Chairman's Award. It also presents individuals in the Loudoun region that are making a special impact on our industry. This awards ceremony proves that Loudoun is marked by high quality and improving winemaking and vineyard growth, passionate industry teams, and a vast following of dedicated supporters.
Upon receiving awards for Best in Class for both the 2016 Viognier and the 2013 Mosaic, as well as the Grand Chairman's Award for the 2016 Viognier, I would like to give a little more insight into these wines.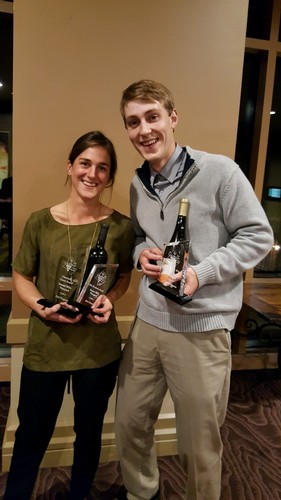 The 2013 Mosaic is a wine that hopes to demonstrate the best of the vintage, a blend of select barrels from our most successful vineyard sites. The 2013 in particular is 100% Sunset Hills Estate fruit. For those that are familiar with our vineyard sites, the fruit came predominantly from Vineyard #1 and #3. A lighter crop yield than previous years, these vineyards were able to focus on a smaller amount of fruit which led to better concentration, more even ripening, and balanced end product. In the cellar, the wine was treated to about 15% new oak--a combination of French, American, and Hungarian.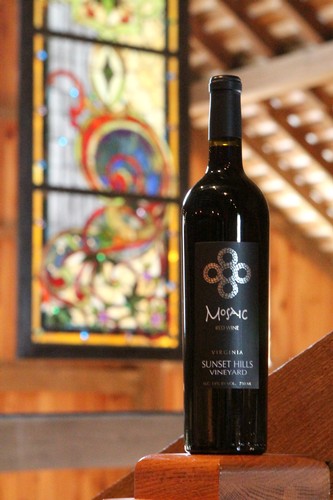 The 2016 Viognier, the overall winner of the Loudoun Wine Awards known as the Grand Chairman's Award, was described as "a powerful presentation without lacking elegance, a nice play between acid and fruit, and a lovely pure expression of this wine." This wine I can speak about more personally, as it marks my first vintage here at Sunset Hills and in Loudoun County. This fascination of Viognier was passed on to me by the previous winemaker, Nate Walsh, winner of the Winemaker of the Year. He took the ripening of the fruit very seriously--urging me to wait on the caramel taste in the fruit and to (almost) ignore the chemistry we saw in the lab (see previous blog post for picking decisions). That patience paid off, as the wine developed into a well-balanced yet powerfully expressive Viognier. Aged 100% in neutral oak for about six months, the wine continues to improve with time in bottle.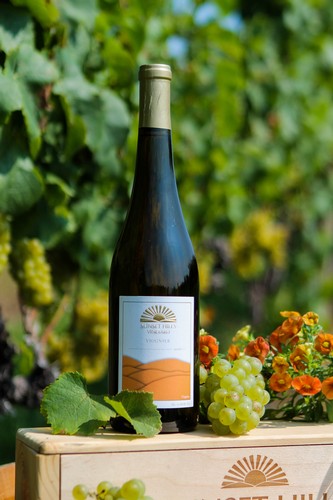 Overall, it was a great insight into the local industry here. So much buzz surrounding all of the wines showcased that evening. So much talent, passion, verve, and respect. I am so thankful that I have found my way to this community of people, and I hope to continue to take part in this growing industry.

With this type of weather, we have the luxury to decide when to pick. Some vintages, we are checking multiple weather stations daily to see which weatherman can offer us the most optimistic forecast only to find that the 80% chance of rain causes a hurried picking spree. Luckily, after the rains that started out September were over, the forecasts have been quite pleasant. Our vines are basking in this 80--90 degree weather. Sure, we could ask for cooler nights to retain that acidity, but I will take sunshine over rain any autumn day.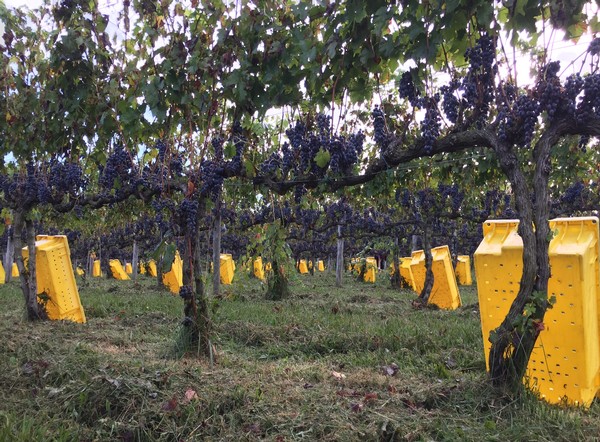 Other than weather, we are walking our vineyards on a regular basis to look and taste for ripeness. As verasion hits, the fruit gets softer, more plump and sweet. As the sugar levels rise, the pH also continues to inch upwards causing the fruit to become less acidic with ripening. Balance--it is all about balance. We are looking and tasting for the balance between sugar levels and acidity, between taste, texture, and numbers.
What do I mean by numbers? When we walk the vineyards, we often take a random berry sampling of the vineyard. Every few steps, pause, grab a berry, and throw it in a bag. Up and down a few rows, and you have quite the sample! Back to the lab, we crush the fruit in the bag to get the juice in order to test the Brix (the sugar content) and pH.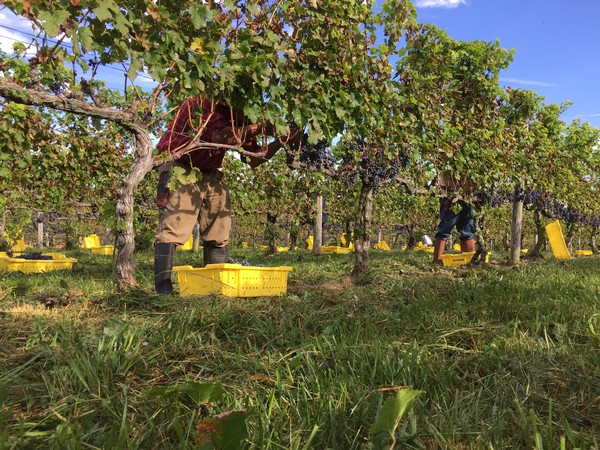 As a young winemaker new to the area and to our vineyards, I hope to learn more about the nuances that each site can bring. Sometimes the picking decisions also depend on location. For example, last year we picked one of our Cabernet Franc sites in three sections--top of the hill, the slope, and the bottom of the hill. The slope, with better sun exposure than the bottom and the best drainage, gave us the most complex wine. It has a clean texture, a depth and complexity that the other sections fall just short of.
These types of picking decisions can really affect the wine. With good weather in sight, we are continuing to balance taste, chemistry, and site selection. Keep an eye on our Facebook page for harvesting updates!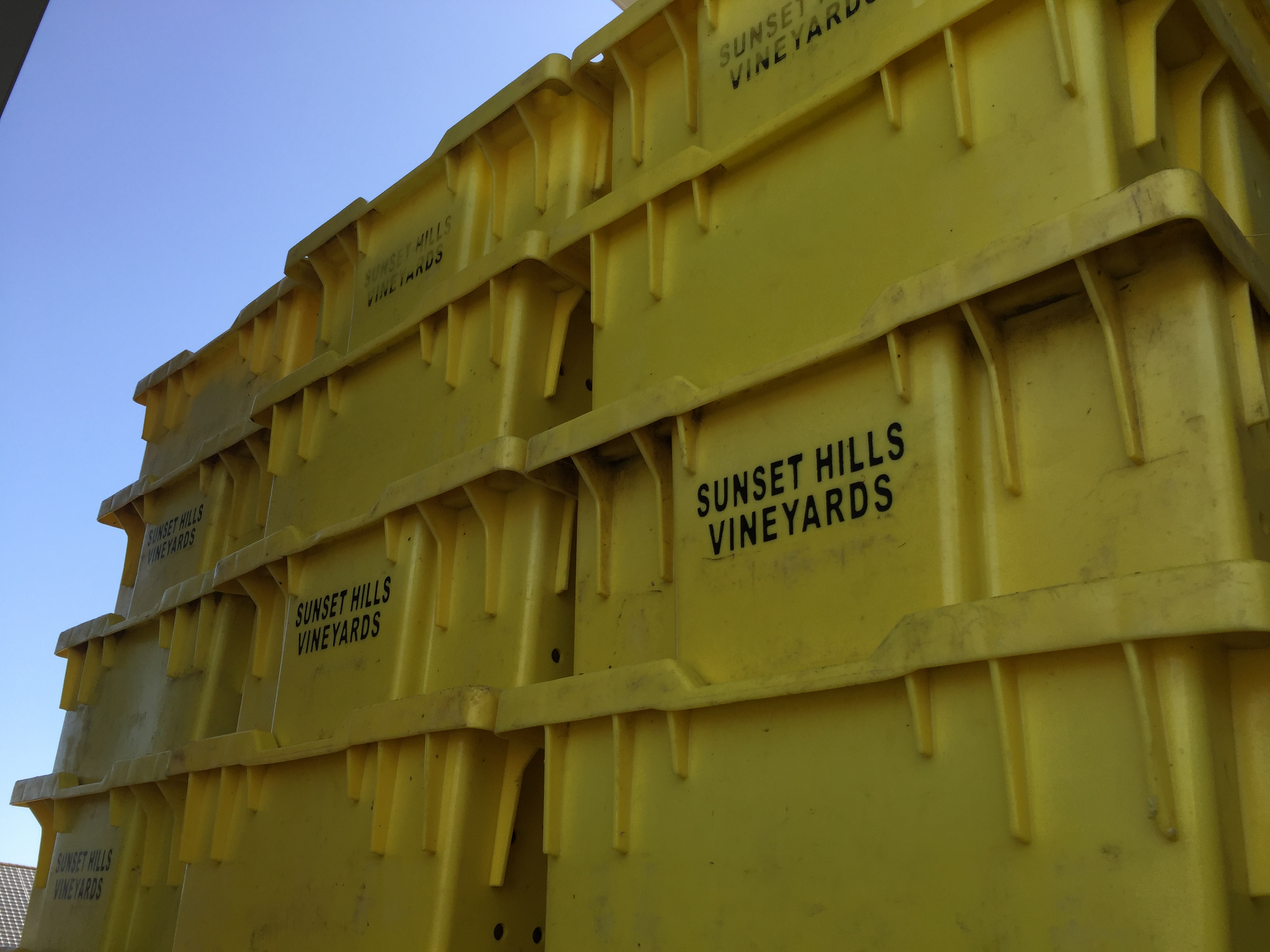 It's been a really hot summer but that didn't stop fifteen enthusiastic participants from joining myself and Quintin, our Vineyard Manager, for our second installment of the Follow the Grape series. Lathered in sunscreen and energetic from the morning's coffee, our fantastic attendees were rearing to learn the details of exposing the fruit zone. Quintin and I were very happy to teach them and have the extra help in the vineyard!
A quick introduction and off we went into the vines. Quintin shared the importance of allowing the fruit to bask in the sunlight throughout the growing season--decrease disease pressure via increased air flow and ease of drying out. Teams of four ripped and plucked their way down each row, stepping back at each vine to make sure the job had been done right.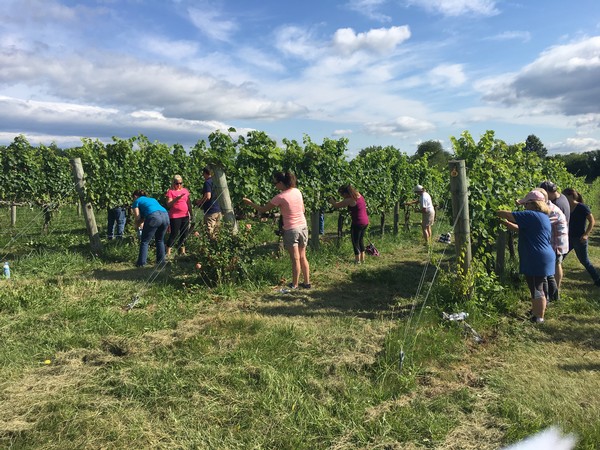 This time of year, canopy management is the number one focus in the vineyard. Tucking vines into place, leaf pulling to clear the fruit zone, and hedging the tops to keep vines in check are all important to maintain a healthy and easy-to-manage vineyard. The goal is to have a balanced canopy - one that allows for air flow to reduce moisture retention and also to have enough healthy leaves to ripen the fruit through harvest.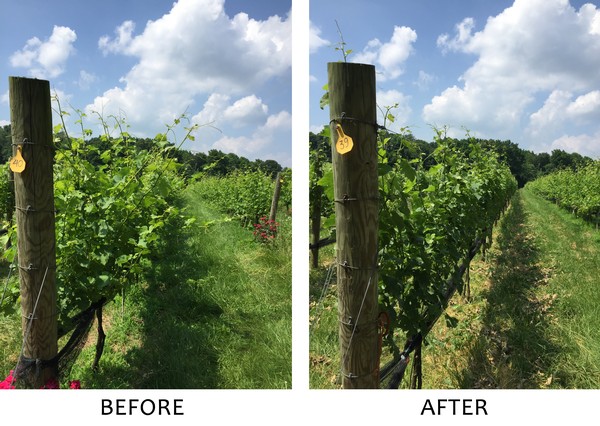 At the row's completion, it was time for a little international education. The group met me in our stone library for a quick presentation on canopies from around the world. Accompanied by a flight of wine (Maison Shaps, 2015 Bourgogne Rose; Mullineux, 2012 Syrah; Sunset Hills, 2016 Viognier; Sunset Hills, 2016 V1 Chardonnay), the crew was happy to listen to me share what I had learned about bush vines in South Africa and towering tractors in Burgundy. Curious what a towering tractor is? Check out this video.