Sunset Hills Blog
Welcome to the blog of Sunset Hills Vineyard! From the trials of hand-tending vines in five different vineyards to releasing wines that our winemaker has carefully crafted, our goal is to share what's going on at Sunset Hills with you! We hope that you'll gain knowledge and find entertainment from this blog. Located in Purcellville, Sunset Hills is a proud producer of high-quality wine in Loudoun County wine country.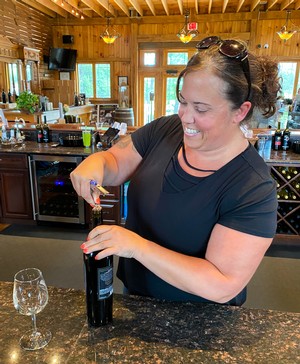 How long have you worked at Sunset Hills? Two Years
What is your favorite Sunset Hills Wine? The Cab Franc 15 Reserve but my favorite one that is available now is the Rose of Cab Sauv 2020
Outside of Sunset do you have any other jobs? Yes, I have had a full-time job with the government for 21 years now.
Where are you from? Brunswick, MD
Have you ever lived in another state? Yes, NC, SC, MA
Kids or pets? My daughter Heather works here as well, and she is 16 years old. I also have two dogs, Bailey & Bell. We got Bailey during COVID as a puppy.
If you could have one superpower, what would it be? Invisibility
What is your favorite season? Fall
What did you want to be when you were young? A Marine Biologist and I wanted to work at Sea World!
If you could quickly and easily learn any skill right now, what would it be? A new language
What do you enjoy doing outside of work? I enjoy hiking, playing with my dogs and traveling.
What is your favorite food? Mexican!
The Answer to Two Truths & A Lie!
Truth: I enjoy hot weather!
Truth: I do not eat pasta.
Lie: I love liver and onions!