Sunset Hills Blog
Welcome to the blog of Sunset Hills Vineyard! From the trials of hand-tending vines in five different vineyards to releasing wines that our winemaker has carefully crafted, our goal is to share what's going on at Sunset Hills with you! We hope that you'll gain knowledge and find entertainment from this blog. Located in Purcellville, Sunset Hills is a proud producer of high-quality wine in Loudoun County wine country.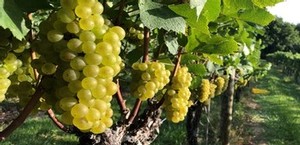 It's that time of the year again! HARVEST!! Our winemaker, Corry, is rounding out our best harvest yet. Since this winter, our vineyards have been through a lot and the complex decisions we have made will determine the final product… Sunset Hills and 50 West wines. Let's walk through the basic cycles of the vineyard!
Pruning – Pruning was completed about two weeks before the vines started to wake up from winter dormancy. Pruning is crucial for vine health, the process forms the permanent structure of the vine, sets the season potential crop load and sets up our canopy development.
Bud Burst – Bud Burst is when the vine FINALLY wakes up from dormancy and new green shoots start to grow. This happened in late April.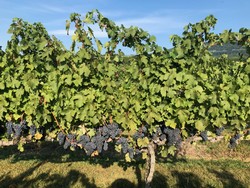 Shoot Thinning - As soon as the shoots are about 6 to 8 inches long, we started shoot thinning. This operation consists of removing the shoots in excess, by selecting the shoots that will form your final canopy and therefore, determine the crop load. Timing is essential because shoots that reach a certain size cannot be removed without damaging the permanent structure of the vine, therefore we only had about 2 weeks to finish this operation in all our 75 acres. Without even having the time to realize it, blooming had already caught us, and we had to start our leaf thinning operations.
Leaf Removal - Leaf removal in the fruit zone is a canopy management practice to modulate fruit microclimate and exposure to sunlight. These two variables are fundamental for both disease management and grape aroma and/or color development. Both timing and intensity of leaf removal can have a great impact on fruit quality, reason for which this operation was performed in the vineyards for more than month, varying not only the timing but also the intensity depending on our goal for each vineyard block.
Fruit Zone Leaf Removal - FZLR also has a time limit to be performed, because exposing the grapes too late in their physiological development can cause sun burn damage and drastically lower grape quality.
Fruit Set – This is when our beautiful berries have reached the size of a pea. They are still hard, green, and in a transition phase to build resistance to many of the diseases that can seriously compromise the whole season. At this stage, vines have a full canopy (another technical term to define a canopy with shoots 50-60 inches long).
Through leaf thinning, tucking in, tying, hedging and laterals removal in the fruit zone, we tried to optimize it. Briefly, the goal is to have enough mature leaves per shoot sufficient for grape ripening, a fruit zone that is more or less exposed but with sufficient air flow and sunlight diffusion/penetration, no occlusion zones with too many layer of leaves creating humidity pockets and lowering the photosynthetic efficiency of the canopy.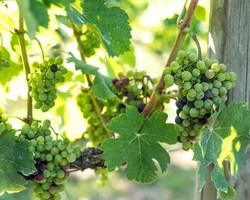 Veraison – AHHHHHHH and BREATHE! The Vineyard starts to slow down, no more visible vine growth. Veraison is when berry ripening starts. A chain of signals changes the metabolism of the berry. This change is due to the beginning of the maturation of the seeds. Soon after the seed coat starts to develop, hormone levels change in the berry causing berry softening and enlargement. Sugar starts to accumulate. Sugar accumulation immediately triggers the change of color in red varieties. Then, as ripening continues, acids will begin to drop, phenols composition will change and aromas accumulate and develop.
After veraison, things are moving fast. The grapes are showing in all their complexity the outcome of all the decisions we made through the process…the fingerprints of this season' conditions, the quality of the work performed in the field.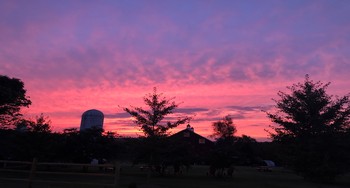 Check back for our next blog to see what winemaker, Corry Craighill, has to say about picking and processing the fruit, beginning the winemaking process for our wines, and more. It's been a great year, which means… our wine will be amazing… just like our sunsets!
- Silvia Liggieri, Vineyard Manager