Sunset Hills Blog
Welcome to the blog of Sunset Hills Vineyard! From the trials of hand-tending vines in five different vineyards to releasing wines that our winemaker has carefully crafted, our goal is to share what's going on at Sunset Hills with you! We hope that you'll gain knowledge and find entertainment from this blog. Located in Purcellville, Sunset Hills is a proud producer of high-quality wine in Loudoun County wine country.
Sunset Hills and 50 West Vineyards present: Feel Good About Drinking Our Wine...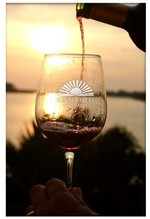 We are an authentic 100% Virginia farm winery, meaning we harvest 100% of our own wine right here from our natural Loudoun County vineyards (from our vines to your glass, literally) while taking care of our planet in a responsible way.
Growing grapes in Virginia to make exceptional wine is no easy task, especially when you care about the environment like we do. Many of you know that we "Turn Sunshine into Wine" using our large solar facility on our historic barns, but did you know that we are also Certified Wildlife Habitats?
A healthy sustainable environment like the ones at Sunset Hills & 50 West Wineries are good for native species like fox, deer, rabbits, and our winged friends who make their homes in our vineyards. It also is a good habitat for YOU as we are a HEALTHY GREEN ESCAPE in Loudoun where you are able to drink in the fresh air and to relax… away from the congested highways and busy office buildings.
Monarch Waystations & Bluebird Trails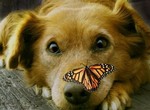 "1271!" replied thirteen-year-old Carter Steadman when asked how many monarch butterflies

he had hand raised since he was 8. Carter handpicked some of these monarchs as tiny caterpillars at Sunset Hills and 50 West Wineries right here in Loudoun where they were transferred to small netted cages; fed milkweed daily until they spun their chrysalis to later emerge as monarch butterflies. Owners of the Loudoun wineries, Diane and Mike Canney have raised 20 themselves!
Carter and a team of Loudoun Wildlife Conservancy (LWC) volunteers have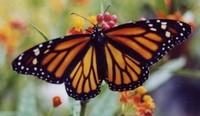 worked with Sunset Hills and 50 West for many years; protecting and expanding our native bird and butterfly populations. The LWC has helped us establish and monitor our Monarch Waystation Gardens and Bluebird Trails.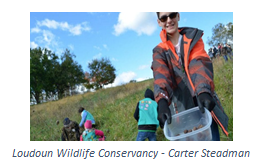 As a result, we have added hundreds of these native birds and butterflies to the population. The Waystation at Sunset Hills is located in front of the pond looking from the winery barn decks. At 50 West it is just left of the tasting room near the parking lot. Speaking of winged friends, let's talk about our Sunset Hills & 50 West Wineries full time residents; Bluebirds!

Bluebirds have a challenging life compared to most birds. They don't make nests in trees but instead require a cavity like a hole in a fence post or tree. They eat bugs. We love this trait. We rely on the busy bluebird to eat bugs, this way, we don't have to spray chemicals in the vineyards to repel pests. They love sitting on the top of the vineyard posts looking for bugs and spend hours flying up and down from their posts. We have learned that crickets must be a Loudoun bluebird favorite - look at our posts - they have lots of leftover cricket legs that must not be very appetizing to the birds.😊 In fact, our trails play host to modern bluebird houses that fill in for their loss of habitat.
---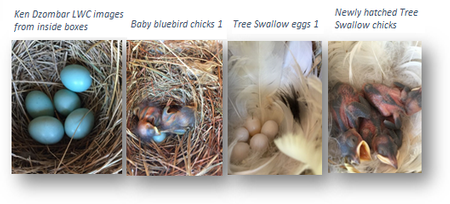 We are grateful to you as customers for supporting our wines that we donate a portion of sales to the Loudoun Wildlife Conservancy (LWC). Their many programs make Loudoun a better place for all creatures including us to live.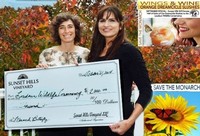 Thank you to these conservationists & volunteers for the hundreds of hours they have dedicated to the greater good for the environment in their former and current roles with Loudoun Wildlife Conservancy including: Nicole Hamilton, Karla Etten and Ken Dzombar, Sarah and Carter and Team Steadman, Joanna Dzombar, Sally, Shannon, David and so many others.
---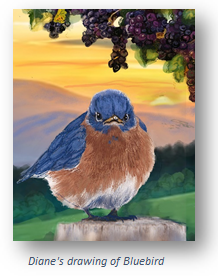 We have planted Monarch waystations (or garden plots) at 50 West and Sunset Hills wineries as well as at our home with milkweed and fall nectar plants.
You can plant milkweeds and fall nectar plants too! Every garden plot, especially when added to the gardens of our neighbors and their neighbors and their neighbors, can make a difference. At 50 West and Sunset Hills Wineries, we strive to take the lead in serving as a model for other wineries and communities to continue to care for Loudoun County in the very best way!
Hope lies in the future generations! Sunset Hills, 50 West, and Loudoun Wildlife Conservancy's shared goal is to make sure that healthy habitats exist so that the future generations have the best chance possible to bring back the magic of nature.
-Diane Canney
---
Enjoy!
For more information on how to plant your own gardens or bluebird houses and the activities of the LWC. https://loudounwildlife.org/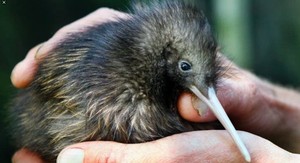 As we continue our journey we visit a conservation program for New Zealand's national bird - the kiwi to support their efforts. A very interesting fact about these hen sized,rare, and flightless birds is their egg size.

The kiwi we were told has the largest egg per body ratio of any bird. The males sit on the egg for two months. The young hatch and are on their own and are very solitary creatures.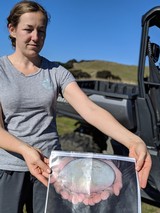 Humans have introduced various weasels, possums and cats that have dramatically reduced their numbers. Meet Marhaban who hatched March 13 and weighed 317.6 grams. Today he weighed 505grams and was "wiggly". We found him hidden under very tall grasses with help of the local biologist and her tracking device. Kiwis are territorial and can cover 5 acres a day walking.
Marhaban and others fortunate to be in this private preserve with a better chance for survival. They are monitored and weighed every two weeks and eventually will be released into the wild. We hope for the best through more conservation efforts for these gentle birds with fur like feathers.
Back to wine on the North Island and other types of kiwis
Today Stonyridge is considered one of the best red wine producers ..according to their acclaim and website. Colorful, owner, Steve White skippered yachts across the world decades ago then worked in wineries in France, California and Italy before starting Stoneridge on Waiheke Island off the coast near Auckland. This Yoga focused and trendy winery is a favorite of celebrities and people attracted to their fun zenlike environment and wines.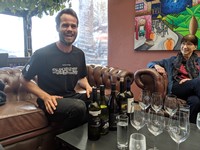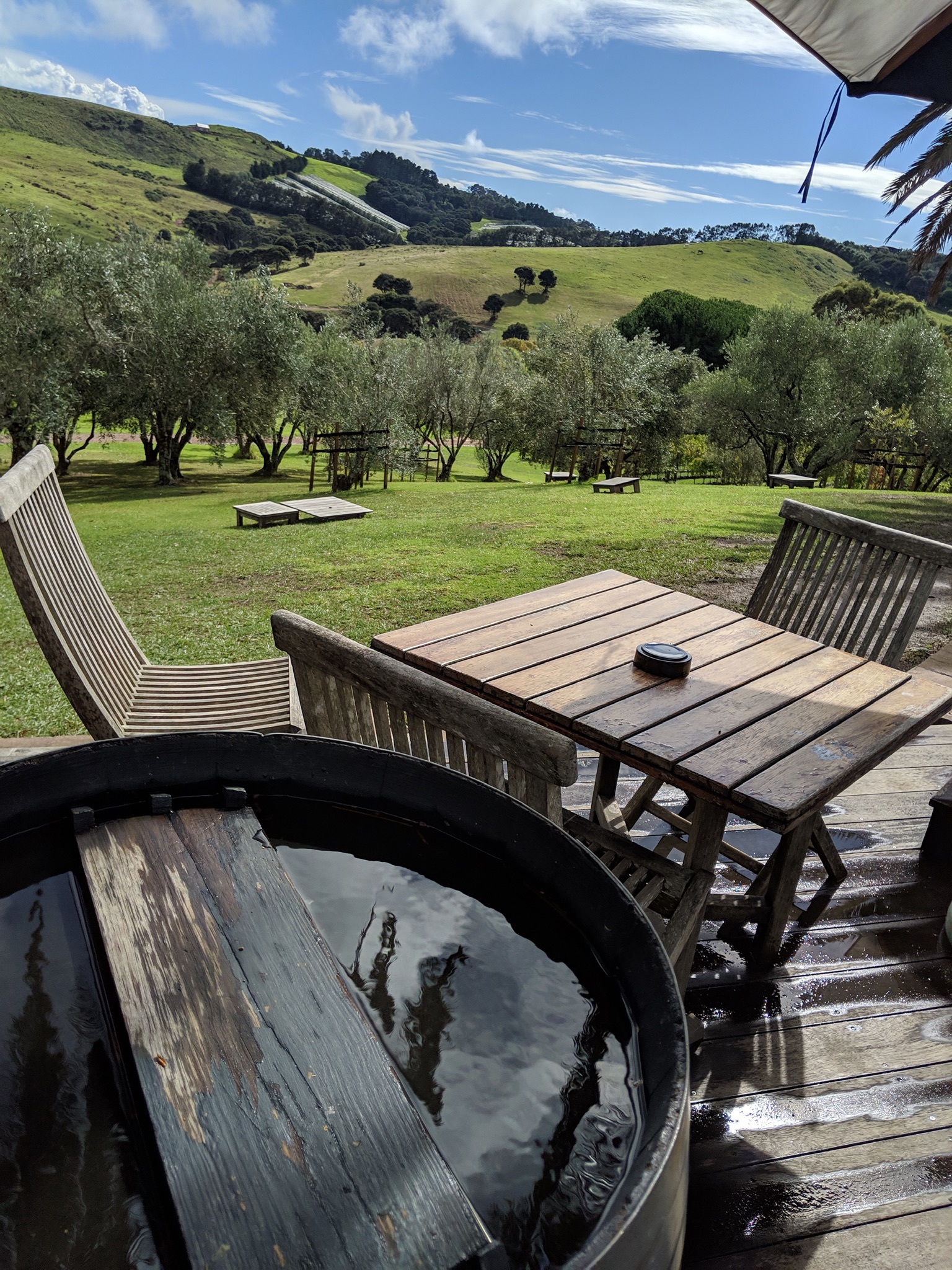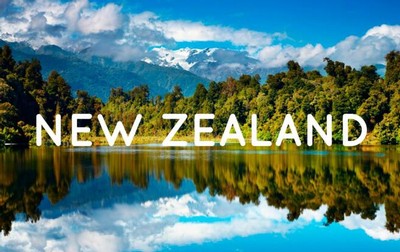 When Mike and Diane are not home working with their great team they try to visit other wine regions to learn and be inspired. This blog is about their current trip to New Zealand an amazing place to enjoy wine and meet kiwis. Kiwi applies to the residents and the flightless bird now protected.
We begin our journey in the Hawke's Bay region on the North Island. New Zealand has two islands that are very different in feel, the North Island resembling a feel of California coast and English farmland and the southern more like Austria with glaciers.

The wine regions are respectively Hawke's Bay in the north and Marlborough region on South Island. The Hawke's Bay region contrasts greatly with Marlborough in the South Island. This region is older than Marlborough planted by missionaries in the mid 19th century. It is known for the unique Gimlet Gravel terroir. There are two types of soil here alluvial loams and river gravels. Surprisingly, the Gimlet Gravels went unplanted until the 1980s. Now it is one of the most important patches of ground in New Zealand. A unique example of how the French concept of terroir matters in New Zealand.
We enjoyed their Sauvignon Blanc, Syrahs and Pinot Noir. I plan to share some of the interesting facts and features and towns and creatures along the way. Maybe if its not too boring some of Diane's drawings that capture the spirit of this place and its people.
New Zealand was settled by Polynesians 700 years ago who developed a distinct Maori culture centered on kinship & lands.
Fur traders followed and a in 1462 a Dutch navigator. Charting and exploration by Captain cook and settlement by the British empire that would predictably shift power from the Maori to the Europeans who created great farms to provide goods and services to the UK. Poor immigrants came to find a gentler environment and "heaps of opportunity" as the kiwis would say.
Diane decided to capture a rags to riches home in one of her drawings here. Built in 1870s this station manor was designed by an architect from England who specialized in castle design for a former penniless farmer turned into gentry by the exports of wool and meat. Think of a station as a self contained farm that could be thousands of acres. They would have had an onsite school, tens of thousands of sheep and or cattle tended by farm workers and home staff. The interior is full of beautifully carved wood. Queen Elizabeth's mother is pictured in a photo here. This one is of a former station called Green Hill.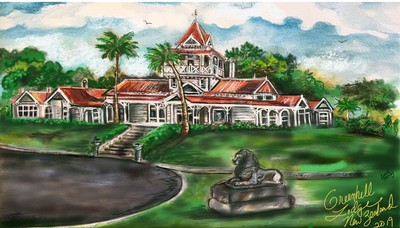 Wool, lamb and oil were commodities needed by the UK. Often penniless immigrants came to this country, cleared the native bush and planted rye and grasses and pastures for their stock. The owner was responsible for the staff and animals and probably the rules and regulations.
Stay tuned for more photos and fun facts.....tomorrow a baby kiwi