Sunset Hills Blog
Welcome to the blog of Sunset Hills Vineyard! From the trials of hand-tending vines in five different vineyards to releasing wines that our winemaker has carefully crafted, our goal is to share what's going on at Sunset Hills with you! We hope that you'll gain knowledge and find entertainment from this blog. Located in Purcellville, Sunset Hills is a proud producer of high-quality wine in Loudoun County wine country.
Earth Day: Climate Action - 50th Anniversary
---
Hello everyone…. Thank you for joining me as we commemorate the 50th anniversary of Earth Day. I actually remember the very first Earth Day back in 1970. I was in high school in Southern California. My friends and I spent all our free time exploring the tidal pools of the local beaches and hiking and biking through the canyons. The environment has always been important to me, and I know it is here at Sunset Hills as well.
The theme of this year's Earth Day is climate action. Here at Sunset Hills we all work hard to nurture and protect our environment by reducing our greenhouse gas emissions. From our amazing vineyard and production crew, to those of us in the tasting room, we aim to reduce ourcarbon footprint and do our part and more. Every bottle of winereflects the sustainable practices used to capture the magic of our local terroir in the most environmentally friendly way possible
At Sunset Hills we are dependent on Mother Nature. We don't irrigate our vines. When we have a dry year, the vines reach deep into the ground for water. For energy, both the vines and we look to the sky for the energy we need to keep going.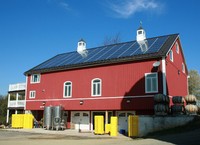 Did you know - SHV has 245 solar panels. We have generated more than 606,440 kilowatts of electricity. This means we have prevented 473 tons of carbon from getting into the atmosphere. That's 2-1/2 railroad cars! That's also the equivalent of planting more than 7,000 trees and letting them grow for 10 years. It's also the equivalent to the amount of carbon taken up by 560 acres of forest land in one year.
Did you know - As the vines grow, the leaves absorb CO2 fromt he air. Oxygen is released and the plants use the C they need while leaving some in the soil. Our no till methods keep the carbon in the ground.
Did you know – packaging is a major source of carbon emissions. That's why we do our best to recycle everything possible, from glass to cardboard.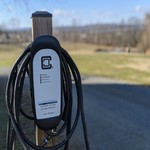 Also, did you know - that a major source of greenhouse gas emissions comes from transporting agricultural products. Buying local reduces these emissions. In fact, we are now breaking ground at Sunset Hills for a new vegetable garden to provide fresh produce to our vineyard crew and employees. Remember, buying local, whether at local farm markets or local wineries, is something you can do to help.
Here at Sunset Hills we celebrate Earth Day in every bottle of wine, in every glass of wine. As I sit here and drink a glass of SHV Cabernet Franc, one of my favorites, I know that I am tasting the amazing flavors of Loudoun County Virginia wine.
So open a bottle, and join us as we experience what the Earth has helped us produce. Let's stay safe, stay in touch, and remember, every day is Earth Day at Sunset Hills Vineyards.
Cheers!
- Audrey Siler
Sunset Hills & 50 West Vineyards
---
For more information about our sustainable practices click here to learn how Sunset Hills Vineyard and 50 West Vineyards are doing their part in keeping our planet green!