Sunset Hills Blog
Welcome to the blog of Sunset Hills Vineyard! From the trials of hand-tending vines in five different vineyards to releasing wines that our winemaker has carefully crafted, our goal is to share what's going on at Sunset Hills with you! We hope that you'll gain knowledge and find entertainment from this blog. Located in Purcellville, Sunset Hills is a proud producer of high-quality wine in Loudoun County wine country.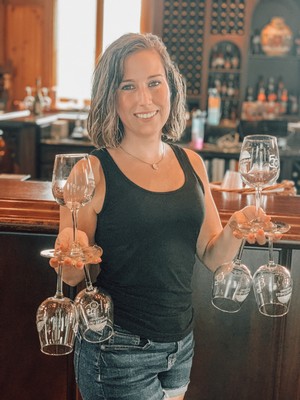 Favorite Sunset Hills Wine? Our 2020 Rose of Cab Sauvignon & our 2012 Tannat
How long have you worked at Sunset Hills? Eary July was my one year anniversary!
Do you have any other jobs? Kindergarten Teacher
Where are you from? NOVA
Have you lived in a different state or country? No
Hobbies outside of work? Painting, reading, jigsaw puzzles
Do you have any kids or pets? Abby the dog. She is 8 years old.
Are you a morning person or a night owl? Both
If you could have one superpower, what would it be? Pyroconetticts
What is your favorite season or holiday? Fall, aka spooky season
What did you want to be when you were younger? Marine Biologist
Do you have a favorite, show, book, movie, etc. right now? My favorite book is Where The Crawdads Sing
When/if you do go out to socialize, what things do you enjoy doing? Spend time with my pup and taking naps
What is your favorite food? Mexican Food
What was your favorite subject in school? I have a double major in Neurobiology so neurobiology!
Do you enjoy nature, or do you prefer to stay indoors? Both

Two Truths & A Lie
1. I collect hats from different states.
2. I've been kayaking in Honduras
3. Frogs are my favorite animal!
Question: What do you get when you combine Virginia-made wine, handcrafted macarons, and a sommelier in a kilt?
Answer: A romantic weekend at Sunset Hills Vineyard!
This past Valentine's Day weekend we hosted Date with a Somm, an intimate gathering of couples and friends who enjoyed a tasting of 5 Sunset Hills wines paired with 4 custom-designed, locally made macarons, all presented by our own in-house sommelier, David Parker.

David Parker, Certified Sommelier
Leading the charge!


The Tasting Line-Up!
Rosé, Reserve Cabernet Franc, Petit Verdot, Mosaic, & Dusk
Our guests enjoying a lovely Valentine's Day treat!
When we were planning our Valentine's Day events I wanted to offer something different for our customers. A new twist on wine and food pairings. It's no secret that wine and chocolate go well together, so I wanted to explore treat options beyond truffles and bonbons. And so the brainstorming began. What could we offer our Date with a Somm attendees that is unique, delicious, and pairs well with wine? When staff member, Sherri, suggested macarons I was hooked on the idea! I took to the internet to find a local bakery that specializes in these tiny French delicacies. Through social media channels and networks, I discovered the force behind Weekender Pastries LLC.
The first time I met Shawnna Bennet, owner of Weekender Pastries LLC, she walked into the Tasting Room with an arm full of bags and packages. It was not what I expected. I expected a portfolio containing a list of flavors, prices, and maybe a few pretty pictures. But Shawnna is an artist and she wanted to start with a blank canvas.
From those bags and packages, she produced small samples of fruits, nuts, spices, chocolates, and extracts. Together, we explored, compared, and layered flavors until she had custom-designed a macaron for each wine. From there, she built a Valentine's Day box of treats that we will offer for sale in the Tasting Room all weekend long.
I tell this story because, for me, it reinforces the importance of community and connection, excellence in customer service, and finding passion in your work. These qualities – they infuse themselves in your product and shine through in the customer experience. At Sunset Hills Vineyard, our promise to ourselves and to you is to strive for this every day – the excellence, the connection, the infusion of our excitement and passions in the SHV experience.
At the end of last year, we took a collective sigh, dusted the chaos of 2020 from our shoulders, and vowed to reaffirm and strengthen our values in the new year. It's no secret that 2020 was challenging, because we were all in that boat together. We all experienced the sting of the pandemic – from the isolation of lockdown and quarantine to the devastation of the global economy. To be honest, most of our energy went into simply keeping our heads above water. In the fight to keep the lights on, we lost a lot along the way.
New year, new us! That has been our mantra since November. Now that we have had time to adapt, learn, and innovate it's time to roll up our sleeves and step up our game. Each department is working hard to make Sunset Hills Vineyard a more exceptional Virginia winery.
The beautiful and unique thing about visiting a Virginia winery is the experience. It's more than the wine itself, it's the atmosphere. A place where you can picnic with your family, reunite with friends, fall in love, and discover the wonders of wine. Our first order of business in 2021 is to improve that experience. Here's how we hope to do that…
New Tasting Menu: We still cannot offer traditional at-the-bar tastings so we will continue with our self-guided flights. However, we have moved to a Build Your Own Flight model which allows you to pick and choose which wines you try. Not a fan of red wine? No problem! Create your own flight of our delicious white wines.
Improved Communications: We will make sure you are in the know about all things SHV with our new wine club newsletter, regularly updated blog, frequent social media posts, current events calendar, and informative eblasts.
More Events and Fun Activities: Current government-mandated restrictions on group sizes continues to challenge us when it comes to creating and scheduling events and activities. But fear not! We donned our brainstorming caps in January and we have an exciting year planned for you. Stay tuned.
Website Updates: It is our goal to improve our website in the coming months so that it is easy to navigate, offers the most up-to-date information about SHV, and much more mobile friendly.
New Wine Club Manager: Audrey Siler, an SHV veteran and established Wine Club Ambassador, has graciously stepped into the role of Wine Club Manager. Our wine club members are family to us so we want to make sure they are getting the best care we can offer.
Corn Crib: We have converted our outdoor bar, the Corn Crib, into another heated, outdoor seating area for those who wish to visit but want to avoid indoor spaces. The Corn Crib is enclosed on all sides but one to protect you from the elements. It offers seating for larger groups, overhead heaters, and fire pits.
Audrey Siler
Wine Club Manager

Corn Crib Seating is Now Open!
It's cozy!
Build Your Own Flight!
4 wines of your choosing.

Aubry Fisher, Tasting Room Manager
Enjoying the new & improved corn crib.