2016 Cabernet Franc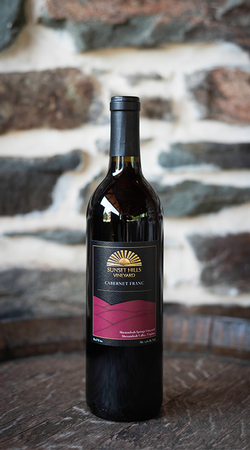 83% Cabernet Franc, 10% Petit Verdot, 7% Tannat
Corry's Notes - Nestled in between the Allegheny and Blue Ridge Mountains, our Shenandoah Springs Vineyard is a great site for growing Cabernet Franc. With an eastern exposure, the vines gain an appropriate amount of sunlight for even ripening. Cabernet Franc is the most abundantly planted varietal for Sunset Hills, so it often gets used in many wines. Our 2016 Cab Franc shows the approachable character of the grape—fruity yet serious, some tannins to elevate structure, yet easily consumed young.
Product Reviews
Emily Karadak
(Mar 25, 2020 at 8:42 AM)
What a FABULOUS WINE! Great medium bodied, and well balanced, and delicious! One of my FAVORITES!
Bridgette
(Mar 25, 2020 at 9:22 AM)
I love Cabernet Franc, and Sunset Hills produces my favorite style of this wine. I haven't had a vintage of Sunset Hills Cabernet Franc that I have not adored. This is often times the wine I bring to dinner parties and it is truly a crowd-pleaser!
Tiffanie
(Mar 25, 2020 at 9:56 AM)
This medium bodied Cabernet Franc is a delicious red that has me grabbing the bottle for another glass.
Jeff
(Mar 26, 2020 at 6:50 AM)
I love a hefty red wine. Throw a mouth-drying California cab or a grippy Bordeaux at me and I'll throw a thick, juicy rib-eye on the grill and turn it into a great Friday night – or any night. But occasionally I'll dial it down a notch, and often that that means I open a bottle of Sunset Hills Cabernet franc. I've enjoyed this wine for several vintages. The 2015 was awesome; the 16 and 17 just a notch below. What impresses me about this wine is that it is beautifully balanced. You get some nice fruit qualities up front; there's a splash of herbal-ness to it and you get just a touch of the spicy finish the cab franc grape is known for. Nothing overpowers anything else. It just works its way across your palate like a good wine should. Enjoy.