2016 Reserve Cabernet Franc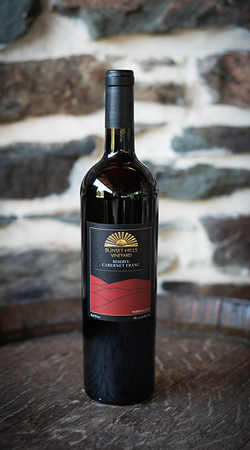 Cabernet Franc is one of my favorite wines to make both during harvest and during blending season. It can be pushed to the limits with longer ripening and maceration times or it can be delicate and fine. The 2016 Reserve Cabernet Franc falls in the middle—robust in body yet fine tannins allow this wine to be aged for several years. This, as well as aging time, separates the Reserve Cab Franc from our classic Cab Franc. This wine is aged for 18 months in 11% new French Oak, 11% second fill, and 78% neutral.
Product Reviews
Bridgette
(Mar 28, 2020 at 1:24 PM)
Reserve Cabernet Franc is one of my favorite wines that Sunset Hills makes! The extended oak aging does this wine a huge favor. While I LOVE the classic Cabernet Franc, this is just something really special about this wine. I heard the winemaker say once that this wine is the big brother of the two Cabernet Francs she produces. The Reserve just has so much more to offer. While the classic is great to share with friends and family, this is one I keep to myself - a little hidden secret for when I want to treat myself to amazing Virginia wine.