2017 Sunset Red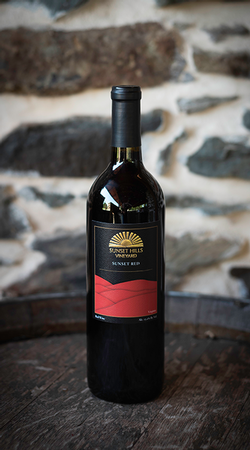 40% Merlot, 36% Chambourcin, 16% Cabernet Franc, 8% Tannat
Corry's Notes - The lighter style that Sunset Red offers widens the scope of the wines here at Sunset Hills Vineyard. Delicate and youthful, the structure of the Sunset Red is carried by its acidity and bright fruit notes, rather than heavy oak or tannins.
Product Reviews
Sydney
(Mar 27, 2020 at 7:49 AM)
Sunset Red is always a go-to but this vintage might be my favorite from Sunset! Bright with red fruit notes, light body, easy to pair with food!
Bridgette
(Mar 28, 2020 at 1:09 PM)
Merlot shines through in this vintage of Sunset Red with notes of black cherry and black currant with the slightest hint of cigar box. I would call this a light medium bodied wine with matching tannic structure. I loved the 2016 but this vintage surprised me - delicious!