2018 Follow the Grape - Planting
Sunday, May 6th, 2018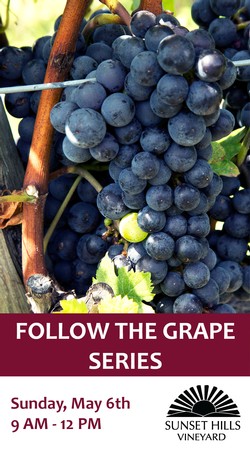 We are excited to announce this year's Follow the Grape Series! Join us for a unique behind the scenes experience where you will be able to "Follow the Grape" from planting through harvesting by participating in the care of our fantastic vines. Each season we will highlight what is taking place in the vineyard.
Planting (Spring)
Pruning/Canopy Management (Summer)
Harvesting (Fall)
Tasting! (Winter)
Planting:
The first event in the series is planting. Our Winemaker, Corry and Vineyard Manager, Quintin, will guide you through the steps of planting then oversee the group as you plant Vidal Blanc vines. Upon completion of planting you'll be able to name the row(s) that you planted. We'll place a sign with the name and planting team on each row and send you pictures/updates on your baby vines.