2018 Sunset Rose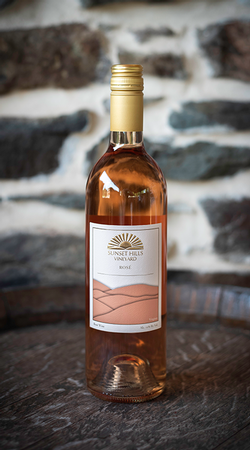 45% Merlot, 42% Cabernet Franc, 13% Cabernet Sauvignon
Corry's Notes - Typically, the Sunset Rose is made mostly of Chambourcin, but for the 2018 vintage I decided to do a French-style rosé (closer to our previous vintages of Cab Franc Rose) as these grapes were picked at the perfect time for rose. Merlot gives a beautiful pink hue, while Cabernet Franc offers more ripe fruit flavors. The wine is a blend of both direct press and saignée winemaking techniques. A cool ferment and short aging in stainless steel keeps the wine fresh and delicate.
Product Reviews
Sydney
(Mar 25, 2020 at 7:47 AM)
Delicious French-style rose! Nice acidity to pair with the stawberry notes. Crisp & exciting!
Bridgette
(Mar 25, 2020 at 9:14 AM)
One of my favorite wines that Sunset Hills produces! Light, bright and dry - just how I like my rosés, The color is gorgeous and the flavor is even more impressive. My go-to wine in the warmer months!
Emily
(Mar 25, 2020 at 11:14 AM)
Rosé all day! What a fabulous dry rosé! Light, crispy, and has a fabulous flavor! One of my favorite wines for warm weather!