Non-Vintage Sunset White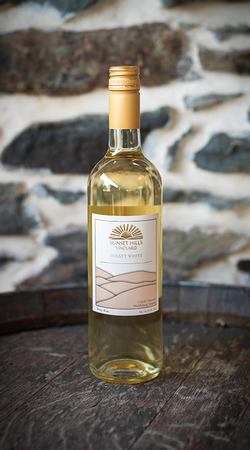 50% Traminette, 32% Viognier, 14% Vidal Blanc, 3% Albarino
Corry's Notes - Sunset White is always a fun wine to enjoy, especially in the summer. I aim to create a refreshing, crisp, fruit-forward white. This year, I blended some Viognier, Vidal, and Albarino in to this classically Traminette-driven wine to add a bit of complexity of the fruit flavors.
Product Reviews
Sydney
(Mar 25, 2020 at 7:44 AM)
Sunset White and warm weather are a perfect pairing! Even when it's not warm out, I enjoy this wine and it reminds me of long summer days on the Sunset Hills picnic area listening to live music.
Emily Karadak
(Mar 25, 2020 at 8:44 AM)
Great tasting wine! With hints of tropical flowers and fruits like lychee, this wine is fabulous for sitting on the front porch during a warm summer or spring day!
Bridgette
(Mar 25, 2020 at 9:12 AM)
This summer sipper is half Traminette blended with 3 other white varietals. Traminette tends to be extremely floral but with the addition of Viogneir, Vidal Blanc, and Albariño, the floral character is balanced with fruit driven qualities. This wine pairs beautifully with light appetizers and salads. My family enjoys lemon and artichoke dip with this fruity, bright wine.
Tiffanie
(Mar 25, 2020 at 9:53 AM)
This wine is the perfect gift for your friends who love a great white wine! With the blend of 4 grapes, it creates a wine that's great for everyone! Love to enjoy this on a summer evening with friends.