2018 Vidal Blanc Petillant Naturel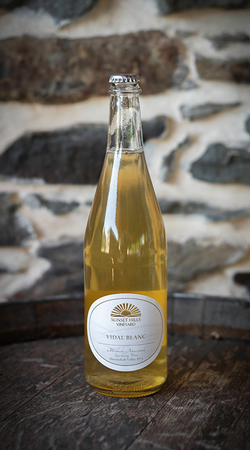 Corry's Notes - Pet Nat is short for Pétillant-naturel, which translates to "naturally sparkling." To create carbonation, the wine is bottled during alcoholic fermentation. CO2 is a byproduct of fermentation, so the bubbles are trapped inside the bottle upon completion of fermentation. This produces a more rustic style of fizz than other sparkling methods. We also added Albariño lees during fermentation to add complexity. You may see remnants of this in bottle, but do not worry! You are drinking a product where everything was completed by hand and it is a natural way of winemaking. No sulphur, no fining, no filtration.
Product Reviews
Bridgette
(Mar 25, 2020 at 8:37 AM)
This sparkling wine is more rustic in style which makes it a really interesting wine. The fizz makes it fun! Super fruity and a great base for a peach mimosa. Cheers!
Sydney
(Mar 25, 2020 at 9:31 AM)
Celebrate with Pet Nat! Bursting with banana notes, this sparkling is so fun!
Tiffanie
(Mar 25, 2020 at 9:40 AM)
Love to mix this with pineapple juice for my favorite mimosa! Makes a great pair to any celebration!