Cellar Tasting
May 19th - 1-4pm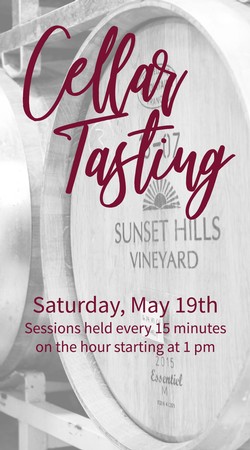 or more units
$45.00/unit
It's that time of year again. We are bottling the new vintage of the Sunset Hills Reserve Cab Franc and Mosaic & 50 West Vineyards Aldie Heights Cuvee and Petit Manseng. Join us for this exclusive Cellar Tasting where you will be able to sample these wines expertly paired with hors d'oeuvres in the Sunset Hills Barrel Room. During this event you'll be able to purchase th featured wines to add to your personal library years before they are released in the tasting room. The minimum purchase is 3 bottles (club discount applies). You will receive a 30% discount on purchases of one case or more. Your estimated pick up date will be in July. Don't miss out on the chance to own some of our best wines years before we release them.
Tasting Menu:
2016 Mosaic - Paired with Crostini with Ricotta, Confit Tomato, First-Pressed Extra Virgin Olive Oil, Basil
2016 Reserve Cabernet Franc - Paired with Seared Duck Breast with Local Carrot Puree and Roasted Mushroom
2016 Aldie Heights Cuvee - Paired with Lamb with Melted Onion and Blue Cheese Mousse
2017 Petit Manseng - Paired with Roasted Sweet Chili Pineapple with Herb Sable
Tasting Sessions: Tasting sessions will occur every 15 minutes on the hour. Sessions will consist of a maximum of 8 people.
Tickets: $45/person (club discount applies when logged in)