DiVine Wine Date Night Delivery 2020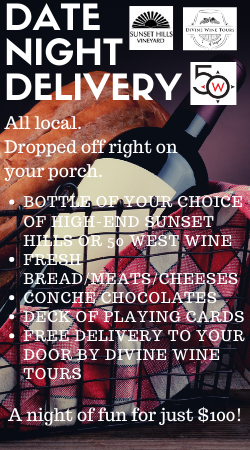 Basket include Cheddar, Brie, Salami, Prosciutto, French Bread, Conche Chocolates, playing cards and a bottle of wine from the selection below.
50 West Vidal Blanc | dry white wine, fruit-driven, medium bodied
50 West Aldie Heights Cuvée | dry red wine, dark fruits, full bodied
Sunset Hills Chardonnay | dry white wine, crisp and clean, stainless steel fermented
Sunset Hills Mosaic | dry red wine, robust and earthy profile, silky tannins
To select your wine, please note which bottle you would like in Order Notes (Check Out Screen).
Please select "SHIPPING" (Shipping Information Drop Down).
**Orders must be placed by 3:30 on Thursdays for weekend delivery. All orders placed after 3:30 on Thursdays will be delivered the following weekend.**
**Your basket will be delivered between 2 and 6 pm (Thursday, Friday or Saturday). We will send a text when it's on your porch.**
**Unless otherwise stated, Delivery available in Loudoun County Only OR within 30 minutes of South Riding, VA**
For questions, please email Amy@DivineWineVA.com