Follow the Grape - Harvest
Planting, Canopy Management, Harvest, Tasting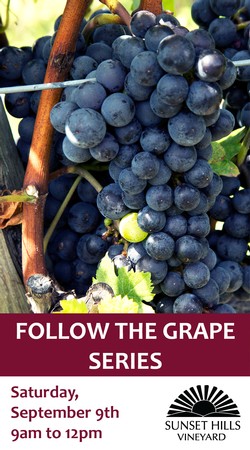 Join us for a unique behind the scenes experience where you will be able to "Follow the Grape" from planting through harvesting by participating in the care of our fantastic vines. Each season we will highlight what is taking place in the vineyard.
Planting (Spring)
Pruning/Canopy Management (Summer)
Harvesting (Fall)
Tasting! (Winter)
It's our favorite time of year, Harvest! Join us for our Fourth Annual Community Harvest and experience the harvest first hand. We will provide you with the tools needed and instruction. You will help us harvest the grapes. Work alongside the Sunset Hills staff and truly experience what it's like to work in the vineyard during our busy harvest season. Following the harvest join us for a gourmet picnic.