Non-Vintage Dusk (15)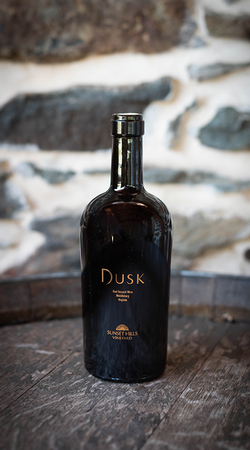 100% Chambourcin
Corry's Notes - Making a port style wine takes practice and patience. Trying to balance sugar levels, acidity, and tannic structure is the real challenge. For our 2015 release, we relied on a combination of vintages to produce a well balanced wine—not too sweet, not too acid-driven. The vintage blend is 60% 2015, 10% 2014, 10% 2013, 10% 2012, 10% 2011. We hope to continue to produce a consistent port-style wine year after year with this method.
Product Reviews
Sydney
(Mar 25, 2020 at 7:52 AM)
Love to end the day with a glass of Dusk! A delicious, not too sweet, port-style wine. My favorite pairing I've had with this wine is a blueberry cobbler- I soaked the blueberries overnight in Dusk and it was magnificent!
Bridgette
(Mar 25, 2020 at 9:27 AM)
I am a port-fanatic and this port-style does not disappoint. Lighter, dryer, and lower alcohol that traditional ports but it still packs the punch I crave. Give this wine a try with S'mores with layer of peanut butter. Changes the wine completely and who doesn't love chocolate, peanut butter and a glass of wine. No brainer!
Tiffanie
(Mar 25, 2020 at 9:44 AM)
Delicious! Love to enjoy with a Sunset Hills chocolate bar - the sea salt, pop rocks, milk chocolate bar is my favorite!
Irene Hafner
(Apr 3, 2020 at 1:40 AM)
My FAVORITE red wine! Not a dessert wine for me. ..an all-the-time wine for me!