Non-Vintage Sunset Red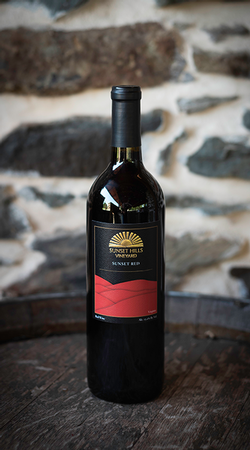 56% Cabernet Franc, 16% Merlot, 12% Tannat, 12% Cabernet Sauvignon, 4% Petit Verdot
Corry's Notes - Our Sunset Red is a light-style wine, one that is made to be drunk in it's youth. The goal is to create a wine that is versatile- light in body and tannin, pairs with a plethora of food styles, and appeases both red and white drinkers. A slight chill will help illuminate the fruity notes of the wine.

Product Reviews
Sydney
(Mar 25, 2020 at 7:41 AM)
Sunset Red is my go-to for red wine! It's light body and low tannins are easy to pair with so many different foods. Very smooth!
Bridgette
(Mar 25, 2020 at 9:19 AM)
Such an easy drinking wine that I call my Tuesday sipper. Not as serious as a big red that is begging for rib eye but also holds up against so many food pairings. Perfect with pizza and pastas with red sauces. I throw mine in the fridge for 10 minutes before drinking it - a little chill shows off the fruity characters.