Unveiling the Vine: A Toast to Wine Discovery (3:00pm)
Session 1: Sunset Hills Vineyard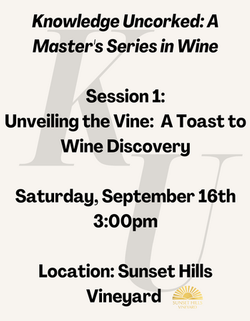 To receive the club discount, please login into your account.
Wine Educators: Molly Bridenbaugh & David Parker
This session is about experiencing the wine world in a welcoming and approachable atmosphere. We'll share insights about the creation and styles of wine, the best practices for storage and serving, and more. This experience isn't a course -- it's a toast to wine discovery, aiming to boost your confidence and enrich your wine appreciation journey.
Product Reviews