Vineyard Vistas: The Art of Managing Virginia Vineyards (3:00pm)
Session 3: Sunset Hills Vineyard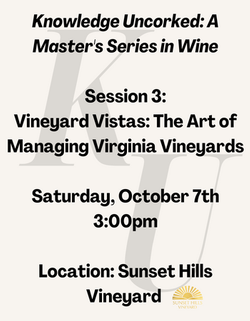 To receive the club discount, please login into your account.
Wine Educators: Aubry Fisher and Vineyard Manager, Aury Holtslag
October is Virginia Wine Month! Vineyard Vistas is a captivating wine education class that takes you on an immersive journey through the art and science of managing vineyards in the picturesque landscapes of Virginia.
Product Reviews