Virginia: The Unsung Hero of American Wine (3:00pm)
Session 4: Sunset Hills Vineyard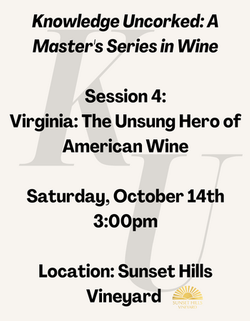 To receive the club discount, please login into your account.
Wine Educators: Jeff Thoreson & Molly Bridenbaugh
The story of American wine didn't start in the vast vineyards of California, but rather, in the historic landscapes of Virginia, under the ambitious vision of Thomas Jefferson. We invite you to explore the lesser-known, but no less significant, narrative of Virginia viticulture. Raise a glass with us to honor the enduring legacy and vibrant future of Virgnia's wine culture.
Product Reviews