Our Commitment to Sustainability
At Sunset Hills Vineyard, we are committed to sustaining the beautifully green environment that serves as our vineyard's backdrop by utilizing innovative, green technology wherever possible.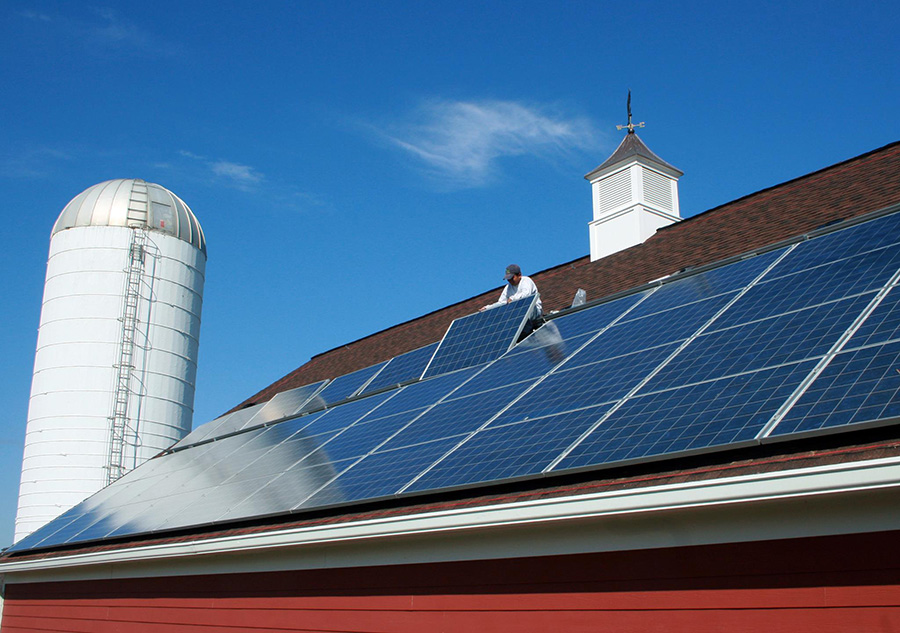 Sunset Hills Vineyard is turning sunshine into wine! To power our winery, we are turning sunshine into electricity too. We installed 245 solar panels to catch the suns energy, providing clean, sustainable power for about 75% of our annual needs. Most months, we over-produce and provide this power back to the grid for our neighbors. Sunset Hills is one of the largest producers of solar energy in Loudoun County, Virginia.
Our solar panel system produces 80,000 Kilowatt hours of clean power per year, which reduces CO2 emissions at an equivalence of planting 240,000 trees!
"Turning sunshine into wine is something we've been doing since 2010 here at Sunset Hills," says Mike Canney. "Converting the winery over to solar power was the next step in continuing to utilize the natural resources we have available to us. Our customers appreciate that they can enjoy great wine, produced sustainably, from our vines to their glass."
Practicing sustainable agriculture and responsible environmental stewardship is important to us at Sunset Hills Vineyard, and utilizing solar power is just one the many ways we're doing it.
Our Annual Power Production Our Daily Power Production and How it Translates into Everyday Life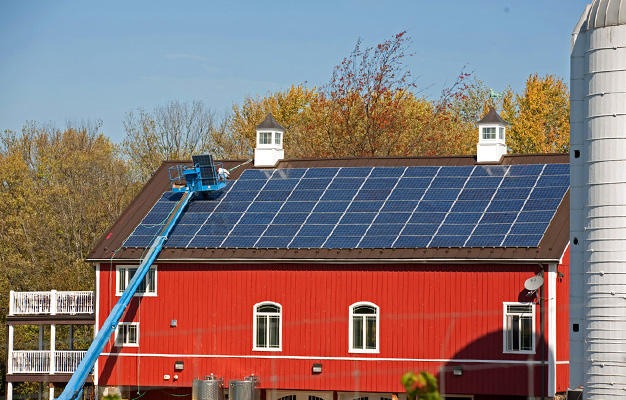 ---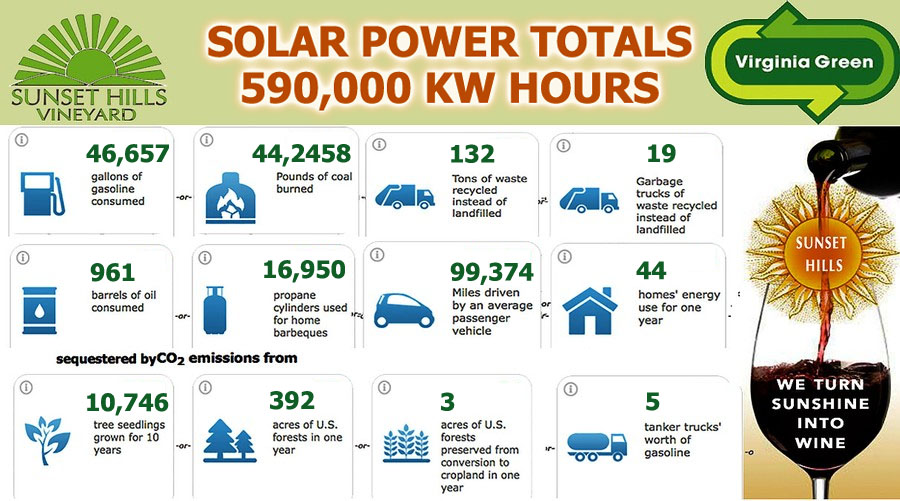 ---
Other "green" initiatives in our vineyards and tasting room to reduce our environmental impact are:
We are proud to be a member of the Tesla recharging network providing four electric car chargers for free use by our customers.
We are proud to be a member of the Tesla recharging network providing four electric car chargers for free use by our customers.
We create native plant environments that encourage and attract bluebirds and beneficial insects to our property.
We are proud to have raised hundreds of native bluebird and tree swallows over the years, and many thousands of Monarch butterflies too!
We use biological insect controls by encouraging native beneficial insects to help control damaging insects rather than pesticides. We have eliminated wide-scale spraying of pesticides on our properties.
We are working to eliminate all usage of herbicides, instead we employ manual labor to do the under-vine weed control.
Recycling winemaking "pomace" back into the vineyards as compost.
As an active partner of the Loudoun Wildlife Conservancy, we have Certified Wildlife Habitats on our properties for bluebird trails, pollinator gardens and monarch waystations.
We recycle all cardboard and glass and look for other opportunities to "reduce and reuse".
We have natural artesian springs for our usage and the fish like it too!