Our Commitment to Sustainability
At Sunset Hills Vineyard, we are committed to sustaining the beautifully green environment that serves as our vineyard's backdrop by utilizing innovative, green technology wherever possible.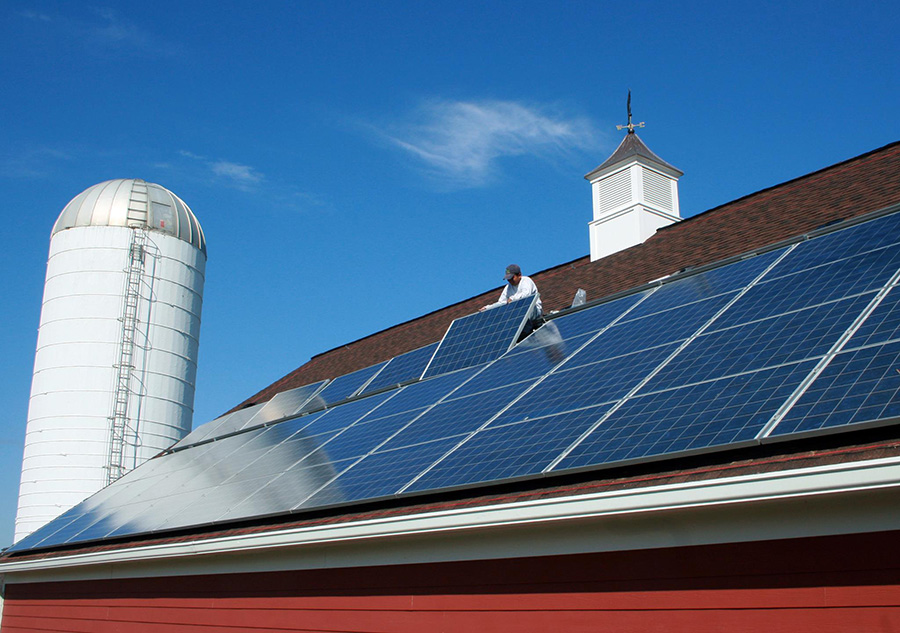 To support this mission, 245 solar panels have been installed on the south-facing roofs of our winery and case storage buildings, supplying 100% of our electrical needs and making Sunset Hills the largest producer of solar energy to date in Loudoun County, Virginia.
Our solar panel system produces 80,000 Kilowatt hours of clean power per year, which reduces CO2 emissions at an equivalence of planting 240,000 trees annually!
"Turning sunshine into wine is something we've been doing for a while here at Sunset Hills," says Mike Canney. "Converting the winery over to solar power was the next step in continuing to utilize the natural resources we have available to us. We are proud to make great wine and protect the environment at the same time."
Practicing sustainable agriculture and responsible environmental stewardship is important to us at Sunset Hills Vineyard, and utilizing solar power is just one the many ways we're doing it.
Our Annual Power Production Our Daily Power Production and How it Translates into Everyday Life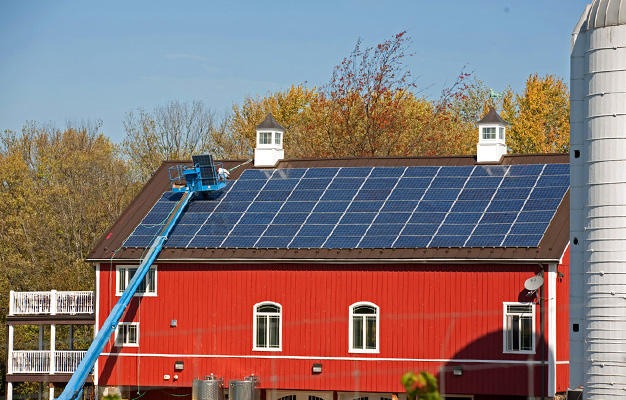 ---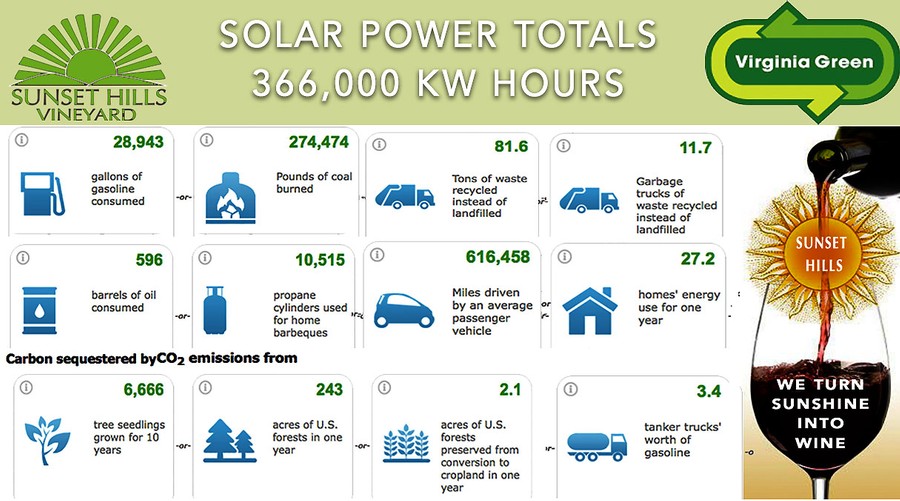 ---
Other "green" initiatives in our vineyards and tasting room to reduce our environmental impact are:
Using minimal applications of chemical pesticide and herbicides in our vineyard to avoid polluting the ground and surrounding water supplies.
Employing manual labor instead of motorized vehicles to reduce energy usage and emissions.
Recycling vineyard waste (such as spent grape skins and pomace) back into the vineyard as fertilizer and weed controls instead of disposing of it in landfills.
Utilizing the weather as a means of "cold stabilizing" our wines.
Creating plant environments that encourage and attract bluebirds and beneficial insects to our property.