Events at Sunset Hills
---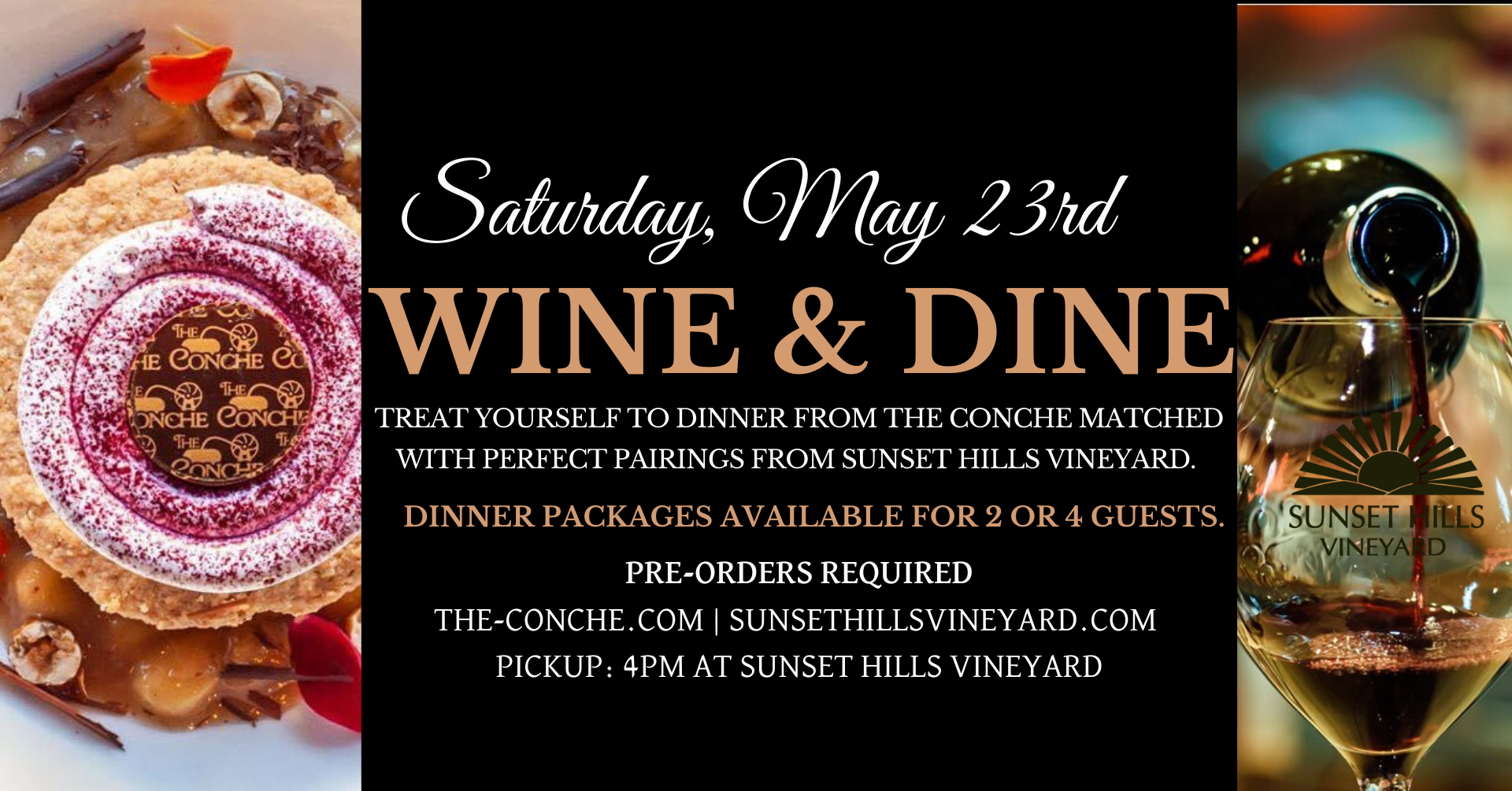 On Saturday, May 23rd, treat yourself to dinner from Chef Santosh Tiptur and The Conche matched with perfect pairings from our wines!
Each dinner entree selection comes with House Made Bread Rolls and Herb Butter, Classic Caesar Salad, and Manjari Chocolate Parfait (Dark Chocolate Mousse, Vanilla Bean Creme Brûlée, Salted Caramel).
Dinner Packages Available for 2 or 4 Guests. Pre-orders required. Pick-up at 4pm on Saturday, May 23rd at Sunset Hills Winery and Vineyards, 38295 Fremont Overlook Ln, Purcellville, VA 20132. Call for larger orders.
To pre-order dinner: www.the-conche.com or call 703.779.1800
To pre-order our wine: /Wines/Sunset-Hills-Wines or call us at 540.882.4560
---
"Open that Bottle!"
Facebook Live Virtual Wine Tasting Event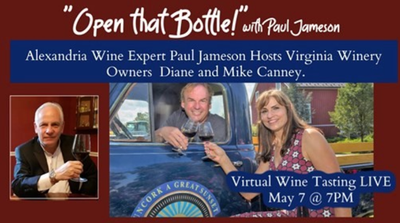 Join Alexandria wine expert Paul Jameson in a discussion about owning and operating Virginia wineries in the time of COVID-19 with Diane and Mike Canney of Sunset Hills and 50 West Vineyards. Paul will be hosting a virtual wine tasting with Diane and Mike whose authentic Virginian wines have won many awards including Gold Medals at the prestigious Governor's Cup. Sunset Hills was recently voted Loudoun County's favorite winery by the Loudoun Times Mirror annual 'Best' poll.
Couldn't tune in? Link to watch is below!
.
This Virtual Wine Tasting was on Facebook Live on May 7th at 7:00 PM. Click here to watch!
---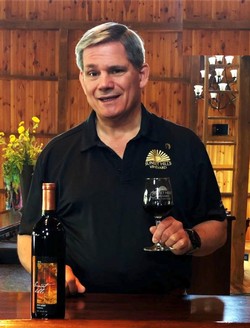 Throwback Thursday: 2010 Petit Verdot

This week's Throwback Thursday is another exciting and exclusive bottle from our wine library, the 2010 Petit Verdot!
Click here for a video that features this wine presented by Dave Parker. This wine is 10% off for a limited time beginning May 7 so don't miss out!
---
Sunset Hills in the News
---

The 2017 Clone 96 Chardonnay received an EXCEPTIONAL rating by Dave McIntyre for the Washington Post!
---

Sunset Hills is excited to be named on of the Top 10 Most Romantic Wineries in Virginia!