Upcoming Events @ Sunset Hills
---

We have some seriously exciting news to share! We've decided to delve into the depths of our wine library, and offer up for sale some of our best wines from vintages dating all the way back to 2007! We've been greedily hoarding some of these bottles for almost a decade now, and it's high time we share!
So, on Saturday, August 19th, from 6pm to 8pm, the tasting room will stay open late, and you'll have a chance to get your hands on some of these incredible wines. This is a first come, first serve scenario! Our goal is to sell these wines to the people that really want them, so there is no max on the number of bottles you can buy of one wine. That means it's up to you to get here in time to get what you want.
Special Hours on Saturday, August 19th - Sunset hills will be opened from 11 am to 8 pm!
Below is a list of the wines we are selling, the amount we are willing to part with, and the current price. If you are a club member, your discounts will apply!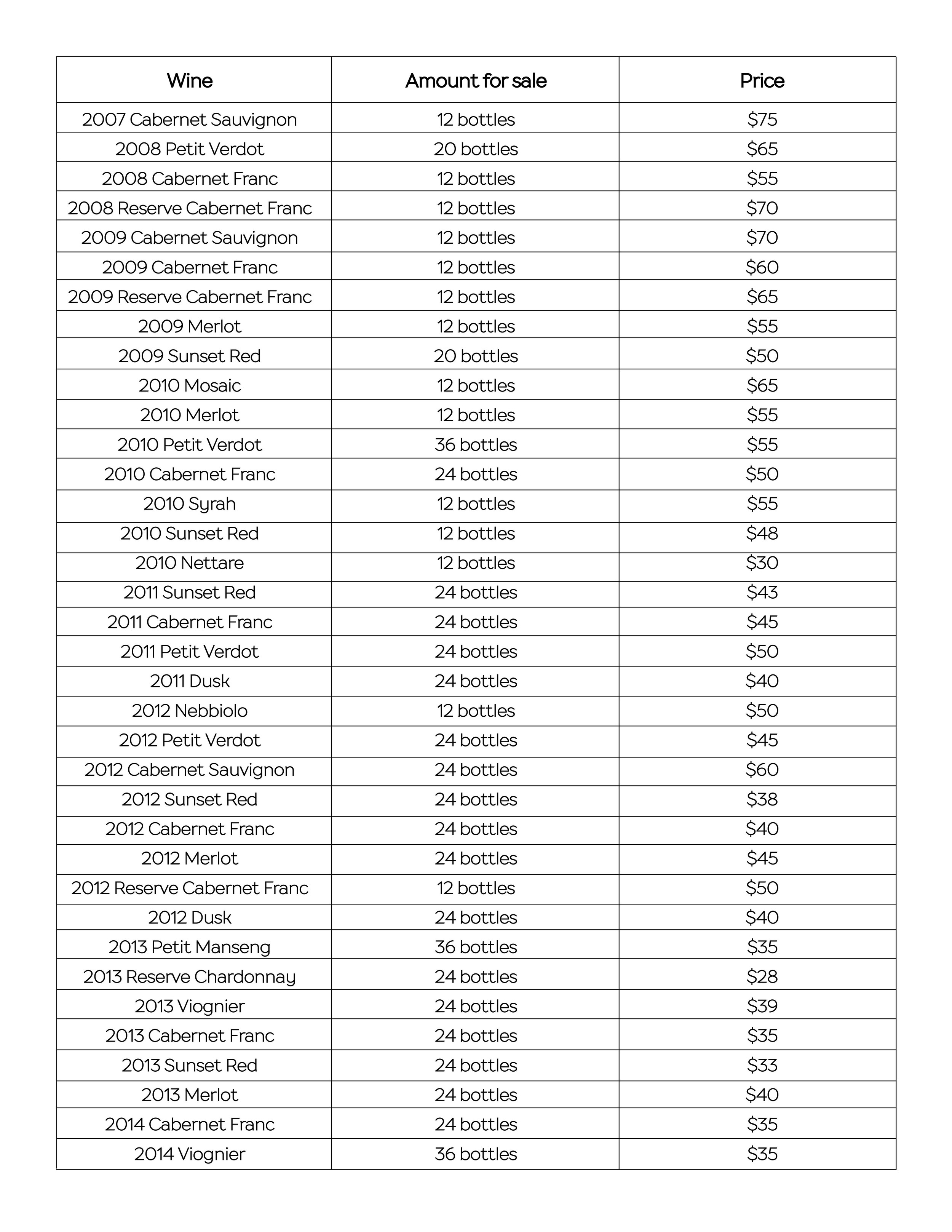 Food Vendor:
Enjoy special cuisine prepared by Artemi's Kitchen! They'll be serving up great Mediterranean dishes to purchase from 3 - 7pm. Bring an appetite!
Special Library Wine Tasting:
In addition, we will be tasting the following 5 wines from this incredible selection. The tasting room will be open as normal, however, we will not be pouring signature tastings. Instead, you'll have the chance to purchase tickets for $15 to taste these special wines:
2008 Petit Verdot
2009 Sunset Red
2010 Mosaic
2011 Cabernet Franc
2012 Merlot
---

Late Night Fridays at Sunset Hills
Watch the Sunset at Sunset!
While you can't go on vacation every week, you can make plans to look forward to! Sunset Hills is open late on select Fridays throughout the summer. Leave work knowing you have a well-deserved glass of wine waiting for you in a beautiful area of Loudoun County. Plus, we'll have live music by the area's best musicians.
On select Friday's Sunset Hills will be opened from 12 - 8 pm.
Friday, August 25th - Bob Hale, 5 - 8 pm
Friday, September 8th - Laurence McKenna 5 - 8 pm
Friday, September 22nd - Bob Hale, 5 - 8 pm
---

Join us for a unique behind the scenes experience where you will be able to "Follow the Grape" from planting through harvesting by participating in the care of our fantastic vines. Each season we will highlight what is taking place in the vineyard.
Planting (Spring)
Pruning/Canopy Management (Summer)
Harvesting (Fall)
Tasting! (Winter)
It's our favorite time of year, Harvest! Join us for our Fourth Annual Community Harvest and experience the harvest first hand. We will provide you with the tools needed and instruction. You will help us harvest the grapes. Work alongside the Sunset Hills staff and truly experience what it's like to work in the vineyard during our busy harvest season. Following the harvest join us for a gourmet picnic.
Saturday, September 9th
9 AM - Noon

Tickets are limited - be sure to purchase your tickets today!
---

Look who's playing at Sunset Hills:
Grab your friends and make your plans because these musicians are coming to play at Sunset Hills this weekend!
Saturday, August 19 - Chris Bone 1:30 - 4:30 pm
Sunday, August 20 - Jason Masi 1:30 - 4:30 pm
For more of our upcoming musicians, visit our Live Music Schedule >