Upcoming Events @ Sunset Hills
---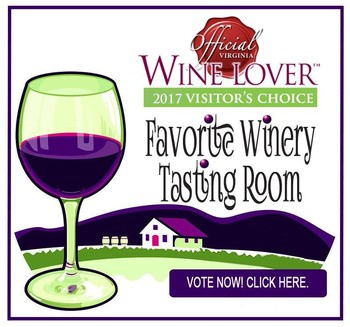 Share the love & vote!
Sunset Hills fans - we need your help! Virginia Wine Lover eNewsletter is looking for the Favorite Virginia Winery Tasting Room. Share what it is you absolutely LOVE about Sunset Hills and vote now!
---

Look who's playing at Sunset Hills:
Grab your friends and make your plans because these musicians are coming to play at Sunset Hills this weekend!
Saturday, November 18 - Todd Brooks 1:30 - 4:30 pm
Sunday, November 19 – Jason Masi 1:30 - 4:30 pm
For more of our upcoming musicians, visit our Live Music Schedule >
---

Cheers to Nine Years!
Cheers to 9 years! We're excited to celebrate our 9th year as an authentic Virginia vineyard and winery. Join us for a full weekend of award-winning wine, live music, food, events, and so much more starting on Saturday, November 18th, through Sunday, November 19th.
Anniversary Weekend Features:
Everyone's a Club Member: On this special weekend November 18 and 19, Everyone's a Club Member: During our anniversary weekend, everyone is a club member at the tasting bar! Every customer can choose our signature tasting or the special club member tasting for the same price.
The Greater Good – Giving Thanks: Sunset Hills believes it's critical to give back to causes making a difference in our community at large. Continuing this tradition, for every tasting or purchase made during the Anniversary Weekend, you'll be given a cork that's worth $5. You'll get to choose from three amazing local organizations making a difference in Loudoun County. Totals will be tallied up after Thanksgiving weekend and will be donated to the charities from the Mike and Diane Canney Foundation. The three organizations benefiting from this fundraiser are Loudoun Literacy, Boulder Crest Retreat, and the Humane Society of Loudoun County.
Fun Facts Raffle: Think you know the most about Sunset Hills Vineyard? Prove it! Mike and Diane have come up with several questions about the nine years that Sunset Hills has been around. Fill out a card with your answers at the tasting bar - cards that are 100% correct will be entered to win a Sunset Hills gift basket!
Cake! What's a celebration without cake? Just a meeting. So let's celebrate and eat cake, too! There will be a cake cutting both Saturday and Sunday at 3pm.

Wine Feature: Turkey Trio 3-Pack for only $60
Thanksgiving is right around the corner – still looking for the perfect wine pairing to go with dinner? Look no further than the Turkey Trio 3-Pack! Pair your delicious dishes with the 2016 Viognier, 2016 Sunset Rosé, and V1 Chardonnay. All three bottles for only $60! Bonus – the 2016 Viognier was the top wine at the Loudoun Wine Awards!

Special Event: Cheese-ology & Wine Pairing Class
Saturday, November 18th at 1 pm, or 2:30 pm
Tickets are $20 per person
Are you hosting a holiday party this season? Have you ever wondered how to pair the perfect cheese with wine? Make your next party a success by attending our Cheese-ology class and learn from award winning Cheese Monger, Perry Soulos, and one of our expert wine educators. Your ticket includes a tasting of Sunset Hills Rosé, V1 Chardonnay, and Viognier – each paired with three unique cheeses. All three wines and selected featured cheeses will be available for purchase after the event so you can wow your family and friends with your new pairing knowledge during the holidays!
Purchase 1 PM Tickets Purchase 2:30 PM Tickets

Live Music:
Saturday, November 18th – Todd Brooks, 1:30 – 4:30 pm
Sunday, November 19th – Jason Masi, 1:30 – 4:30 pm

Restaurant Feature: Roots 657
Looking for a delicious snack or lunch to enjoy with your wine? Roots 657 will be at Sunset Hills Vineyard selling dishes like Smokehouse Chili, Brisket Tacos, and Apple Cobbler – perfect for a Fall weekend!
Donation Presentation to Dr. Ben Ho Parks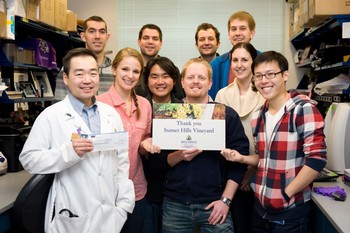 Dr. Ben Ho Parks, of the Sidney Kimmel Cancer Research Center at Johns Hopkins, will be presented with the proceeds raised by Rosé sales in October on Sunday, November 19th, at 12 pm.
Our support of Dr. Park's work began years ago with a promise to a customer and friend, Daria, to continue her fight for a cure for breast cancer. We decided to make delicious wines like our sparkling Dawn Rosé to toast a new day and to honor fighters like her. Six years later through the support of our amazing customers we have raised a total of $68,000.
Dr. Park is a medical oncologist specializing in breast cancer, and he leads a research program using genetic approaches for developing new diagnostics and therapies for breast cancer. More recently, his laboratory has been focused on developing circulating plasma tumor DNA for individualized therapies in early stage breast cancer. Learn more >
You're like family to us so bring your family and celebrate with us! Save an event reminder and share this event on Facebook.
---

Be the Winemaker for a Day!
Do you think you have what it takes to make an award-winning wine? Attend our most popular event, Winemaker for a Day, and learn from our expert Winemaker, Corry Craighill. As an "apprentice" winemaker, you will have the first opportunity to taste the following premium wine lots that are destined for our best reds: the Reserve Cabernet Franc or Mosaic.
Love your blend? Corry will hand bottle your blend for you, in bottles or magnums! All bottles will have a special label that you can sign to personalize.
$32/bottle (minimum of 3 bottles)
$70/magnum (minimum of 2 magnums)
Club Members – Club discounts will apply on your purchase!
Purchase a case of your wine or six magnums and receive a 10% discount on your purchase.
Club Members – the 10% discount is in addition to your club discount.
Please note, seats will be assigned in advance for this event. If you would like to sit at a table with another registered person, couple, or group, please send your request to Brandy Walker at brandy@sunsethillsvineyard.com by November 17th. We will do our best to accommodate your request. Thank you!
Tickets are $40 a person and are selling quickly - get your tickets today!
Tickets for Friday, 12/1 are sold out!
---

Sunset Hills Vineyard Holiday Market
Get your holiday market shopping done and enjoy a day at the winery! Sunset Hills Vineyard is hosting a holiday market filled with great wine, gourmet snacks, and hand-crafted gifts for sale. Each day during the Holiday Market will be unique. Here's what you have to look forward to:
Saturday, December 16th, from 1 – 5 pm: Hand-Crafted Gift Market
Featured Vendors:
Second Chance Glass by Monique Mayer – great gifts made from wine bottles, Sunset Hills wine bottle candles, and wine bottle ornaments
Lady A Knits by Andrea Gillis – knitted hats, scarfs, gloves, and purses all made with love!
Jewelry by Diane Canney – handmade jewelry made by the owner of Sunset Hills Vineyard
Live Music: Nick Coons from 1:30 to 4:30
Sunday, December 17th, from 1 – 5 pm: Gourmet Wine Foods
Featured Products:
Featured Meats and Cheeses
VA Vino Eats Tapenades made with Sunset Hills' award-winning wines
Gracious Gourmet Spreads
Sunset Hills Wine Giftpack – featuring Sunset Rosé, Sunset White, and Sunset Red for $65 - And so much more!
Live Music: Jason Masi from 1:30 to 4:30
Bring your friends and enjoy a day at the winery with great wine and shopping!