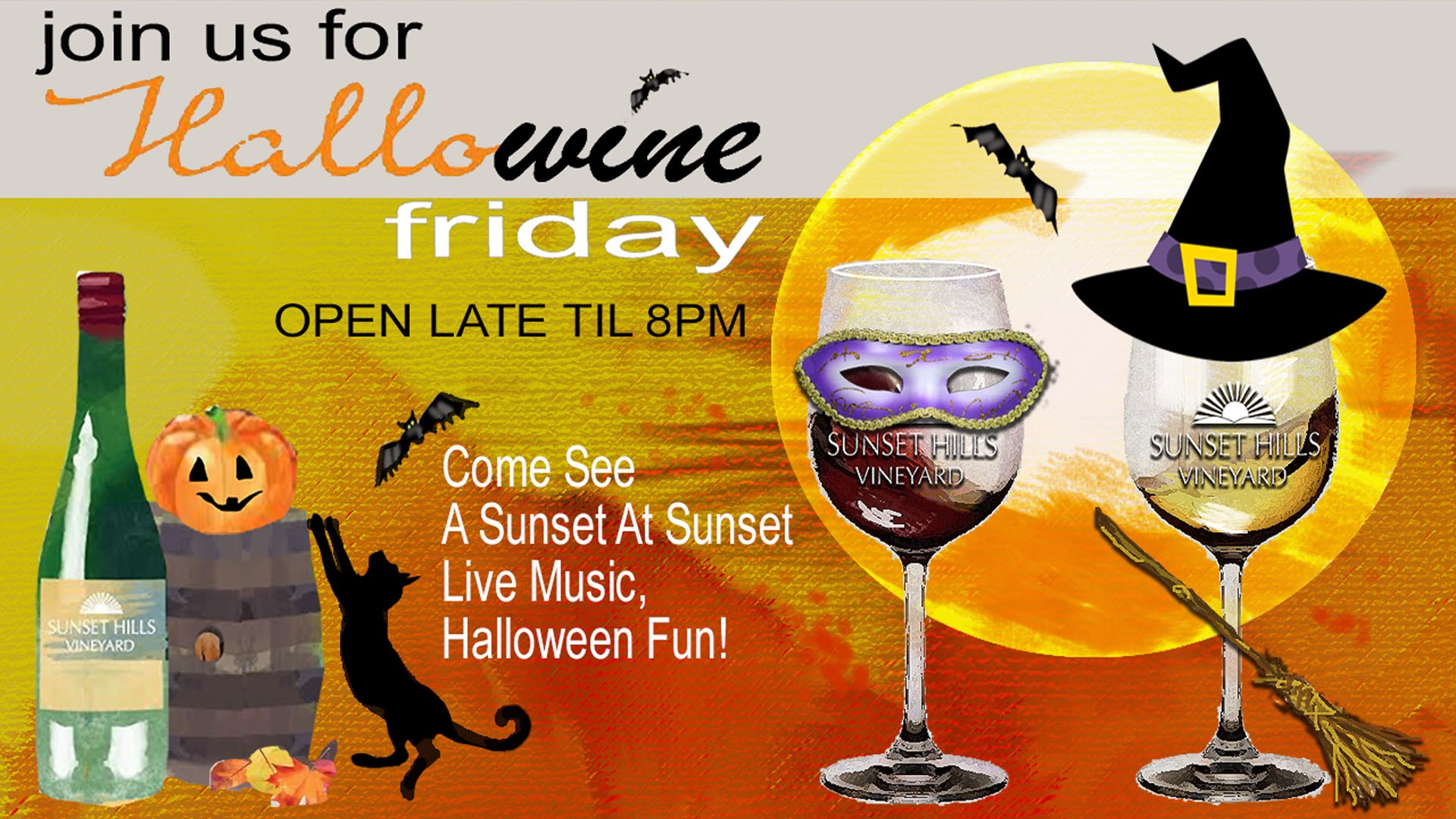 ---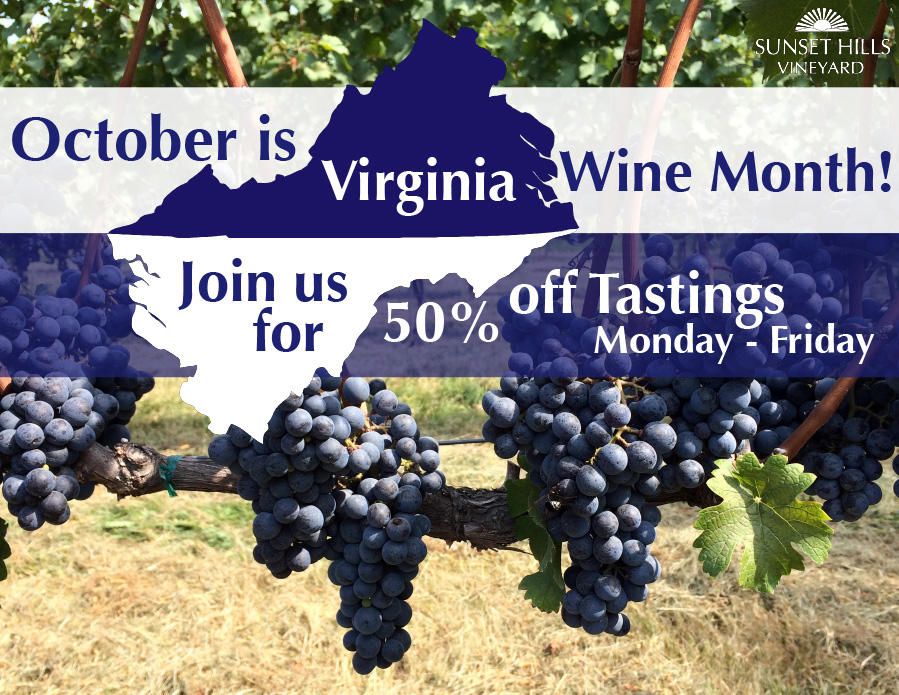 October is Virginia Wine Month. This month-long celebration is a perfect time to visit Sunset Hills Vineyard. Enjoy special tasting room offers, Loudoun County Fall Farm Tours, and help us raise money to support Breast Cancer Awareness.
50% off tastings (Monday – Friday)
Autumn Truffle and Wine Pairing
---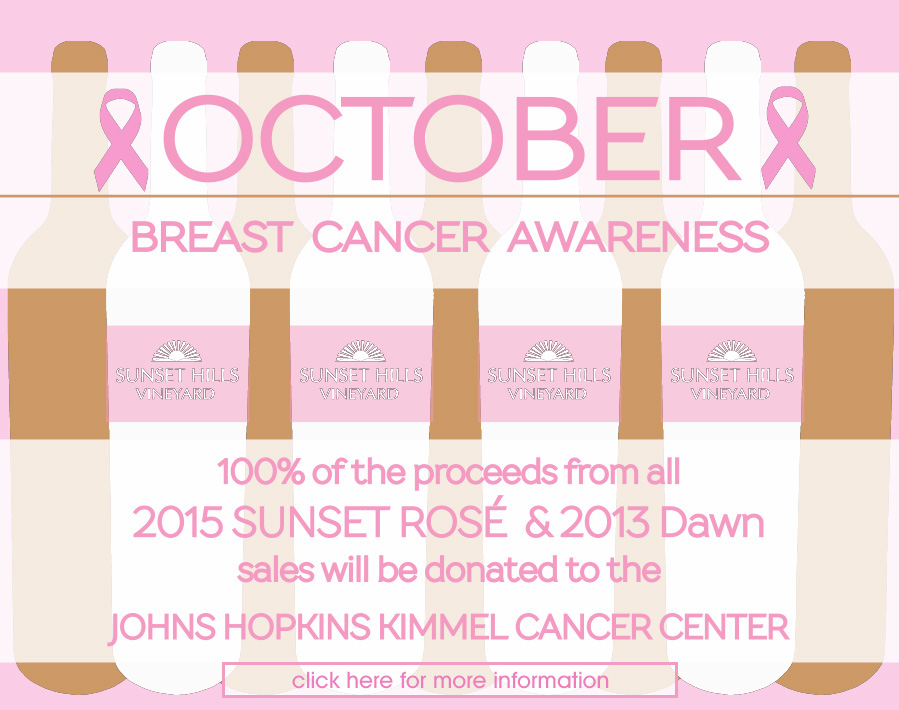 ---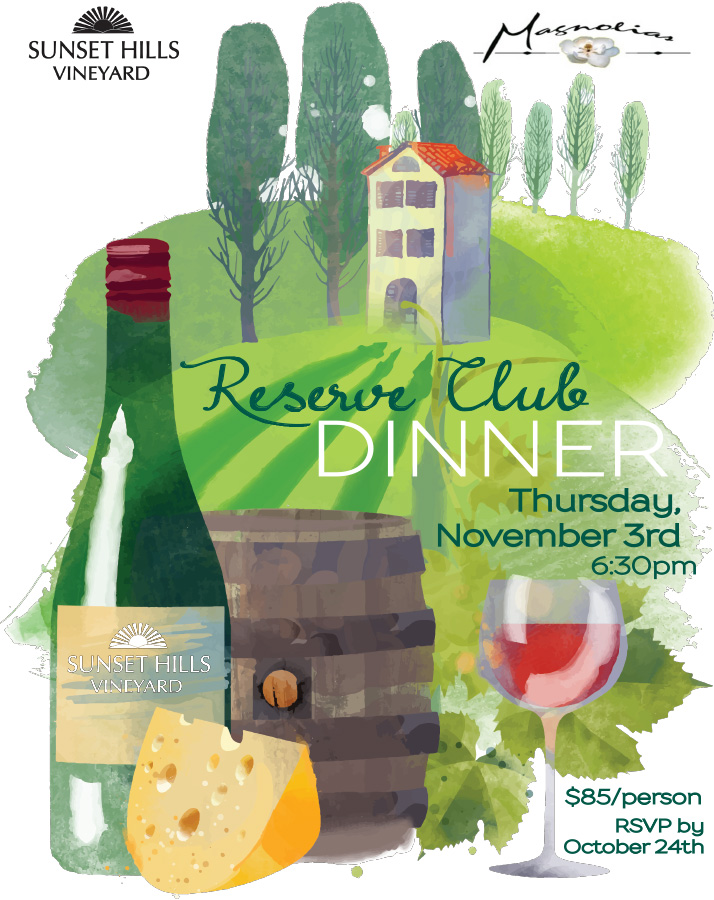 Reserve Club Dinner
Time: November 3 - 6:30PM
Where: Sunset Hills Vineyard
Price: $85 Reserve Club Members Only
Registration Deadline: October 24th
To purchase tickets please contact Brandy Walker, brandy@sunsethillsvineyard.com.
Please note that if the event is under 50% capacity by the registration deadline of October 24th, the event will be cancelled and your ticket refunded.
If you have any questions please contact Brandy Walker, Event Manager
Click Here for Reserve Club Dinner Menu
---
Wine Club Parties in November
Who:
Exclusive to Sunset Hills Vineyard Wine Club Members
When:
Thursday, November 3 from 5:00pm - 8:00pm
Sunday, November 6 from 11:00am-1:00pm
At Sunset Hills, we reserve our best wines and our best times, for our club members. Our club events are free for members and a guest, but are closed to the public. We feature complimentary tastings of our newest wines, many which are only available to club members.
To ensure everyone can enjoy these events in a casual, yet elegant setting, reservations are required.
Thursday November 3
Sunday November 6
---
Chili Cook-off - November 5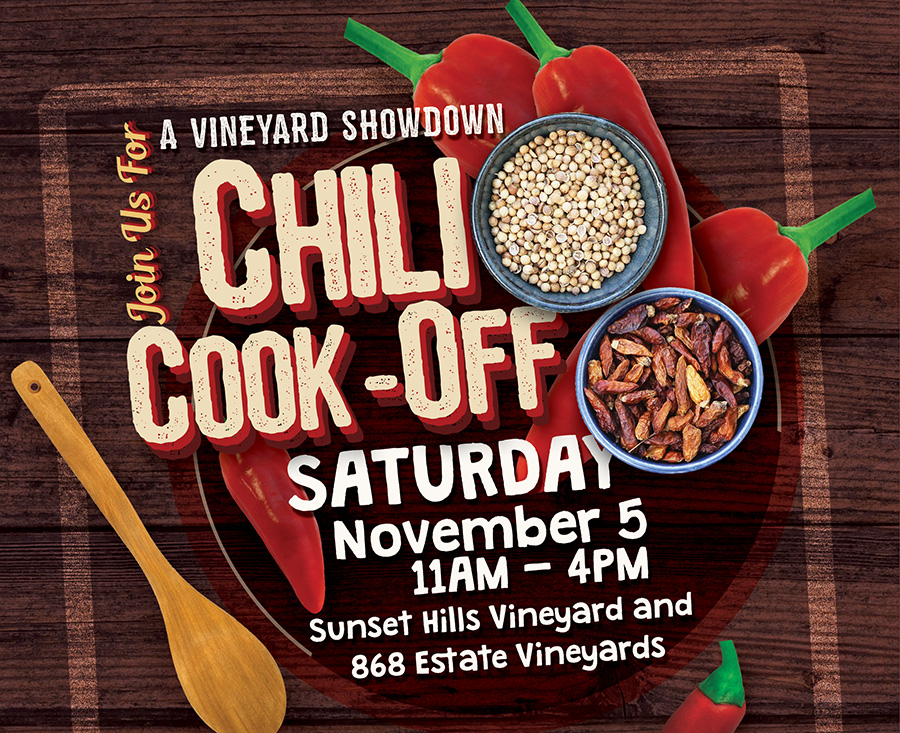 Whose chili is over the top?
Taste the wine
Sample the chili
Move to the next vineyard
Do it again
Vote for your favorite
Taste the heat & vote for the best
(Standard tasting fees apply, payable at rah vineyard.)
---
Winemaker for a Day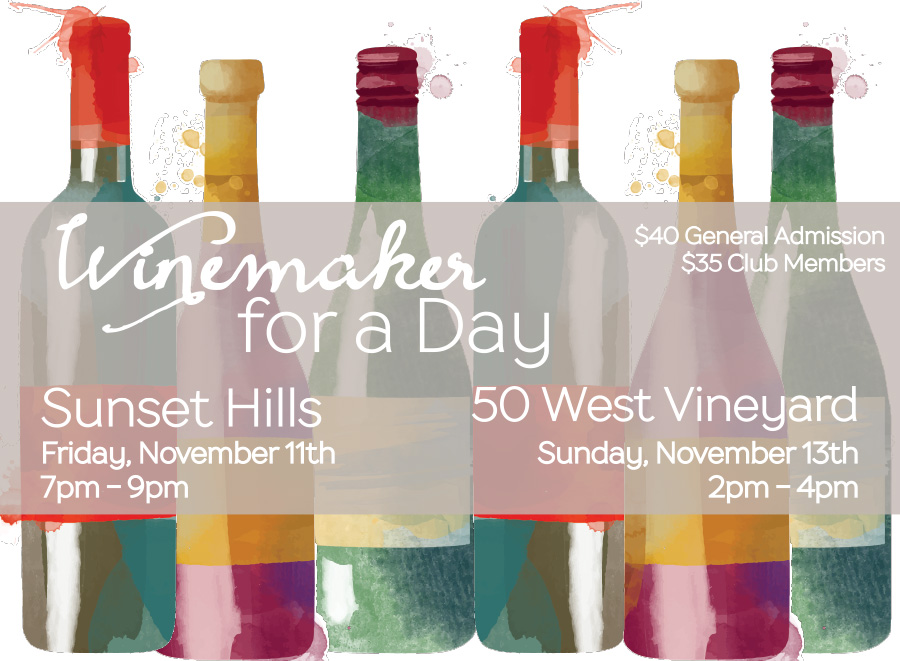 Do you think you have what it takes to make an award-winning wine? Attend our most popular event, Winemaker for a Day, and learn from our experts. As an "apprentice" winemaker, you will have the opportunity to taste premium wine lots that are destined for our best reds. You will be guided step by step in making your own blend. After you create your wine, Winemakers Nate and Corry will hand bottle your blend in time for you to enjoy it or give it as a gift during the holiday season.
Love your blend? Purchase your wine with a special label that you can sign to personalize.
$32/bottle (minimum of 3 bottles)
Time and Place:
Sunset Hills Vineyard - Friday, November 11, 7:00PM - 9:00PM
50 West Vineyards - Sunday, November 13, 2:00PM - 4:00PM

Price: $40 General Admission / $35 Club Members
Please note:
This year we are offering one session at Sunset Hills Vineyard and one session at 50 West Vineyards.
Sunset Hills Vineyard - November 11
50 West Vineyards - November 13
---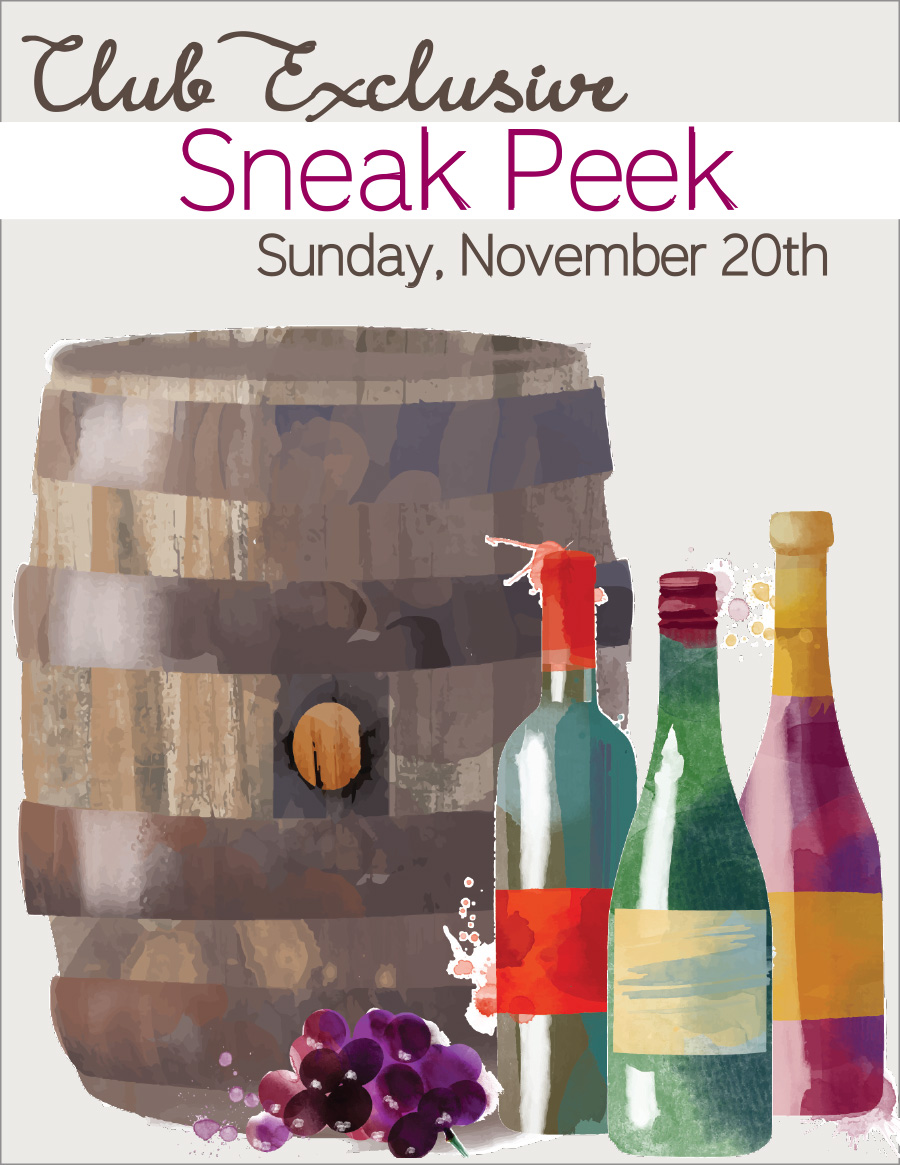 Sneak Peek - November 20
Date: Sunday, November 20th
Session Times: 12pm & 2:30pm
Tickets: $10/club member
Registration: All Sunset Hills Club Members have received an email announcing the event. Please register via the link in the email. If you need assistance please contact Brandy Walker, brandy@sunsethillsvineyard.com.
During the Sunset Hills Anniversary Weekend Club Members are invited to attend our "Sneak Peek" event. This is a one day exclusive opportunity for Club Members to taste and purchase four of our pre-release wines. The featured wines will be offered at a 25% discount off of bottles and 35% off case purchases.
Featured Wines:
2014 Dawn
2013 Mosaic
2013 Tannat
2015 Cabernet Franc
Please register by November 14th. We reserve the right to cancel the event by this date if the event is significantly under capacity. In the event of cancellation your ticket will be refunded.