Mother's Day Rosé Trio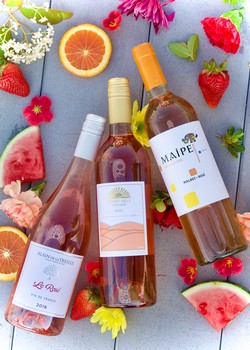 Bring the world of rosé home! This rosé trio is almost sold out from our Mother's Day sale - so order today!
PLUS a portion of the proceeds will be donated to Loudoun Abused Women's Shelter. Find out more about Loudoun Abused Women's Shelter by clicking here.
This exciting rosé trio features:
2019 Sunset Rosé
2019 Maipe Malbec Rosé from Argentina
2019 Alain de la Treille Le Rosé from France
About the wines:
2019 Sunset Rosé - A blend of Merlot, Cabernet Franc and Cabernet Sauvignon grapes, to create a crisp and refreshing rose. Light in body, dry in style, yet bursting with tart luscious fruits. Bright juicy watermelon, light strawberry, and a hint of orange zest round out the palate to create a memorable finish. Enjoy in the warm sunshine or with a spinach salad topped with strawberries, candied walnuts, gorgonzola and a creamy balsamic dressing. Cheese pairing - Fresh mozzarella. Vegetarian pairing - Hummus wrap with feta, cucumbers, and sprouts
2019 Maipe Malbec Rosé - Maipe Malbec Rose is 100% Malbec from Argentina. Intense pink color with violet hints. Fresh red fruit bouquet, strawberry and cherry flavors, balanced acidity, dry and lingering finish. Excellent with tuna or green salad, pasta, spicy Asian dishes.
2019 Alain de la Treille Le Rosé - A French blend of 40% Cabernet Franc, 40% Gamay, and 20% Pinot Noir, the 2019 Le Rosé offers a lighter pink/ruby hue as well as a pretty bouquet of watermelon, cherries, and white flowers. Quite elegant and complex, it has medium-bodied richness on the palate, nicely integrated acidity, and a clean, dry finish. It's much more than a simple rosé and grows complexity with time in the glass. It's going to shine on the dinner table (or with tapas) over the coming summer months.
Product Reviews