Reserve Club Dinner 2018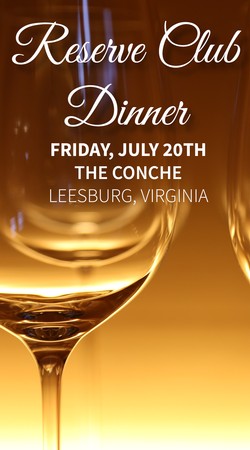 This item is out of stock in the system.
To purchase your tickets, please login to your account.
We would like to invite you to attend the annual Reserve Club Dinner on July 20th, 2018. This year the event will be held at The Conche. To follow is the pairing menu. There is an option for the main course. Please send your preference to Brandy Walker at brandy@sunsethillsvineyard.com upon registering for the event. The registration deadline is July 13th, 2018.
First Course
Dry Sea Scallop Ceviche
Shaved Green Apple, Apple Gelee, Yuzu Lime Scallop Ceviche, Meyer Lemon Curd
Paired with 2017 Viognier

Second Course
Crispy Pork Belly
Spiced Crispy Pork Belly, White Balsamic & Cherry Thyme Compote,
Wilted Summer Greens, Steamed Cacao Nibs Buns
Paired with 2010 Cabernet Franc

Third Course
Cocoa Crusted Rack of Lamb
Celeriac Puree, Soy Shimeji Mushrooms, Rhubarb Pepper Jam, Poached Pears
Paired with Reserve Cabernet Franc

Intermezzo

Main Course (Please Choose One)
Cocoa Rubbed NY Strip Steak
Allen Brothers Trimmed Angus Striploin, Chocolate Burgundy Reduction,
Sautéed Broccoli, Roasted Garlic & Goat Cheese Potato Puree
Paired with 2010 Mosaic
Or
Wild Caught Sea Bass
Sweet Corn Puree, Marble Potatoes, Citrus Caper Emulsion, Bacon Espuma
Paired with 2017 Clone 96 Chardonnay

Sweet Finale
Manjari
Madagascar Chocolate Mousse, Vanilla Crème Brûlée, Dark Chocolate Brownie,
Salted Caramel Ice Cream
Paired with NV Dusk