Sunset Hills Barn Scarf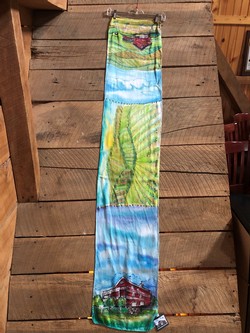 Hand painted custom fine art silk scarf on fine imported oriental silk with fine dyes- One of a kind from sketch to your shoulders.
Hand-wash only. The scarves can be rinsed in cold water with dawn dish soap or if they got something on them just spot them with cold water. They can be ironed on low heat. They are imported 100% silk. The silk is strong so you may even put them on low heat in the dryer to tumble dry before ironing.
Product Reviews