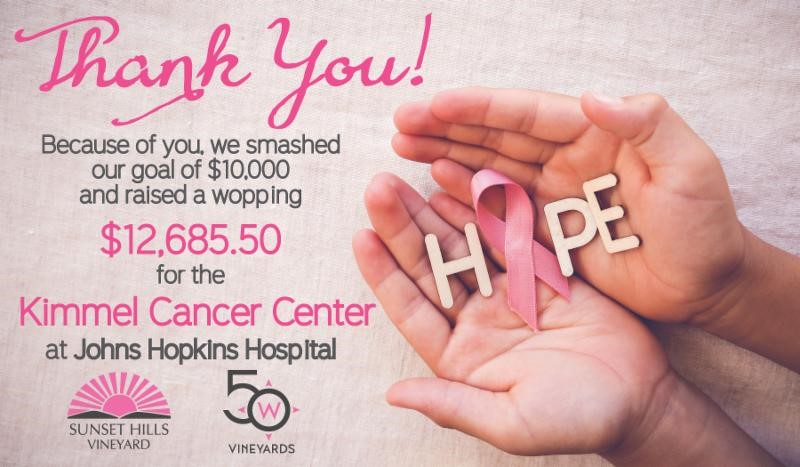 Sunset Hills Vineyard Supports Breast Cancer Research at John Hopkins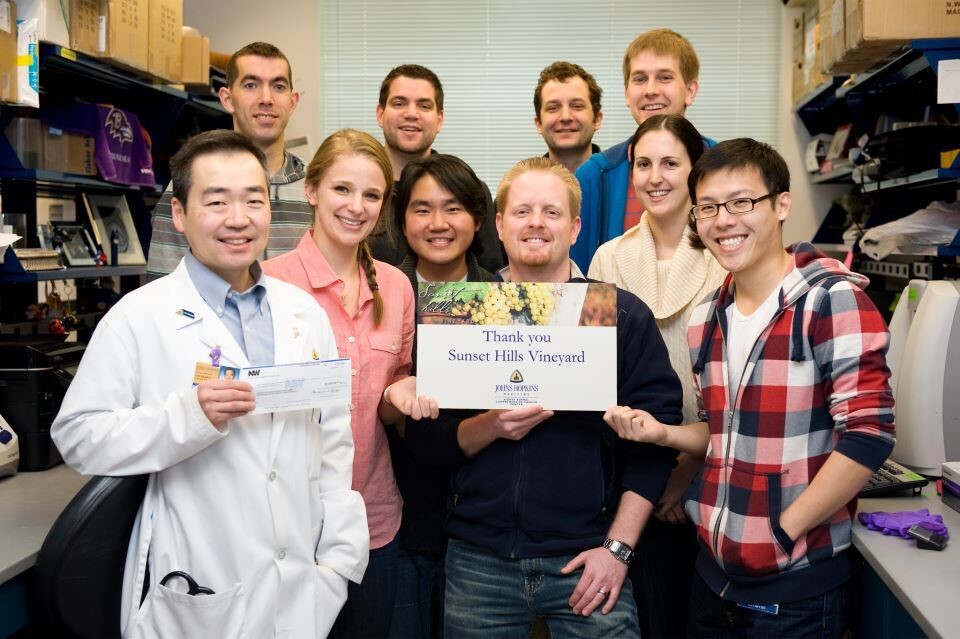 It started as a promise we made to a friend, Daria Young, who asked us to help continue her fight for a cure for breast cancer when she could no longer continue. Now 5 years later, Sunset Hills with the support of their amazing customers and the Diane and Mike Canney Charitable Foundation have been able to donate $50,000 in 5 years to a research lab led by Dr. Ben Park at Johns Hopkins Kimmel Cancer Center.
Dr Park is a humble hard working researcher with a powerful personal reason for fighting this disease. We only support charities we consider HIGH IMPACT and LOW OVERHEAD. Dr Park and his team work with leading pharmaceutical companies to try to find more effective ways for success with drug protocols and many other areas.
For this month for online sales and those purchased in the winery we are donating not just $5 per bottle of two of our PINK WINES, our luscious sparkling Dawn and our delicious 2015 Sunset Hills Rose' as we have in the past but 100% of the proceeds to breast cancer research at Johns Hopkins.
For more information on their important work, click here.
A Word from Ben Ho Park, M.D., Ph.D.
The majority of breast cancer patients in this country are diagnosed with early stage, potentially curable disease. Despite our best therapies, about 20 to 25% will relapse with incurable metastatic disease, (e.g. Daria). Part of this is because for early stage disease we don't know who is cured after all therapies are completed and who is not. We take our "best guesses" based upon clinical trials. But what if we could actually measure microscopic disease burden? That's the disease that still exists that we try to kill with chemo and other therapies after surgery. It works for some patients, but clearly not everyone. If we could reliably measure microscopic breast cancer cells after surgery and other therapies, we could actually know which patients are cured (a huge mental relief as you can well imagine) and those that are not. And for those that are not, it presents opportunities to administer additional therapies either in the context of a clinical trial and/or other approved drugs, potentially curing more patients than we currently do now.
How can we do this? By measuring plasma tumor DNA. We started this several years ago, and support from your fundraising has contributed to this effort every step of the way. We were featured two years ago in the Baltimore Sun:
To read the article featured in the Baltimore Sun, click here.
Finally after many pilot and proof of principle studies, we secured enough money (including from you) to start the very first multi-institutional (14 sites) nationwide trial to really prove this concept. If successful, we will be very close to using blood based tests to determine how to treat early stage breast cancers patients not based on guess work, but on actual data on an individual level. This will revolutionize breast cancer therapy, preventing "overtreatment" (patients who get chemotherapy that do not need it) and undertreatment, ie patients like Daria who are not cured and need more treatment.
So THANK YOU, and your patrons for the ongoing contributions. This has been literally my life's work and seeing it come to this level has been amazing, and truly a concerted effort of my research team and the sponsors who have believed in us and supported this. I think Daria would be proud of this legacy and hope you will agree.
Thanks!!
Ben