Our Story
Mosaic: A combination of diverse elements forming a more or less coherent whole.
Mosaics are a unique way of telling a story. The "mosaic" of Sunset Hills Vineyard is an intriguing balance of stone and wood, innovation and tradition, fine wine and opportunity which not only honors Loudoun County's rich farming heritage, but is advancing the future of Virginia's wine industry.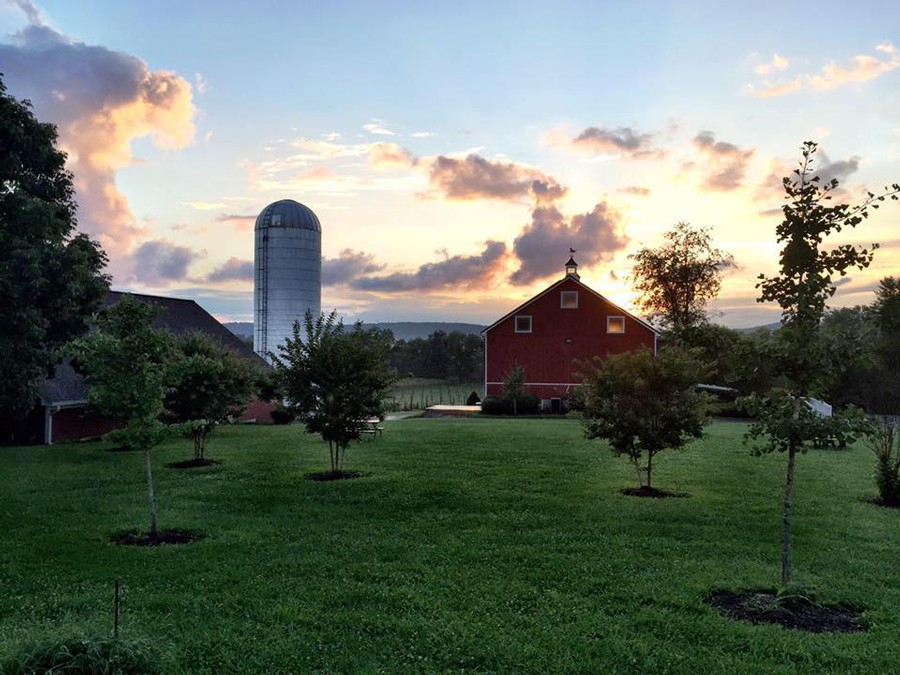 From the planting of the first vines in 1999, Mike and Diane Canney, owners of Sunset Hills Vineyard, had a vision of making fine wine of the highest quality in a manner which was gentle on the land.
That vision is reflected in the sustainable farming practices employed today.
Sunset Hills Vineyard's completed its first harvest in 2001, with more than six tons of Chardonnay picked and sold to local wineries. In 2004, the Canneys expanded the vineyard from three to seven acres, planting Cabernet Franc and Viognier, two of Virginia's signature varietals.
Seeking continued growth and opportunity, the Canneys purchased an adjoining 1870 farm in 2006 that was in significant disrepair. Hoping to restore the barn to its original splendor, the Canneys selected Amish craftsman, Stoltzfus Brothers, to direct the barn and surrounding buildings' reconstruction. Combining traditional craftsmanship with new energy efficient technologies, the old barn evolved into a stunning 8,000 square foot winemaking facility.
In November 2008, the Tasting Room doors opened to the public, launching in earnest the grand adventure of welcoming visitors into the vineyard. Within months, wines on the tasting menu were chosen for medals in an ever-growing number of national and international competitions. Expansion continued in 2009 when additional acres were planted with Cabernet Sauvignon, Merlot, Cabernet Franc, Viognier and Petit Verdot. Eventually, Albarino and Petit Manseng were also planted.
In order to maintain their commitment to estate grown fruit, three satellite vineyards were acquired in 2012: Shenandoah Springs Vineyards in Woodstock, Virginia and Catesby Vineyard outside of Middleburg, Virginia. This acquisition increased the vineyards' varietals to include Traminette, Vidal Blanc, Chambourcin, Tannat and Sangiovese.
At Sunset Hills Vineyard, quality radiates in the "mosaic" of award-winning wines, sustainable farming practices, historic preservation, philanthropic pursuits, and exceptional customer service. Not surprisingly, for two consecutive years (2013 & 2014), Sunset Hills Vineyard's 2010 Mosaic red wine has won the Gold medal and has been chosen for the Governor's Case in Virginia's Governor's Cup wine competition. That dedication to quality continues.
---
"Quality is never an accident.
It is always the result of intelligent effort."
John Ruskin, writer, philosopher, 1819-1900
---