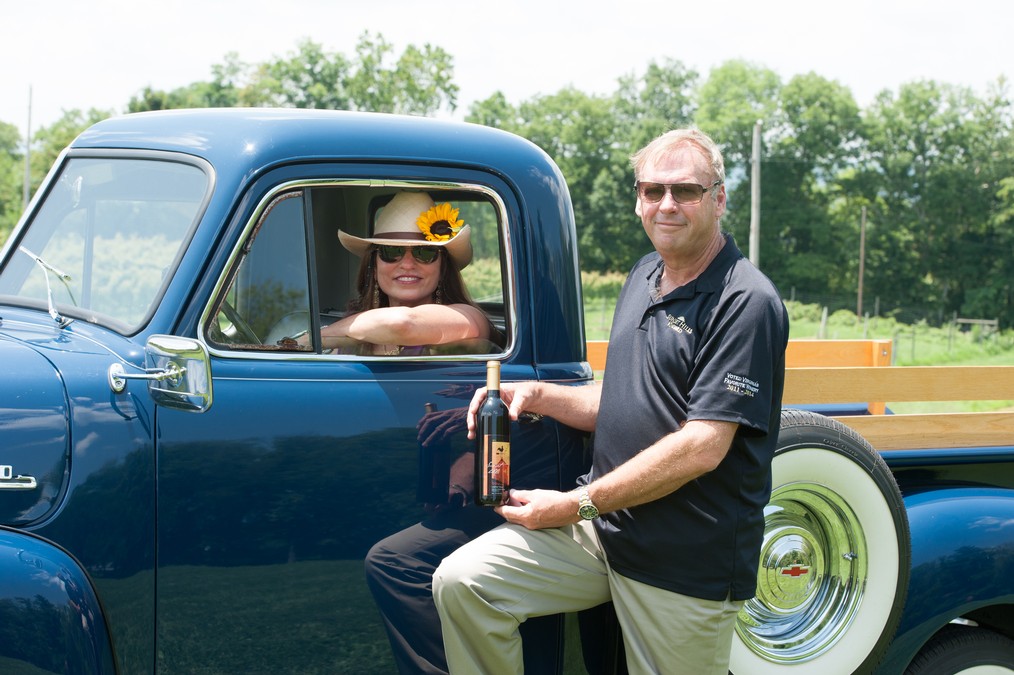 The SHV Story
From the planting of the first vines in 1999, Mike and Diane Canney, owners of Sunset Hills Vineyard, had a vision of making fine wine of the highest quality.
Learn More
That vision is reflected in the sustainable farming practices employed today and in a manner which was gentle on the land.
We started searching for the perfect site, starting in 1995, before purchasing it in 1997.
After completing the groundwork, we planted 3 acres of Chardonnay in the Spring of 1999. Our first harvest was in 2001, with six tons of Chardonnay picked and sold to local wineries. After experimenting with Cabernet Sauvignon, Cabernet Franc, Merlot, and Viognier, we planted 4 acres of Cabernet Franc and Viognier in 2004. Back in the early 2000's, Virginia was claiming these grapes as their official red and white varietals.
Mike experimented with winemaking in 2003 and 2004, before deciding that we would like to become Loudoun Counties next farm winery!
In 2005, we applied for and received our Virginia Farm Winery license, hiring a local winemaker (Doug Fabbioli) to help us with our first vintage. We made 3 barrels of Chardonnay and 2 barrels of Cabernet Sauvignon.
In 2006, a neighbor began subdividing a historic farm adjacent to this first vineyard, and the Canney's bought the 40 acre farm in 2007 to prevent a historic property from being lost to developers. While this historic 1870 farm was in significant disrepair (Mike speaking), it had a lot of potential (Diane speaking). To rebuild and enhance the farm, the Canney's selected a highly regarded Amish barn builder, Sylvan Stoltzfus Builders from Paradise PA. They did all the wood and stone work. We also hired a good friend, Ron LeBaron as the general contractor, who managed the electrical, plumbing and HVAC projects. Sylvan and Ron spent the next 18 months completely renovating the 150 year old buildings on the property. Combining traditional craftsmanship with new energy efficient technologies, the old barn evolved into a stunning 8,000 square foot winemaking facility.
In November 2008, the Tasting Room doors opened to the public.
Customers loved the natural wood, soaring ceilings and exceptional craftsmanship. Our 2007 vintage was a huge success, winning national awards for Cabernet's franc and Sauvignon when released in 2009. Additional vineyards were planted in 2009, adding Cabernet Sauvignon, Merlot, Cabernet Franc, Viognier and Petit Verdot.
In 2011, we bought an established 27 acre vineyard in the Shenandoah Valley named Shenandoah Springs, and leased a 15 acre vineyard in Upperville.
2013 we bought another 25 acres near Woodstock VA and established the Sherman Ridge Vineyard. In 2015, we bought 40 acres in Middleburg, planting additional vineyards and opened a second tasting room (now named 50 West Winery and Vineyards). Currently we grow 15 grape varietals, totaling about 80 acres of mature vineyards, on a couple hundred acres, located on 5 farms in Loudoun and Shenandoah counties.
Our wines have won many awards in state and national competitions, it is a tradition of quality we are proud of. But the awards we are most flattered by, are the awards chosen by our customers. We were chosen as the favorite winery in Virginia 3 times (2011, 2012 and 2014), and the best winery in Loudoun County the last 2 years (2020 and 2021).
At Sunset Hills Vineyard, quality radiates in the "mosaic" of award-winning wines, sustainable farming practices, historic preservation, philanthropic pursuits, and exceptional customer service. Not surprisingly, for two consecutive years (2013 & 2014), Sunset Hills Vineyard's 2010 Mosaic red wine has won the Gold medal and has been chosen for the Governor's Case in Virginia's Governor's Cup wine competition. That dedication to quality continues.
---
"Quality is never an accident.
It is always the result of intelligent effort."
John Ruskin, writer, philosopher, 1819-1900