2016 Tannat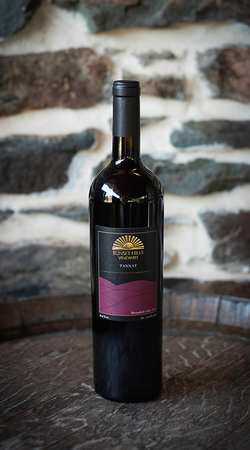 86% Tannat, 14% Cabernet Franc
Corry's Notes - 2016 was a good vintage for Tannat—a fairly early-ripening red fruit. All of this Tannat debuts from our newest site, Sherman Ridge, which is located in the Shenandoah Valley. This varietal is high acid and high tannin, but complimented with a bit of Cabernet Franc, it blends into a well-balanced wine. Barrel-aged for 18 months, this wine can be consumed young or saved for years to come.
Product Reviews
Bridgette
(Mar 28, 2020 at 1:28 PM)
This vintage surprised me! I am more familiar with aggressive Tannats whose tannins are a little much without at least 7 years in the bottle. This wine was not your average Tannat. The 2016 is elegant with obvious tannins but they are silkier than I have seen in previous vintages of this wine. Dark fruit and oak to balance those notes, this wine is absolutely beautiful and pairs wonderfully with mushroom dishes.